What is the difference between a sprained ankle and a broken ankle (ankle fracture)?
Foot & ankle specialists
A sprained ankle is when the ligaments in your ankle are torn. A broken ankle or ankle fracture is when one or more of the bones in your ankle break. Severe sprains and fractures have similar symptoms (pain, swelling, bruising, tenderness) and are both caused by twisting or rotating your ankle, tripping or falling, or trauma to your ankle. Sprains heal faster, but it can take up to six weeks for a broken ankle to heal.
Who does it affect?
Anyone, at any age, can sprain their ankle. Sprains are most common in athletes during sporting events but can happen during everyday activities as well.
What are the types of ankle sprains?
There are three types of ankle sprains based on how much ligament damage occurred:
Grade 1 (Mild). The ligament fibers stretched slightly or there is a very small tear. Your ankle will have minor swelling and tenderness to the touch.
Grade 2 (Moderate). The ligament is torn, but it isn't a complete tear. Your ankle has swelling over the injury and it hurts to move.
Grade 3 (Severe). The ligament is torn completely. Your ankle has significant swelling, the injury is painful and walking is difficult.


What are the symptoms of a sprained ankle?
The symptoms of a sprained ankle include:
Pain, especially when putting weight on your ankle.
Tenderness to the touch.
Swelling.
Bruising.
Difficulty walking.
RIVERA FOOT & ANKLE: At Orlando H.Rivera DPM, our priority is to deliver quality care to informed patients in a comfortable and convenient setting. When you have problems with your feet, you need to turn to a podiatrist who listens and responds… an experienced doctor who knows the field and can effectively diagnose and treat your needs… a friendly physician who counsels you on the best ways to maintain and improve your health. Our physician(s) meet all these criteria. Plus, you benefit from a dedicated team of trained professionals who give you the individualized attention you deserve.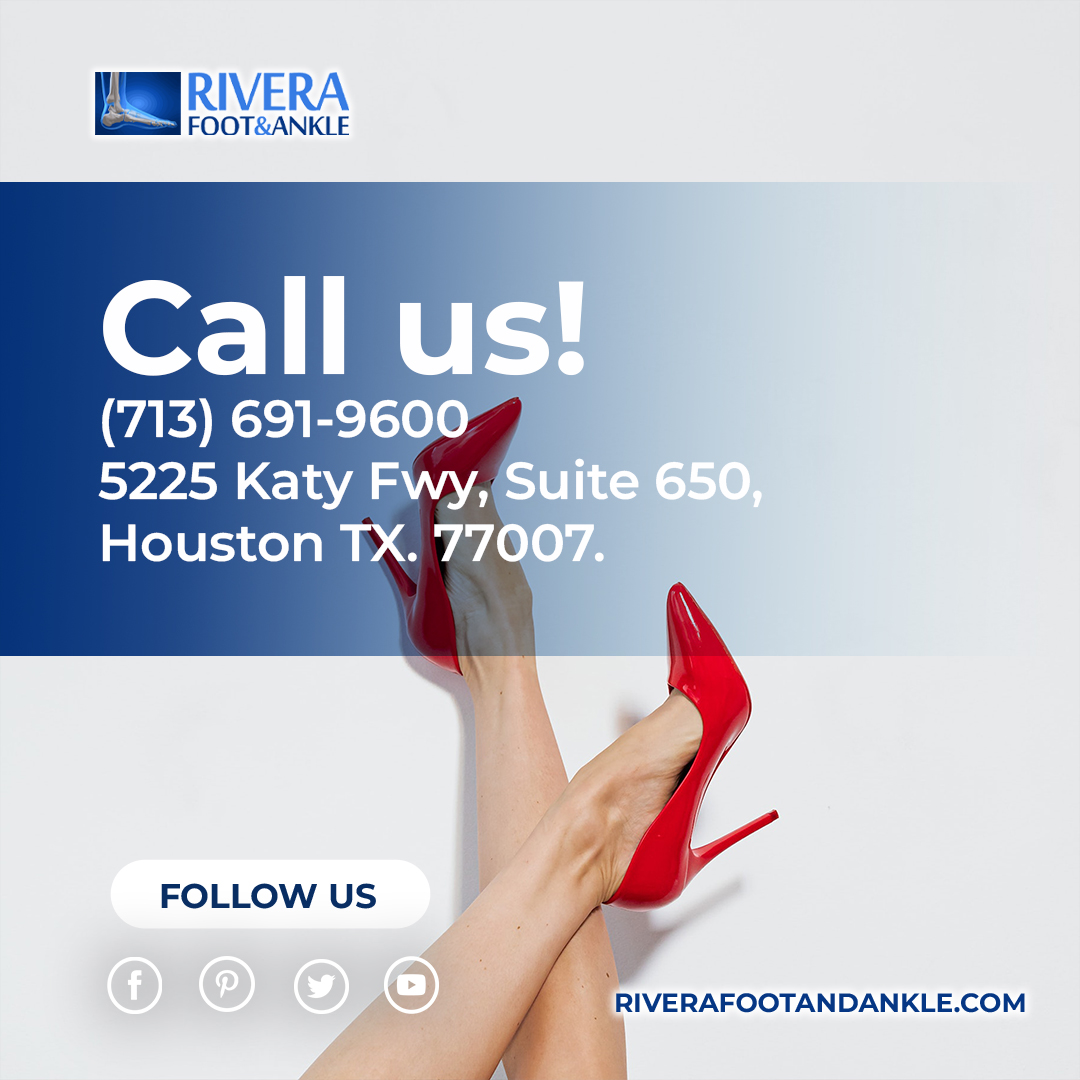 Call now at (713) 691-9600 or mail us

This email address is being protected from spambots. You need JavaScript enabled to view it.

| Get A Free Estimate HERE
Orlando H.Rivera DPM
Foot and Ankle, Dr. Orlando Rivera, Advanced Foot & Ankle Specialist, Foot and Ankle Podiatry, Houston Foot & Ankle Surgical, Treatment of Foot and Ankle, Foot & ankle specialists, Podiatrist in houston, podiatrist in houston, Orlando H.Rivera DPM, Houston Foot Doctor, Foot and Ankle Surgeon Houston, Ankle and Foot Specialist Houston, Podiatrist Houston, Foot Pain Houston.