Common Childhood Orthopedic Conditions
Bowleggedness (also called genu varum) is an exaggerated bending outward of the legs from the knees down that can be inherited. It's common in infants and, in many cases, corrects itself as a child grows.
Bowleggedness beyond the age of 2 or bowleggedness that only affects one leg can be the sign of a larger problem, such as rickets or Blount disease:
Rickets, a bone growth problem usually caused by lack of vitamin D or calcium in the body, causes severe bowing of the legs and also can cause muscle pain and enlargement of the spleen and liver. Rickets is much less common today than in the past.
Rickets and the resulting bowlegs are almost always corrected by adding vitamin D and calcium to the diet. Some types of rickets, however, are due to a genetic condition and may need more specialized treatment by an endocrinologist.
Blount disease is a condition that affects the tibia bone in the lower leg. Leg bowing from Blount disease is seen when a child is about 2 years old, and can appear suddenly and quickly become worse.
The cause of Blount disease is unknown, but it causes abnormal growth at the top of the tibia bone by the knee joint. To correct it, kids may need bracing or surgery when they're between 3 and 4 years old.
You should also take your child to the doctor if bowleggedness is only on one side or gets progressively worse.
Source: kidshealth.org
RIVERA FOOT & ANKLE: At Orlando H.Rivera DPM, our priority is to deliver quality care to informed patients in a comfortable and convenient setting. When you have problems with your feet, you need to turn to a podiatrist who listens and responds… an experienced doctor who knows the field and can effectively diagnose and treat your needs… a friendly physician who counsels you on the best ways to maintain and improve your health. Our physician(s) meet all these criteria. Plus, you benefit from a dedicated team of trained professionals who give you the individualized attention you deserve.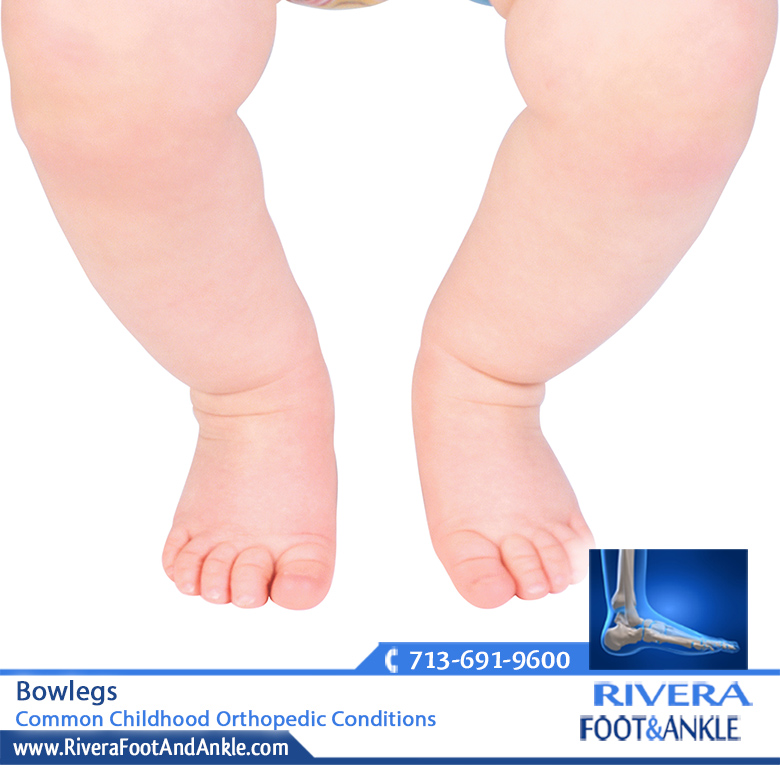 Bowlegs
Foot and Ankle, Dr. Orlando Rivera, Foot and Ankle Podiatry, Houston Foot and Ankle Surgical, Treatment of Foot and Ankle, Foot and ankle specialists, Podiatrist in houston, podiatrist in houston, Orlando H.Rivera DPM, Houston Foot Doctor, Foot and Ankle Surgeon Houston, Ankle and Foot Specialist Houston, Podiatrist Houston, Foot Pain Houston, Best Foot and Ankle Podiatry, Advanced Foot and Ankle Specialist in Houston,Foot and Ankle in Houston, Advanced Foot and Ankle Specialist in Houston, Foot and Ankle Podiatry in Houston, Foot and Ankle Surgical in Houston, Treatment of Foot and Ankle in Houston, Foot and ankle specialists in Houston, Podiatrist in Houston, Foot Doctor in Houston, Foot and Ankle Surgeon in Houston, Ankle and Foot Specialist in Houston, Foot Pain in Houston, Foot and Ankle Surgery in Houston, Foot And Ankle Clinics in Houston