Advanced Foot & Ankle Specialist
Young athletes could see their sports dreams evaporate if they don't seek prompt treatment and allow full rehabilitation of foot and ankle injuries. That warning comes from sports medicine experts with the American College of Foot and Ankle Surgeons (ACFAS).
Athletic children who "play through the pain," ignore injuries, cut rehab short or skip it altogether could face repeated injuries and instability in their feet and ankles well into their teen years and adulthood. Long-term problems can include osteoarthritis and chronic ankle instability. People with untreated chronic ankle instability may suffer activity limitations, arthritis, and tendon problems.
Surgeons say with more children playing high-level competitive sports such as gymnastics, tennis, soccer, volleyball, track and field, even golf, they're treating serious foot and ankle injuries in increasingly younger patients.
"I'm treating chronic heel injuries in pre-teen athletes, where a few years ago we saw these cases only among 16- and 17-year-olds," says Robert J. Duggan, DPM, FACFAS, a leading sports medicine expert with the ACFAS. "When the level of competition intensifies, so do the stresses on the feet and ankles and ultimately, injuries."
Duggan says the injuries he's treated include high-level sprains, bruises to ankle bones responsible for transferring weight from the leg to the foot, sesamoid fractures, neuromas and heel injuries. Many injured children can avoid surgery. Instead, their foot and ankle surgeon will often immobilize the foot for a period of time followed with aggressive physical therapy.
Coaches and parents should seek prompt medical care for children who injure their feet and ankles playing sports and other activities.
"With the diagnostic tools available to foot and ankle surgeons, and knowledge of the demands of the child's sport, we can make a decision on whether surgery's necessary, and in many cases, avoid it altogether," Duggan says.
Source: foothealthfacts.org
RIVERA FOOT & ANKLE: At Orlando H.Rivera DPM, our priority is to deliver quality care to informed patients in a comfortable and convenient setting. When you have problems with your feet, you need to turn to a podiatrist who listens and responds… an experienced doctor who knows the field and can effectively diagnose and treat your needs… a friendly physician who counsels you on the best ways to maintain and improve your health. Our physician(s) meet all these criteria. Plus, you benefit from a dedicated team of trained professionals who give you the individualized attention you deserve.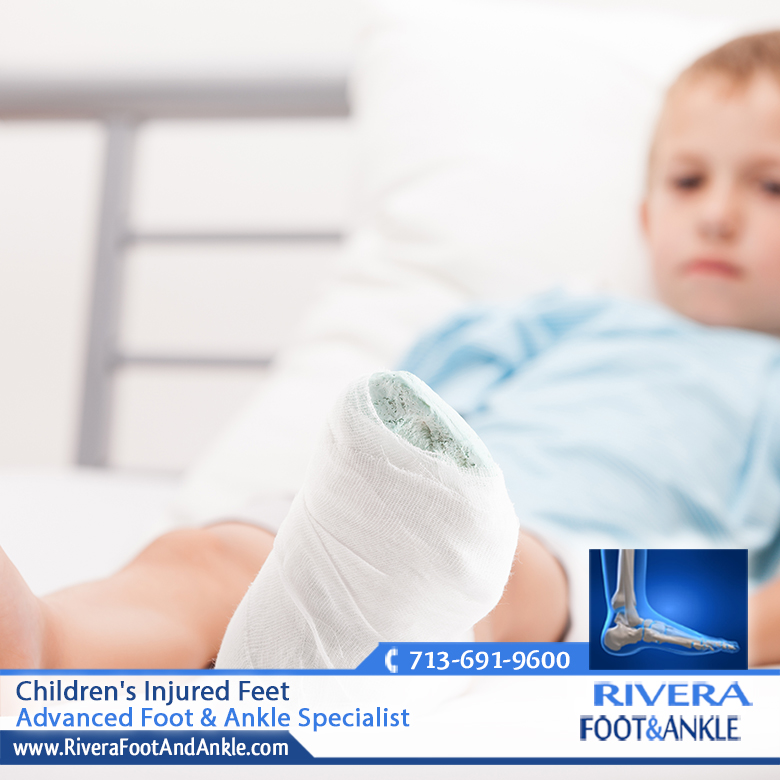 Advanced Foot & Ankle Specialist
Foot and Ankle, Dr. Orlando Rivera, Foot and Ankle Podiatry, Houston Foot and Ankle Surgical, Treatment of Foot and Ankle, Foot and ankle specialists, Podiatrist in houston, podiatrist in houston, Orlando H.Rivera DPM, Houston Foot Doctor, Foot and Ankle Surgeon Houston, Ankle and Foot Specialist Houston, Podiatrist Houston, Foot Pain Houston, Best Foot and Ankle Podiatry, Advanced Foot and Ankle Specialist in Houston,Foot and Ankle in Houston, Advanced Foot and Ankle Specialist in Houston, Foot and Ankle Podiatry in Houston, Foot and Ankle Surgical in Houston, Treatment of Foot and Ankle in Houston, Foot and ankle specialists in Houston, Podiatrist in Houston, Foot Doctor in Houston, Foot and Ankle Surgeon in Houston, Ankle and Foot Specialist in Houston, Foot Pain in Houston, Foot and Ankle Surgery in Houston, Foot And Ankle Clinics in Houston