Arthritis of the Foot and Ankle
What is Arthritis?
The pain and stiffness you feel in your feet and ankles as you grow older could be arthritis. If left untreated, this nagging pain can grow worse, eventually becoming so excruciating that you can no longer walk even short distances. Severe arthritis can restrict your mobility and limit your quality of life, but with proper treatment, you can slow the development of arthritis and lead a more productive life.
What is Arthritis?
Arthritis is a broad term for a number of conditions that destroy the workings of a normal joint.
Arthritis may occur in your back, neck, hips, knees, shoulders or hands, but it also occurs in your feet and ankles. Almost half of people in their 60s and 70s have arthritis of the foot and/or ankle that may not cause symptoms.
There are many different types of arthritis. The most common type, osteoarthritis (OSS-tee-oh-ar-THRI-tiss), results from the "wear and tear" damage to joint cartilage (the soft tissue between joint bones) that comes with age. The result is inflammation, redness, swelling and pain in the joint.
Also, a sudden and traumatic injury such as a broken bone, torn ligament or moderate ankle sprain can cause the injured joint to become arthritic in the future. Sometimes a traumatic injury will result in arthritis in the injured joint even though the joint received proper medical care at the time of injury.
Another common type, rheumatoid arthritis, is an inflammatory condition caused by an irritation of the joint lining (the synovium). People with rheumatoid arthritis for at least 10 years almost always develop arthritis in some part of the foot or ankle.
Other types of inflammatory arthritis include gout, lupus, ankylosing spondylitis and psoriatic arthritis.
Source: aofas.org
RIVERA FOOT & ANKLE: At Orlando H.Rivera DPM, our priority is to deliver quality care to informed patients in a comfortable and convenient setting. When you have problems with your feet, you need to turn to a podiatrist who listens and responds… an experienced doctor who knows the field and can effectively diagnose and treat your needs… a friendly physician who counsels you on the best ways to maintain and improve your health. Our physician(s) meet all these criteria. Plus, you benefit from a dedicated team of trained professionals who give you the individualized attention you deserve.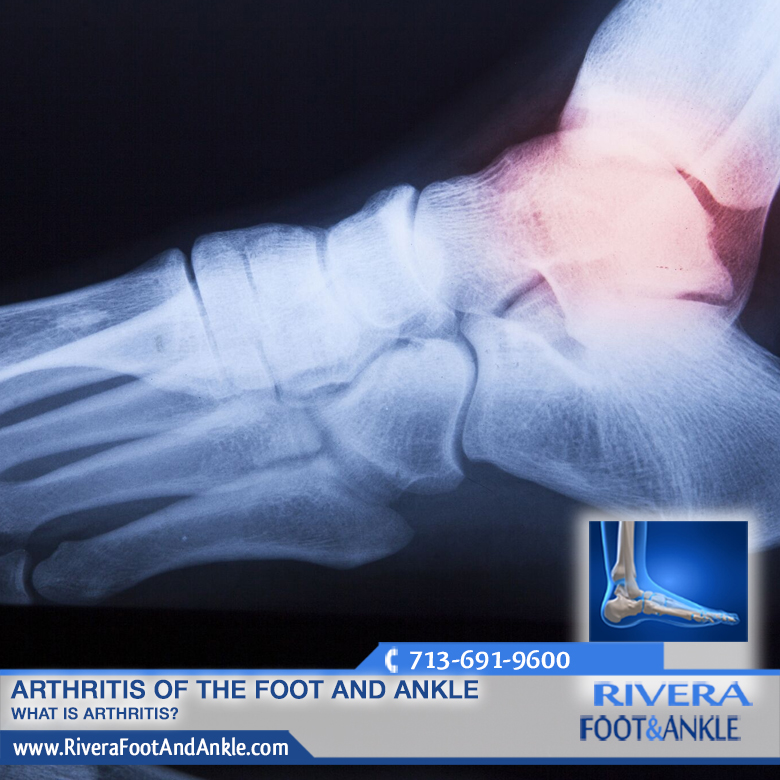 Arthritis of the Foot and Ankle
Foot and Ankle, Dr. Orlando Rivera, Advanced Foot & Ankle Specialist, Foot and Ankle Podiatry, Houston Foot & Ankle Surgical, Treatment of Foot and Ankle, Foot & ankle specialists, Podiatrist in houston, podiatrist in houston, Orlando H.Rivera DPM, Houston Foot Doctor, Foot and Ankle Surgeon Houston, Ankle and Foot Specialist Houston, Podiatrist Houston, Foot Pain Houston.