Foot Changes During Pregnancy
Calf swelling, cramping and pain
 Calf swelling and cramping are frequent during pregnancy. Blood flow returning from your legs back to your heart is slowed due to the increased size of the uterus and fetus. This leads to a buildup of fluid within the legs. Wearing compression stockings can help reduce swelling. Regular walking and low-impact aerobic exercise during pregnancy will also reduce swelling.
Staying properly hydrated and frequent stretching of the calves can help to reduce symptoms. Massaging the area can also provide relief. Rarely, blood clots can occur in the legs during pregnancy. Symptoms of blood clots include persistent pain, swelling, possible redness, warmth and tenderness. If you notice any of these symptoms or suspect you may have a blood clot, you should contact your healthcare provider.
Source: http://www.aofas.org/footcaremd/overview/Pages/Foot-Changes-During-Pregnancy.aspx
RIVERA FOOT & ANKLE: At Orlando H.Rivera DPM, our priority is to deliver quality care to informed patients in a comfortable and convenient setting. When you have problems with your feet, you need to turn to a podiatrist who listens and responds… an experienced doctor who knows the field and can effectively diagnose and treat your needs… a friendly physician who counsels you on the best ways to maintain and improve your health. Our physician(s) meet all these criteria. Plus, you benefit from a dedicated team of trained professionals who give you the individualized attention you deserve.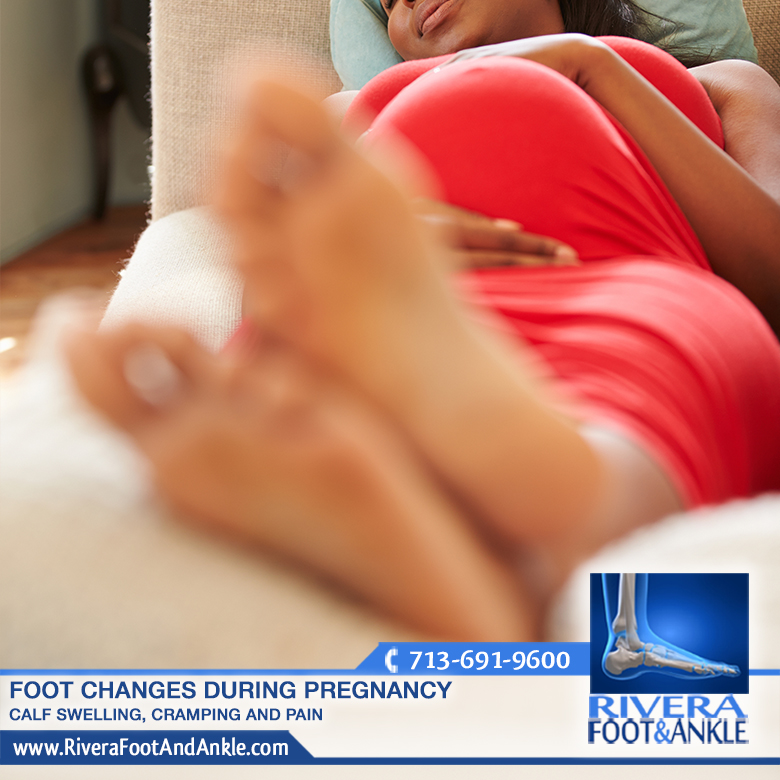 Calf swelling, cramping and pain
Foot and Ankle, Dr. Orlando Rivera, Advanced Foot & Ankle Specialist, Foot and Ankle Podiatry, Houston Foot & Ankle Surgical, Treatment of Foot and Ankle, Foot & ankle specialists, Podiatrist in houston, podiatrist in houston, Orlando H.Rivera DPM, Houston Foot Doctor, Foot and Ankle Surgeon Houston, Ankle and Foot Specialist Houston, Podiatrist Houston, Foot Pain Houston.