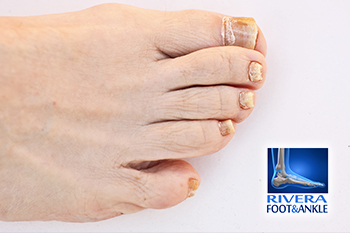 Adult Foot Health
An infection of the toenail is called onychomycosis (on-i-ko-my-ko-sis). The nail may look brownish, yellowish or have little white patches. The nail may be flaky, brittle, ragged and chipped, and debris may collect under it. The toenail may get so thick that wearing shoes can cause pain. Infected nails may also separate from the nail bed, a condition called onycholysis.
Nail fungus is more common among the older population. Factors that can increase the risk of developing nail fungus include walking barefoot in a damp environment, such as around a swimming pool; circulation problems; diabetes; and a weakened immunity system.
Nail fungus is difficult to treat.  After proper diagnosis, your doctor may prescribe oral antifungal medications. It may take up to three months or longer to eliminate an infection.  These medications may be contra indicated in patients with liver disease.
RIVERA FOOT & ANKLE: At Orlando H.Rivera DPM, our priority is to deliver quality care to informed patients in a comfortable and convenient setting. When you have problems with your feet, you need to turn to a podiatrist who listens and responds… an experienced doctor who knows the field and can effectively diagnose and treat your needs… a friendly physician who counsels you on the best ways to maintain and improve your health. Our physician(s) meet all these criteria. Plus, you benefit from a dedicated team of trained professionals who give you the individualized attention you deserve.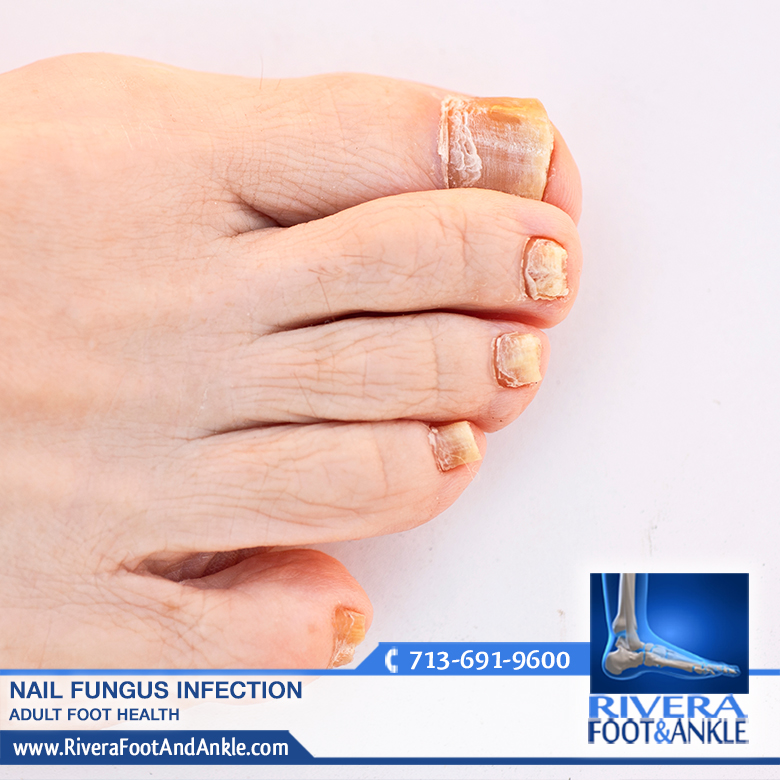 Nail Fungus Infection
Foot and Ankle, Dr. Orlando Rivera, Advanced Foot & Ankle Specialist, Foot and Ankle Podiatry, Houston Foot & Ankle Surgical, Treatment of Foot and Ankle, Foot & ankle specialists, Podiatrist in houston, podiatrist in houston, Orlando H.Rivera DPM, Houston Foot Doctor, Foot and Ankle Surgeon Houston, Ankle and Foot Specialist Houston, Podiatrist Houston, Foot Pain Houston.