When my son starts walking gait, Is Better with shoes or barefoot?
Tips for patients
When a baby starts to take its first steps doubt whether it is better that they are with better shoe or barefoot arises. This is one of the most common questions in the podiatric consultations when children are about to start walking. There are some published articles that ensure that children begin to walk barefoot are happier than those who do with shoes.
The recommendation when our child begins to walk indoors is to do it barefoot with a non-slip sock not to slip. It is important to realize in this way to exercise proprioception, the sense that informs the agency of the position of the muscles, the ability to sense the relative position of body parts. Barefoot has more proprioception because it is more sensitive in the foot that sends positive stimuli to the brain. Moreover, the problem may come anytime after your child fit and go more comfortable are your precious baby shoes.
A barefoot boy can conclude that by sending more stimulus makes the brain work more issue that can help you in your learning. Due to this fact there are even articles intended to associate these major stimuli to happiness, ruling that children who go barefoot are "happier". As we have explained, it is not that they are happier but their brains receive more stimuli.
It is important not fit a child early. Slip socks would be appropriate to the stage of crawling in which we can replace them very flexible shoes with reinforcement in the contact areas to prevent our baby to get hurt. It is also very important to let the child walk alone and not force. Encourage you to promote the steps already giving if estirarle arm but not for the give.
Source: elblogdelpodologo
RIVERA FOOT & ANKLE: At Orlando H.Rivera DPM, our priority is to deliver quality care to informed patients in a comfortable and convenient setting. When you have problems with your feet, you need to turn to a podiatrist who listens and responds… an experienced doctor who knows the field and can effectively diagnose and treat your needs… a friendly physician who counsels you on the best ways to maintain and improve your health. Our physician(s) meet all these criteria. Plus, you benefit from a dedicated team of trained professionals who give you the individualized attention you deserve.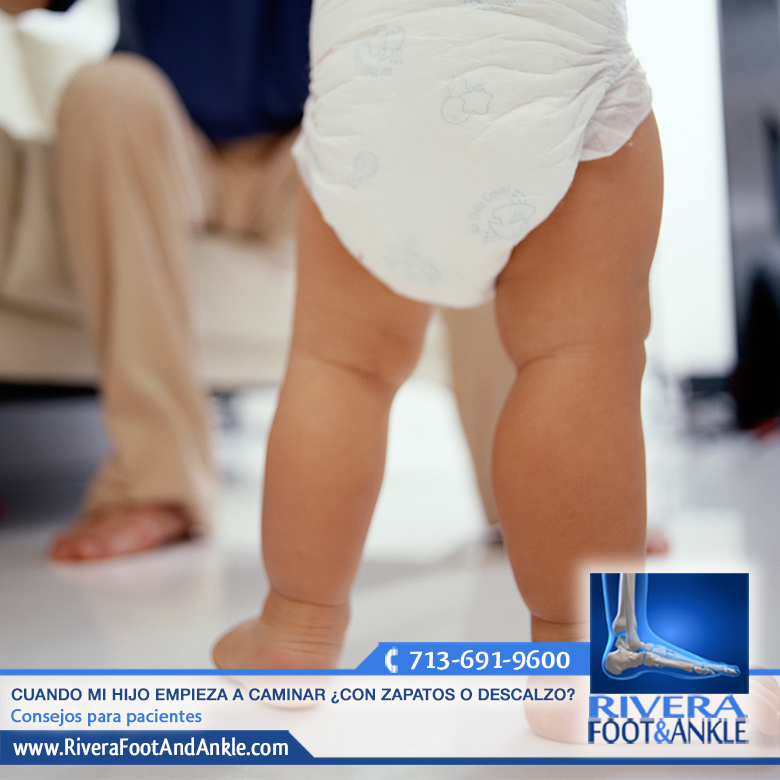 Baby starts walking.
Foot and Ankle, Dr. Orlando Rivera, Advanced Foot & Ankle Specialist, Foot and Ankle Podiatry, Houston Foot & Ankle Surgical, Treatment of Foot and Ankle, Foot & ankle specialists, Podiatrist in houston, podiatrist in houston, Orlando H.Rivera DPM, Houston Foot Doctor, Foot and Ankle Surgeon Houston, Ankle and Foot Specialist Houston, Podiatrist Houston, Foot Pain Houston.