Foot Changes During Pregnancy
Changes in foot length, width and arch height
Pregnancy is often accompanied by changes in the musculoskeletal system, particularly the spine and lower extremities. This is often due to multiple factors including weight gain and hormonal changes that occur during pregnancy. Changes that occur within feet can include the following.
Changes in foot length, width and arch height
During pregnancy, women may note that the size of the feet will increase. This is due to an accumulation of fluid and tissue within the lower extremities. The overall effect of this is an increase in volume. Hormonal changes also occur that lead to laxity or looseness of the ligaments within the foot. This loosening results in increase in foot length and width with a decrease in arch height, meaning the arch becomes flatter. Pregnant women may notice their shoes feel tighter or that they can no longer fit into certain shoes. Many feel these changes are most pronounced with the first pregnancy and less evident with subsequent pregnancies. While these changes tend to reverse themselves in the post-partum period, some women may notice a permanent change in the shape of the foot or limitations in shoewear.
Source: http://www.aofas.org
RIVERA FOOT & ANKLE: At Orlando H.Rivera DPM, our priority is to deliver quality care to informed patients in a comfortable and convenient setting. When you have problems with your feet, you need to turn to a podiatrist who listens and responds… an experienced doctor who knows the field and can effectively diagnose and treat your needs… a friendly physician who counsels you on the best ways to maintain and improve your health. Our physician(s) meet all these criteria. Plus, you benefit from a dedicated team of trained professionals who give you the individualized attention you deserve.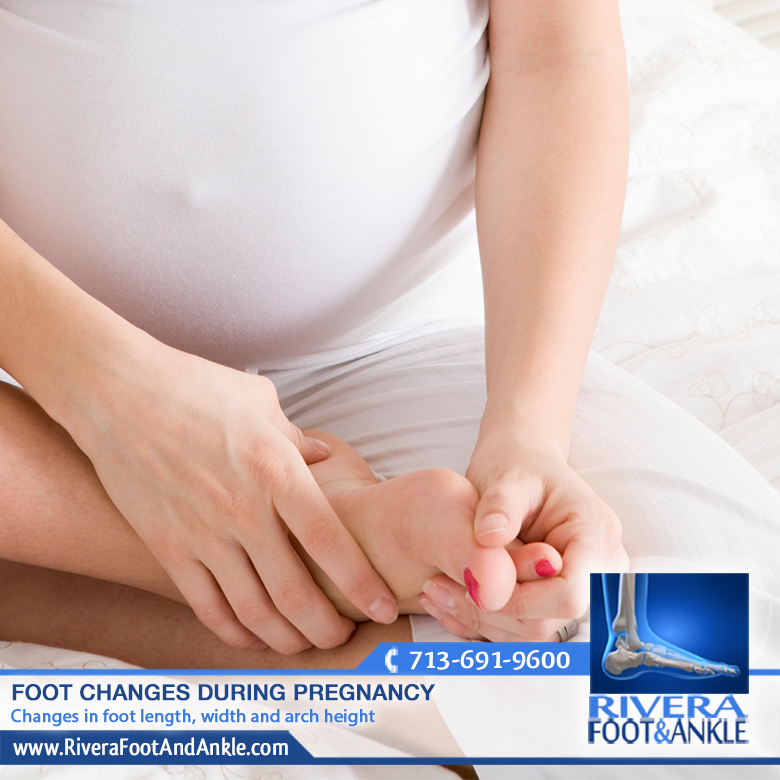 Foot Changes During Pregnancy.
Foot and Ankle, Dr. Orlando Rivera, Advanced Foot & Ankle Specialist, Foot and Ankle Podiatry, Houston Foot & Ankle Surgical, Treatment of Foot and Ankle, Foot & ankle specialists, Podiatrist in houston, podiatrist in houston, Orlando H.Rivera DPM, Houston Foot Doctor, Foot and Ankle Surgeon Houston, Ankle and Foot Specialist Houston, Podiatrist Houston, Foot Pain Houston.