FOOT PROBLEMS OF THE SENIORS
Care for the senior
Over the years inevitably affects our feet throughout life have been subjected to all kinds of pressures and trauma caused by the shoes , the weight of our body, sports and recreational activities , among others. The appearance of foot problems of the elderly can cause mobility problems by altering the gait and posture of the person who may eventually be disabling and even lead to respiratory problems. So it is advisable to carry out a review by a professional and meticulous care of the lower limbs to prevent further complications .
Circulatory problems , osteoarticular wear and psychomotor deficits associated with aging own body result in structural alterations and foot skin leading to the appearance of callus and finger deformity .
Along with this, other changes associated with age are fat loss in areas of the metatarsal ( pad under the toes ) and heel that generate calluses , osteoarthritic changes in the toes that causes the fingers to rub against each other and footwear bunch up , thickened or very hard nails , loss of mobility and elasticity joint in the foot and muscular atrophy, most marked in the muscles that form the plantar arch , and generate flattened feet altering the distribution of loads the foot and therefore the progress of the person . In addition , in the case of people with high-arched feet ( with lots bridge) more calluses appear on the ground and heel and are accompanied by hammertoes with corns on the back.
If all this we add that in the elderly is also often a misalignment of the hip joints and knee develops and that these alterations may occur together, the result is pain in the area, loss of mobility and disability functional that ends up affecting their quality of life and ability to walk.
To minimize the effect of own ailments of age and properly care for geriatric foot, since it is recommended:
1. Use a loose and flexible footwear that allows for tread in a comfortable way. It is important to avoid narrow toes and high heels.
2. Perform daily washing and thorough drying of the foot, especially between the toes, to prevent maceration of the area and the appearance of fungi.
3. Caring for nails correctly, it is advisable to be cut by a professional if there is thickening or other complication, and monitor whether malformations or any other alteración- appear
4. Check periodically and preventively podiatrist to examine the foot and detect if there is some kind of anomaly, thus treatment may be applied as soon as possible and avoid further complications.

 Blog del Podiatra
RIVERA FOOT & ANKLE: At Orlando H.Rivera DPM, our priority is to deliver quality care to informed patients in a comfortable and convenient setting. When you have problems with your feet, you need to turn to a podiatrist who listens and responds… an experienced doctor who knows the field and can effectively diagnose and treat your needs… a friendly physician who counsels you on the best ways to maintain and improve your health. Our physician(s) meet all these criteria. Plus, you benefit from a dedicated team of trained professionals who give you the individualized attention you deserve.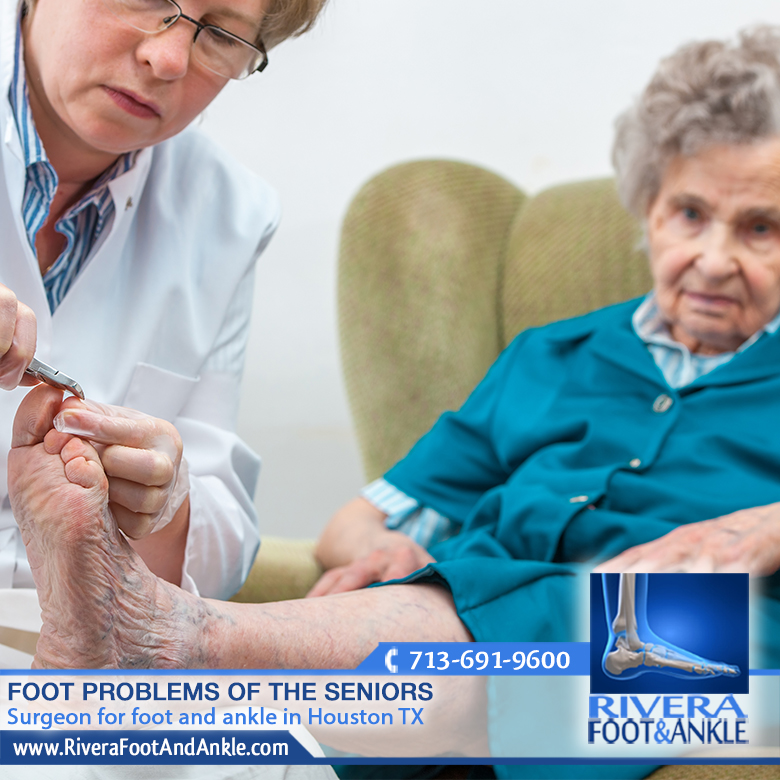 FOOT PROBLEMS OF THE SENIORS.
Foot and Ankle, Dr. Orlando Rivera, Advanced Foot & Ankle Specialist, Foot and Ankle Podiatry, Houston Foot & Ankle Surgical, Treatment of Foot and Ankle, Foot & ankle specialists, Podiatrist in houston, podiatrist in houston, Orlando H.Rivera DPM, Houston Foot Doctor, Foot and Ankle Surgeon Houston, Ankle and Foot Specialist Houston, Podiatrist Houston, Foot Pain Houston.