Dr. Orlando Rivera
Broken toes are often caused by trauma or injury. Prolonged repetitive movements can cause a type of broken toe called a stress or hairline fracture.
Symptoms of a broken toe include: pain, swelling, stiffness, bruising, deformity, and difficultly walking.
Possible complications of a broken toe include: nail injury, compound fracture, infection, deformity, or arthritis.
Seek immediate medical care if you suspect an open fracture of the toe; if there is bleeding; cold, numb, or tingling sensation; if the toe appears deformed or is pointing in the wrong direction; or blue or gray color to the injured area.
A broken toe is diagnosed with a medical examination, which may include X-rays.
To help decrease pain and swelling in a broken toe, elevate the foot, ice the injury, and stay off the foot.
Depending on the severity of the fracture, the toe may need to be put back into place (reduced), and some compound toe fractures may require surgery.
Pain from a broken toe can usually be controlled with over-the-counter pain medication.
Buddy taping (taping the toe to an adjacent toe can be used to splint a fractured toe.
Most broken toes heal without complications in six weeks
Source: medicinenet
RIVERA FOOT & ANKLE: At Orlando H.Rivera DPM, our priority is to deliver quality care to informed patients in a comfortable and convenient setting. When you have problems with your feet, you need to turn to a podiatrist who listens and responds… an experienced doctor who knows the field and can effectively diagnose and treat your needs… a friendly physician who counsels you on the best ways to maintain and improve your health. Our physician(s) meet all these criteria. Plus, you benefit from a dedicated team of trained professionals who give you the individualized attention you deserve.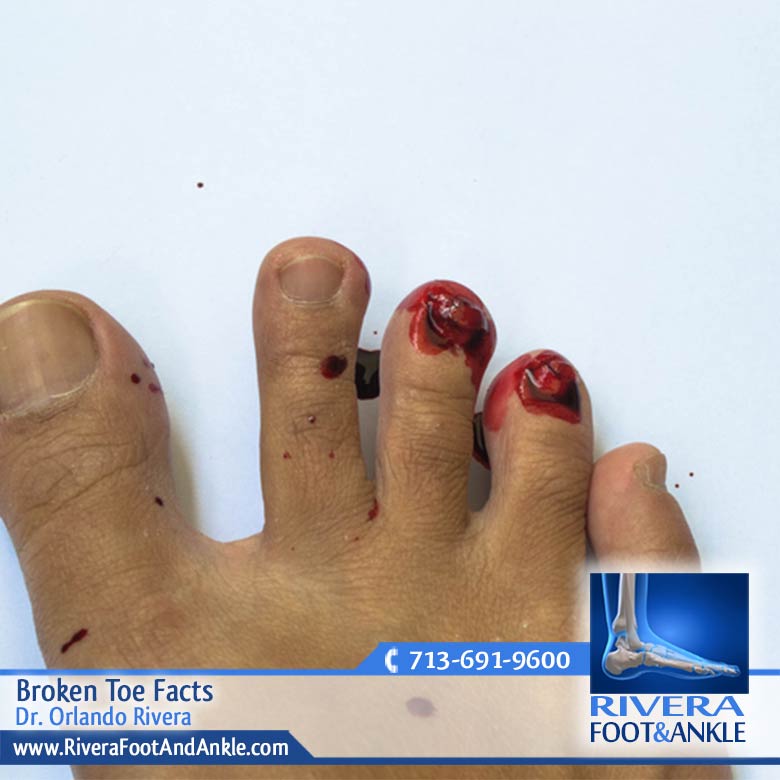 Dr. Orlando Rivera.
Foot and Ankle, Dr. Orlando Rivera, Advanced Foot & Ankle Specialist, Foot and Ankle Podiatry, Houston Foot & Ankle Surgical, Treatment of Foot and Ankle, Foot & ankle specialists, Podiatrist in houston, podiatrist in houston, Orlando H.Rivera DPM, Houston Foot Doctor, Foot and Ankle Surgeon Houston, Foot and Ankle Surgeon, Podiatrist Houston, Foot Pain Houston.