3 Moves To Strengthen Your Ankles
Orlando H.Rivera DPM
Avoid injury by keeping your muscles strong
Your risk of ankle sprains increases with age, but you can help prevent them. To strengthen the supporting muscles, try these exercises. Do each 3 times a week.
1. The Crane: Sit in chair with 5 rolled socks in front of you. With toes of right foot, pick up socks one by one, and move 12 inches to create new pile. Switch feet.
2. The Inchworm: Still sitting, spread towel lengthwise on floor. Starting with end closest to you, use toes to slowly scrunch towel, like an accordion. Do twice with each foot.
3. Balance Beam: Stand one-legged on folded towel for 30 seconds, feeling muscles in lower leg and ankle working to stabilize body. Do 3 times on each foot. For more of a challenge, close eyes.
Source: prevention
RIVERA FOOT & ANKLE: At Orlando H.Rivera DPM, our priority is to deliver quality care to informed patients in a comfortable and convenient setting. When you have problems with your feet, you need to turn to a podiatrist who listens and responds… an experienced doctor who knows the field and can effectively diagnose and treat your needs… a friendly physician who counsels you on the best ways to maintain and improve your health. Our physician(s) meet all these criteria. Plus, you benefit from a dedicated team of trained professionals who give you the individualized attention you deserve.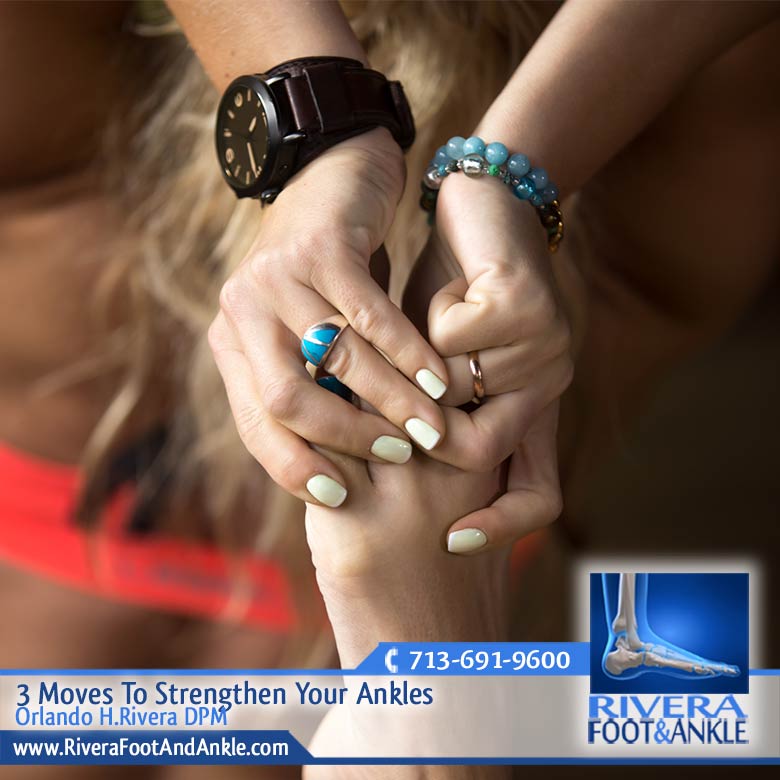 Orlando H.Rivera DPM.
Foot and Ankle, Dr. Orlando Rivera, Advanced Foot & Ankle Specialist, Foot and Ankle Podiatry, Houston Foot & Ankle Surgical, Treatment of Foot and Ankle, Foot & ankle specialists, Podiatrist in houston, podiatrist in houston, Orlando H.Rivera DPM, Houston Foot Doctor, Foot and Ankle Surgeon Houston, Ankle and Foot Specialist Houston, Podiatrist Houston, Foot Pain Houston.