Are Flip-Flops Ruining your Feet?
Podiatrist in Houston
Get the lowdown on the hidden hazards of flip-flops and find out how to choose summery shoes that won't wreck your feet
When the temperature rises, our first instinct is to peel off the layers, pull out the tank tops and shorts and kick back in some breezy flip-flops. And for many of us, multicoloured rubber thongs have become our summer footwear of choice. But while they may help you stay comfortable and cool off, those inexpensive sandals are anything but kind to your feet.
What flip-flops can do to your feet
While there's no doubt they're comfy and go with just about any outfit, rubber flip-flops aren't really meant to be worn beyond the pool. The problem, say podiatrists, who see a spike in visits to their offices in the summer months, is that we'll walk in flip-flops everywhere from the park to the beach and back to the office without regard to the damage we're doing to our feet. 'Inadequate support in the foot over prolonged periods leads to a strain in the arch ligaments. This causes severe pain in the heel and arch region of the foot known as plantar fasciitis. And plantar fasciitis often requires treatment by a podiatrist.
Flip-flops' lack of support also causes your feet and legs to overcompensate. '[Wearing flip-flops] causes toes to contract, making the muscles in the front of the leg work when they should be at rest. The result? The formation of hammertoes, a foot deformity where the second, third or fourth toe is bent at the joint, resembling a hammer. Definitely not worthy of foot-baring season. Ankle sprains are another common condition associated with wearing flip-flops. The lack of counter-support in a shoe causes your foot and ankle to roll over on its side, potentially tearing your ankle ligaments.
But it doesn't stop there: that these sandals can also wreak havoc on your knees, hips and back. The structure of the flip-flop has no support in the arch or heel, leading to an unstable gait, and this can cause bad alignment, leading to strains in your knees and lower back. And for those who overpronate, flip-flops should be avoided at all cost due to no arch support or foot control.
Source: besthealthmag
RIVERA FOOT & ANKLE: At Orlando H.Rivera DPM, our priority is to deliver quality care to informed patients in a comfortable and convenient setting. When you have problems with your feet, you need to turn to a podiatrist who listens and responds… an experienced doctor who knows the field and can effectively diagnose and treat your needs… a friendly physician who counsels you on the best ways to maintain and improve your health. Our physician(s) meet all these criteria. Plus, you benefit from a dedicated team of trained professionals who give you the individualized attention you deserve.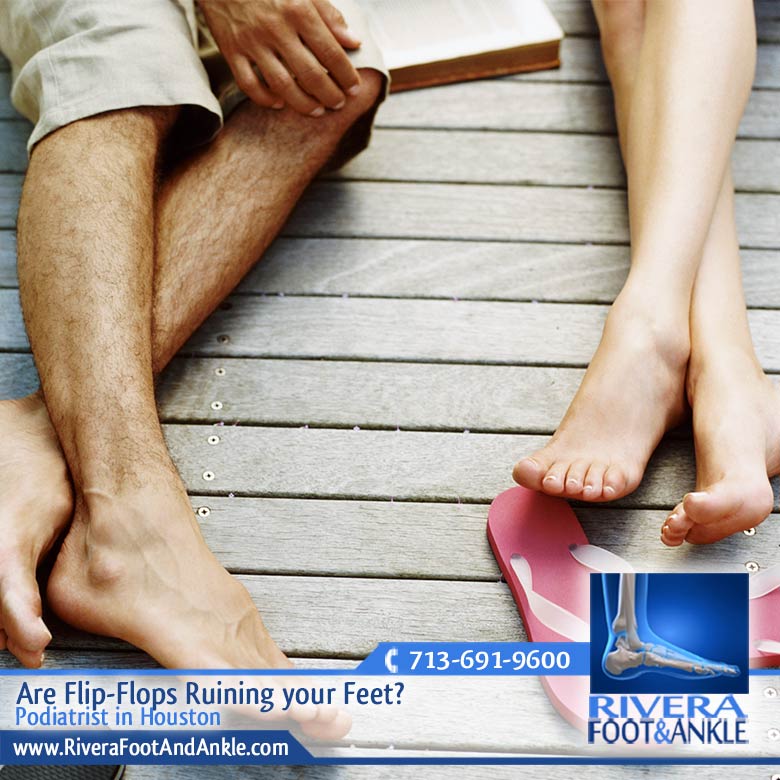 Podiatrist in houston
Foot and Ankle, Dr. Orlando Rivera, Advanced Foot & Ankle Specialist, Foot and Ankle Podiatry, Houston Foot & Ankle Surgical, Treatment of Foot and Ankle, Foot & ankle specialists, Podiatrist in houston, podiatrist in houston, Orlando H.Rivera DPM, Houston Foot Doctor, Foot and Ankle Surgeon Houston, Ankle and Foot Specialist Houston, Podiatrist Houston, Foot Pain Houston.