Protect your Feet
Diabetes puts you at risk of serious foot injury. Discover why and learn simple steps to keep your feet healthy.
Diabetes and Feet: Minor Wounds, Major Problems.
For most people, small foot injuries like calluses or blisters are a minor aggravation. They may feel sore, and they certainly don't make your feet look any better. But these small wounds can grow into devastating problems for people with diabetes.
The average person will unconsciously change the way they walk to minimize that callus forming, because for many people it hurts.
Here's why.
Diabetes can damage nerves in the feet, so many people with diabetes don't have normal sensation in their feet.
Diabetes can lead to narrowed arteries in the legs, causing poor blood flow to the feet.
Minor wounds may heal poorly and become infected as a result of the reduced blood flow.
Diabetes and Feet: Keeping Them Healthy
According to the National Institutes of Health, smart tips for people with diabetes include:
Inspect your feet daily.
Never walk barefoot. That goes for inside and outside.
Keep them warm.
Get a check-up.
Wear the right shoes and socks.
Control your blood sugar.
Don't smoke.
Having diabetes can cause serious damage to your feet, but that doesn't mean you're destined to have foot problems. Just be sure to manage your blood sugar wisely, avoid smoking, wear proper shoes, and have your feet checked regularly by your doctor to prevent long-term complications.
Source:everydayhealth
RIVERA FOOT & ANKLE: At Orlando H.Rivera DPM, our priority is to deliver quality care to informed patients in a comfortable and convenient setting. When you have problems with your feet, you need to turn to a podiatrist who listens and responds… an experienced doctor who knows the field and can effectively diagnose and treat your needs… a friendly physician who counsels you on the best ways to maintain and improve your health. Our physician(s) meet all these criteria. Plus, you benefit from a dedicated team of trained professionals who give you the individualized attention you deserve.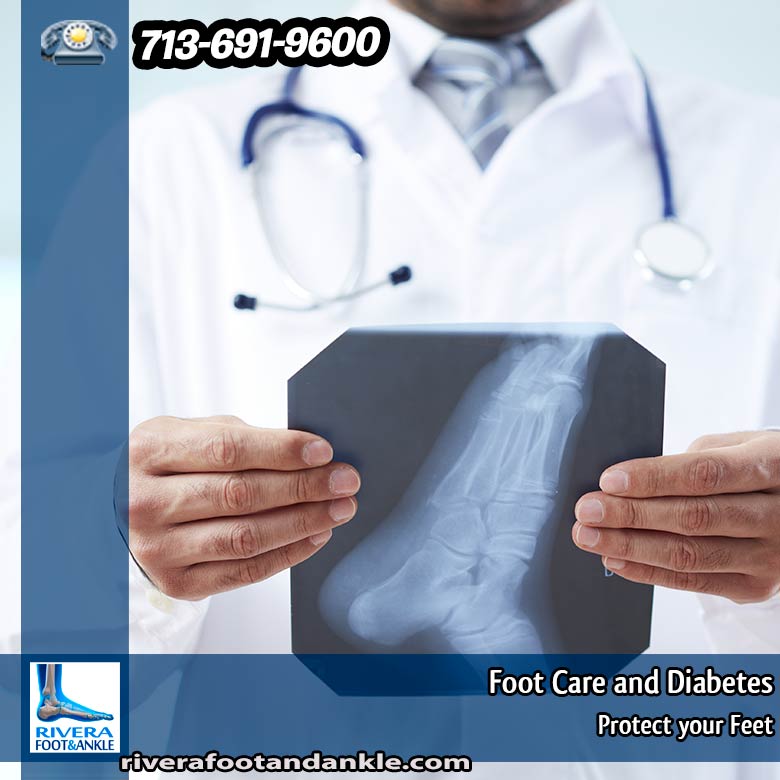 Foot and Ankle
Keywords: Foot and Ankle, Dr. Orlando Rivera, Advanced Foot & Ankle Specialist, Foot and Ankle Podiatry, Houston Foot & Ankle Surgical, Treatment of Foot and Ankle, Foot & ankle specialists, Podiatrist in houston, podiatrist in houston, Orlando H.Rivera DPM, Houston Foot Doctor, Foot and Ankle Surgeon Houston, Ankle and Foot Specialist Houston, Podiatrist Houston, Foot Pain Houston