Do Magnets Equal Happy Feet?
Foot and Ankle
The magnetic field that surrounds the Earth is a powerful force. Birds use it to navigate, and even some bacteria orient themselves using this magnetic pull.
Now, magnetism has become a means for many people to seek relief for nagging pain. It's big business, with magnetic devices chalking up an estimated $500 million in annual sales in the United States and more than $5 billion globally. Foot-care biggies like Dr. Scholls and Florsheim sell magnetic insoles that promise to relieve those aching and tired feet.
Magnetic Insoles: Their Effect on Feet
Depending on the magnetic source, a magnetic field can be applied in an on-and-off fashion (pulsed magnet) or continuously (static magnet). Insoles are typically the static variety, courtesy of a magnetic foil pad.
Claims for the medical benefits wrought by magnetic insoles include increased blood flow and oxygen levels to the magnetized area, aligning of cells in the magnetic field, revved-up nerve activity, and even a change in the acidity of the magnetized body fluids.
But without scientific evidence, most people who buy magnetic insoles rely on, or can be swayed by, the testimonials and claims offered by companies who profit from increased sales.
Source:everydayhealth
RIVERA FOOT & ANKLE: At Orlando H.Rivera DPM, our priority is to deliver quality care to informed patients in a comfortable and convenient setting. When you have problems with your feet, you need to turn to a podiatrist who listens and responds… an experienced doctor who knows the field and can effectively diagnose and treat your needs… a friendly physician who counsels you on the best ways to maintain and improve your health. Our physician(s) meet all these criteria. Plus, you benefit from a dedicated team of trained professionals who give you the individualized attention you deserve.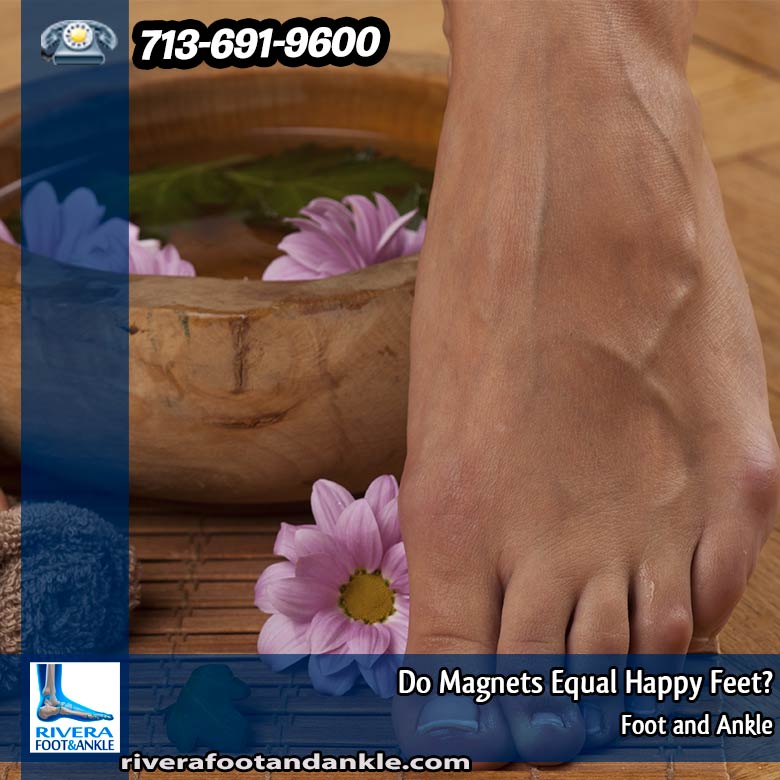 Foot and Ankle
Keywords: Foot and Ankle, Dr. Orlando Rivera, Advanced Foot & Ankle Specialist, Foot and Ankle Podiatry, Houston Foot & Ankle Surgical, Treatment of Foot and Ankle, Foot & ankle specialists, Podiatrist in houston, podiatrist in houston, Orlando H.Rivera DPM, Houston Foot Doctor, Foot and Ankle Surgeon Houston, Ankle and Foot Specialist Houston, Podiatrist Houston, Foot Pain Houston