Common Injuries in Their Feet Run
Identify Potential problems on Your Feets
Plantar fasciitis (arch pain): Arch pain is often caused by frequent stress on the plantar aspect, or bottom of the foot.
When the plantar fascia, a supportive, fibrous band of tissue running from the heel to the ball of the foot, becomes injured, pain on the bottom of the foot results. Forefoot and rearfoot instability, with excessive pronation, may result in plantar fasciitis. Overtraining may contribute. Shoes with good midfoot stability may help prevent plantar fasciitis.
Heel spurs: Heel spur syndrome, related to plantar fasciitis, occurs after calcium deposits build up on the underside of the heel bone. Heel spurs form gradually over many months. Both plantar fasciitis and heel spurs can be avoided by a proper warm-up that includes stretching the band of tissue on the bottom of the foot. The soft tissue injury is usually the cause of the pain and not the spur itself.
Sesamoiditis: Sometimes referred to as the ball bearings of the foot, the sesamoids are a set of accessory bones found beneath the large first metatarsal bone. Incredible forces are exerted on the sesamoid bones during aerobics, and inflammation and fractures can occur. Proper shoe selection and custom orthotic devices can be useful in treating sesamoiditis.
Shin splints: Aside from ankle sprains, shin splints are perhaps the most common injury to the lower body, as the muscles attached to the shin bone bring the foot up and down. The pain is usually an inflammation of the shin muscle and tendon due to stress factors. Treat shin pain with cold compresses immediately after the workout to reduce inflammation. Proper stretching before the workout should prevent the onset of shin splints. Strengthening of muscles also helps reduce shin splints.
Achilles tendon and calf pain: The frequent rising on the toes of an aerobics routine often creates pain and tightness in the large muscles in the back of the legs, which can create pain and tightness in the calf and inflammation of the achilles tendon. Again, stretching the calf muscles gently and gradually before and after the workout will ordinarily help alleviate the pain and stiffness.
Stress fractures: Stress fractures often occur from overtraining. Make sure you gradually increase your running distance and intensity and have an adequate dietary intake of calcium.
Source: aapsm
RIVERA FOOT & ANKLE: At Orlando H.Rivera DPM, our priority is to deliver quality care to informed patients in a comfortable and convenient setting. When you have problems with your feet, you need to turn to a podiatrist who listens and responds… an experienced doctor who knows the field and can effectively diagnose and treat your needs… a friendly physician who counsels you on the best ways to maintain and improve your health. Our physician(s) meet all these criteria. Plus, you benefit from a dedicated team of trained professionals who give you the individualized attention you deserve.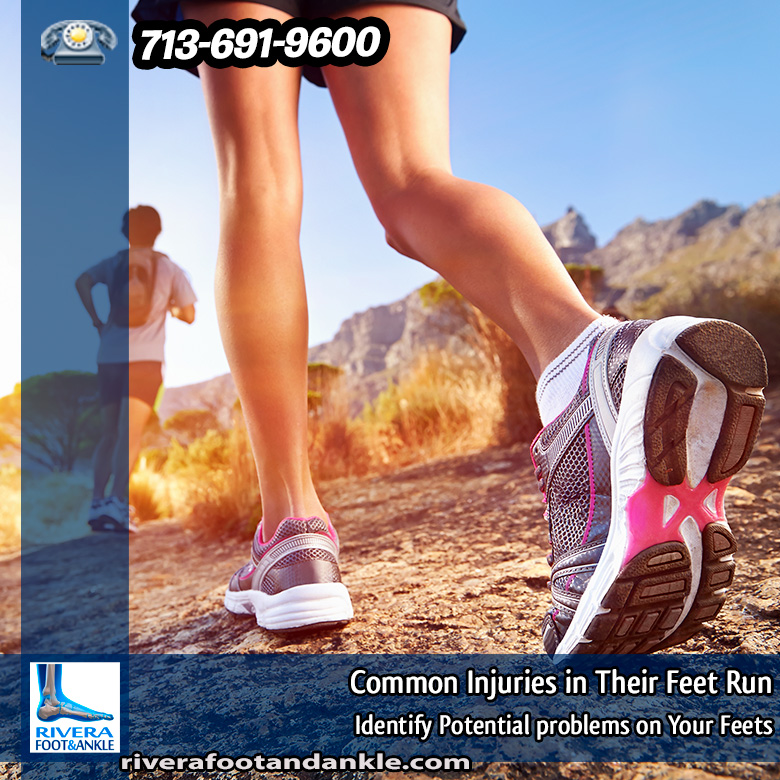 Orlando H.Rivera DPM
Keywords: Foot and Ankle, Dr. Orlando Rivera, Advanced Foot & Ankle Specialist, Foot and Ankle Podiatry, Houston Food & Ankle Surgical, Treatment of Foot and Ankle, Foot & ankle specialists, Podiatrist in houston, podiatrist in houston, Orlando H.Rivera DPM, Houston Foot Doctor, Food and Ankle Surgeon Houston, Ankle and Foot Specialist Houston, Podiatrist Houston, Foot Pain Houston