Fancy a Walk on the Beach?
Walking Barefoot on the Sand isn't Just Fun it's Good for You!
Massage your soles. If you walk briskly on the beach, you'll get the added benefit of the sand massaging the soles of your feet, which activates venous and lymphatic circulation. And if you're right at the water's edge, as the waves break, the sea water will massages your ankles, making the exercise even more complete.
Water walking. The water around your ankles is beneficial, but if you're willing to get a bit wetter, walk out until the water reaches up to your thighs. Walking at this depth, lifting your legs with each stride, is tiring, but it's fantastic exercise to strengthen the muscles of the legs and buttocks.
Free exfoliation. There are beauty benefits, too, as the friction of the sand is a marvellous natural exfoliant. Walking barefoot will result in softer feet in no time, just like a home peel treatment!
Mineral magic. There's another benefit to seawater, too, as it contains minerals (iodine and sodium) that help prevent ageing not to mention the fact that it's relaxing!
Wet or dry sand? Obviously, if you're right down at the water's edge, you'll be walking on wet sand. This is actually easier and takes less effort. But as you get fitter and start to notice the benefits of the water, you may want to extend your walks farther up the beach where the sand is dryer. Since dry sand is less stable and the shape shifts as you walk, it involves more effort. Remember that while this is good in terms of exercise, it also means there is a higher risk of injury, mainly to the ankle ligaments.
Source: hellomagazine
RIVERA FOOT & ANKLE: At Orlando H.Rivera DPM, our priority is to deliver quality care to informed patients in a comfortable and convenient setting. When you have problems with your feet, you need to turn to a podiatrist who listens and responds… an experienced doctor who knows the field and can effectively diagnose and treat your needs… a friendly physician who counsels you on the best ways to maintain and improve your health. Our physician(s) meet all these criteria. Plus, you benefit from a dedicated team of trained professionals who give you the individualized attention you deserve.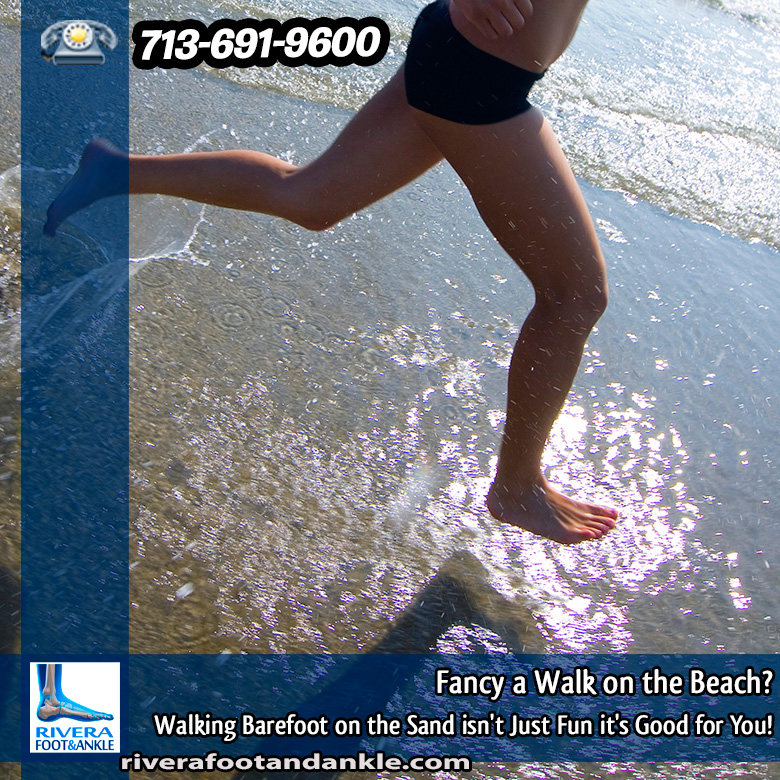 Foot Pain Houston.
Keywords: Foot and Ankle, Dr. Orlando Rivera, Advanced Foot & Ankle Specialist, Foot and Ankle Podiatry, Houston Food & Ankle Surgical, Treatment of Foot and Ankle, Foot & ankle specialists, Podiatrist in houston, podiatrist in houston, Orlando H.Rivera DPM, Houston Foot Doctor, Food and Ankle Surgeon Houston, Ankle and Foot Specialist Houston, Podiatrist Houston, Foot Pain Houston