The Danger Of Ingrown Toenails
Don't Risk The Pain
An ingrowing toenail is a common condition which may cause discomfort or become infected.
Various treatments can be given by a doctor or a person qualified to diagnose and treat foot disorders (a chiropodist). See a doctor if you have symptoms of infection around the nail, particularly if you have diabetes, a poor immune system or other foot problems.
What is an ingrowing toenail?
The nail becomes ingrowing when the side of the nail cuts into the skin next to the nail. This can become painful. The skin next to the nail may also become infected or inflamed. Any toe can be affected, but it is usually the big toe. It is a common problem, especially in teenagers and young adults.
What causes ingrowing toenails?
Ingrowing toenails are usually caused by a sharp spike of nail growing into the skin beside it. This can happen as a result of various factors. Not trimming your nails correctly, wearing poorly-fitting shoes or tight socks, and sweating a lot (during exercise for example) can all contribute. Shoes which force the toes towards each other encourage the nail to grow into the skin. For example, tight shoes, high heels and pointed-toe shoes. Active, sporty people may be more prone to ingrowing toenails as they sweat more. Ingrowing toenails may occur more often in people who have nails which are deformed in some way. Often there is no apparent reason why it occurs.
Source: patient
RIVERA FOOT & ANKLE: At Orlando H.Rivera DPM, our priority is to deliver quality care to informed patients in a comfortable and convenient setting. When you have problems with your feet, you need to turn to a podiatrist who listens and responds… an experienced doctor who knows the field and can effectively diagnose and treat your needs… a friendly physician who counsels you on the best ways to maintain and improve your health. Our physician(s) meet all these criteria. Plus, you benefit from a dedicated team of trained professionals who give you the individualized attention you deserve.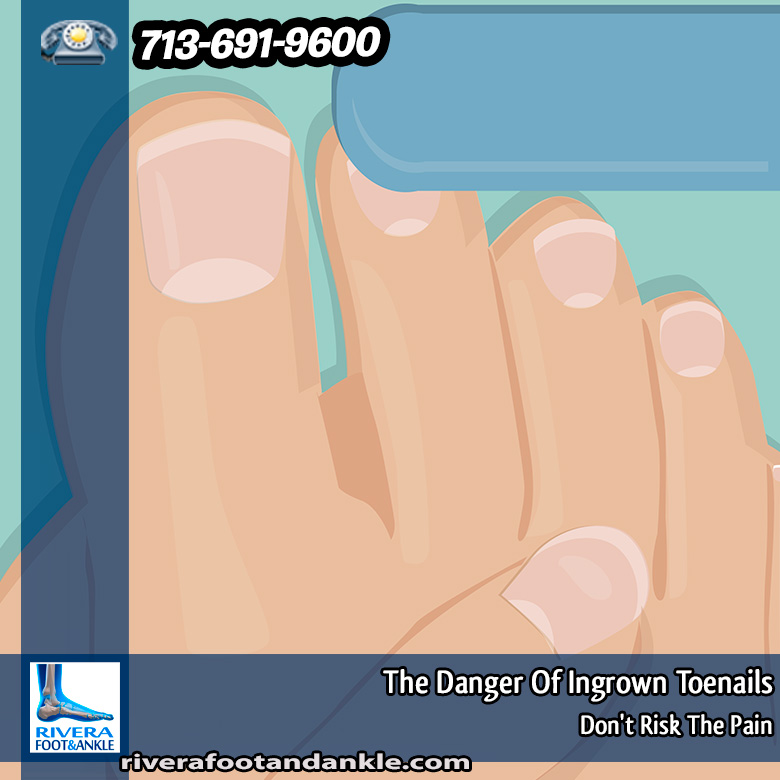 Advanced Foot & Ankle Specialist.
Keywords: Foot and Ankle, Dr. Orlando Rivera, Advanced Foot & Ankle Specialist, Foot and Ankle Podiatry, Houston Foot & Ankle Surgical, Treatment of Foot and Ankle, Foot & ankle specialists, Podiatrist in houston, podiatrist in houston, Orlando H.Rivera DPM, Houston Foot Doctor, Foot and Ankle Surgeon Houston, Ankle and Foot Specialist Houston, Podiatrist Houston, Foot Pain Houston