Tired Of Painful Bunions?
Treatment For Bunions
A bunion (hallux valgus) is a deformity of the base joint of the big toe. The cause is not clear in many cases.
The deformity may cause the foot to rub on shoes, which may cause inflammation and pain. Good footwear is often all that is needed to ease symptoms. An operation to correct the deformity is an option if good footwear does not ease symptoms.
Good footwear is often all that is needed
Wearing good footwear does not cure the deformity but may ease symptoms of pain and discomfort. Ideally, get footwear advice from a person qualified to diagnose and treat foot disorders (podiatrist - previously called a chiropodist).
Advice may include:
Wear shoes, trainers or slippers that fit well and are roomy.
Don't wear high-heeled, pointed or tight shoes.
You might find that shoes with laces or straps are best, as they can be adjusted to the width of your foot.
Padding over the bunion may help, as may ice packs.
Devices which help to straighten the toe (orthoses) are still occasionally recommended, although trials investigating their use have not found them much better than no treatment at all.
Medication
Painkillers such as paracetamol or ibuprofen may ease any pain. If the bunion (hallux valgus) develops as part of an arthritis then other medication may be advised. A course of antibiotics may be needed if the skin and tissues over the deformity become infected.
Source: patient
RIVERA FOOT & ANKLE: At Orlando H.Rivera DPM, our priority is to deliver quality care to informed patients in a comfortable and convenient setting. When you have problems with your feet, you need to turn to a podiatrist who listens and responds… an experienced doctor who knows the field and can effectively diagnose and treat your needs… a friendly physician who counsels you on the best ways to maintain and improve your health. Our physician(s) meet all these criteria. Plus, you benefit from a dedicated team of trained professionals who give you the individualized attention you deserve.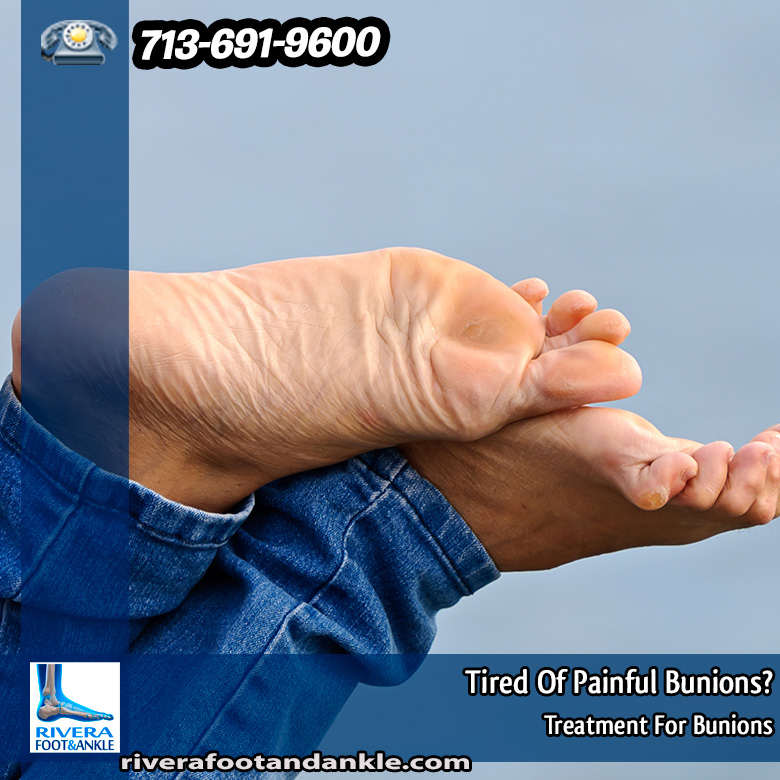 Orlando H.Rivera DPM
Keywords: Foot and Ankle, Dr. Orlando Rivera, Advanced Foot & Ankle Specialist, Foot and Ankle Podiatry, Houston Foot & Ankle Surgical, Treatment of Foot and Ankle, Foot & ankle specialists, Podiatrist in houston, podiatrist in houston, Orlando H.Rivera DPM, Houston Foot Doctor, Foot and Ankle Surgeon Houston, Ankle and Foot Specialist Houston, Podiatrist Houston, Foot Pain Houston