The First Line of Blister Defense
Blisters are very predictable. Take three elements, moisture, friction, and heat, common to your feet when you run, and the likelihood of a blister appearing is high.
The longer these elements exist on the feet, unattended to, the greater the risk. So, what can we do to reduce one or more of these elements?
The first order of business is to recognize that you, and you alone, need to find what will work on your feet. Others can give suggestions, but what works for another may not work for you. What follows is a synopsis of options you need to consider.
The First Line of Blister Defense
There are several blister reducing options that should be our first level of defense. Proper socks are a key priority. Moisture-wicking socks are available from almost every sock manufacturer, and given a choice, should always be picked before an all-cotton sock. Double layer socks offer an inner layer that moves against the outer layer, reducing friction to the skin. Try several different types of socks of various thickness' and fabrics.
Lubricants are next on the list. Most runners grew up using a lubricant, usually the age-old standby, Vaseline. Many runners also use Bag Balm, a salve with healing properties. Newer, state-of-the-art lubricants may contain silicone, pain-relieving benzocaine, or anti friction polymers. The trick with lubricants is to reapply them frequently, being sure to clean off the old layer before another application. If your skin becomes too tender from the softening effects of the lubricant, then a powder may be in order.
Powders can help reduce friction by absorbing moisture. This reduces friction between the feet and the socks. Dry skin is more resistant to blister formation than skin that has been softened by moisture. Beware of powders that cake up and cause blisters. Good powders will absorb many times their weight in moisture.
Source: fixingyourfeet
RIVERA FOOT & ANKLE: At Orlando H.Rivera DPM, our priority is to deliver quality care to informed patients in a comfortable and convenient setting. When you have problems with your feet, you need to turn to a podiatrist who listens and responds… an experienced doctor who knows the field and can effectively diagnose and treat your needs… a friendly physician who counsels you on the best ways to maintain and improve your health. Our physician(s) meet all these criteria. Plus, you benefit from a dedicated team of trained professionals who give you the individualized attention you deserve.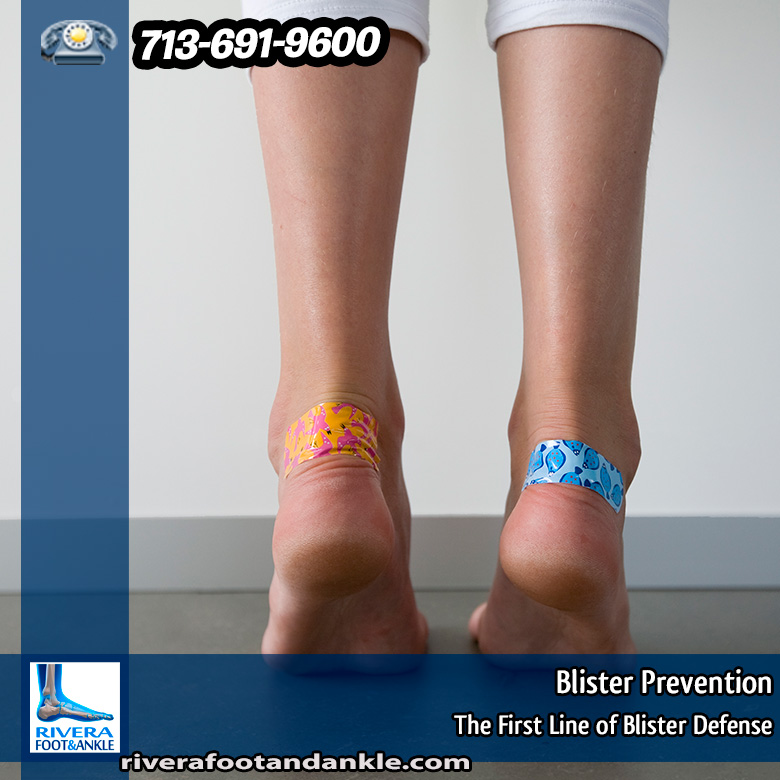 Podiatrist in houston
Keywords: Foot and Ankle, Dr. Orlando Rivera, Advanced Foot & Ankle Specialist, Foot and Ankle Podiatry, Houston Foot & Ankle Surgical, Treatment of Foot and Ankle, Foot & ankle specialists, Podiatrist in houston, podiatrist in houston, Orlando H.Rivera DPM, Houston Foot Doctor, Foot and Ankle Surgeon Houston, Ankle and Foot Specialist Houston, Podiatrist Houston, Foot Pain Houston