Find Useful Tips Here
Contrary to popular belief, fitness walking doesn't have to look ridiculous. With proper form, you'll simply look like a woman on a mission. Here's how.
The Right Way to Walk
Your spine should be straight, with ears over shoulders, shoulders over hips, and hips over knees, says certified group fitness instructor Michele Stanten.
Your arms should be bent at 90 degrees and swing back and forth (not across the body) from the shoulders. Your legs will naturally move in sync, so the faster you swing, the faster you'll walk. A foolproof tip: Hang a bathrobe belt around your neck, and hold one end in each hand, says Stanten. If you're walking correctly, the straps will stay firmly in place, not slide up and down your neck or from side to side.
Your feet should land heel first with each step. You should then roll through the foot and push off with your toes. "Show me the sole of your shoe at the end of every stride," says public-health and transportation consultant Mark Fenton. If you hear a slap-slap when your foot lands, you're landing too abruptly, rather than rolling smoothly.
Source: realsimple
RIVERA FOOT & ANKLE: At Orlando H.Rivera DPM, our priority is to deliver quality care to informed patients in a comfortable and convenient setting. When you have problems with your feet, you need to turn to a podiatrist who listens and responds… an experienced doctor who knows the field and can effectively diagnose and treat your needs… a friendly physician who counsels you on the best ways to maintain and improve your health. Our physician(s) meet all these criteria. Plus, you benefit from a dedicated team of trained professionals who give you the individualized attention you deserve.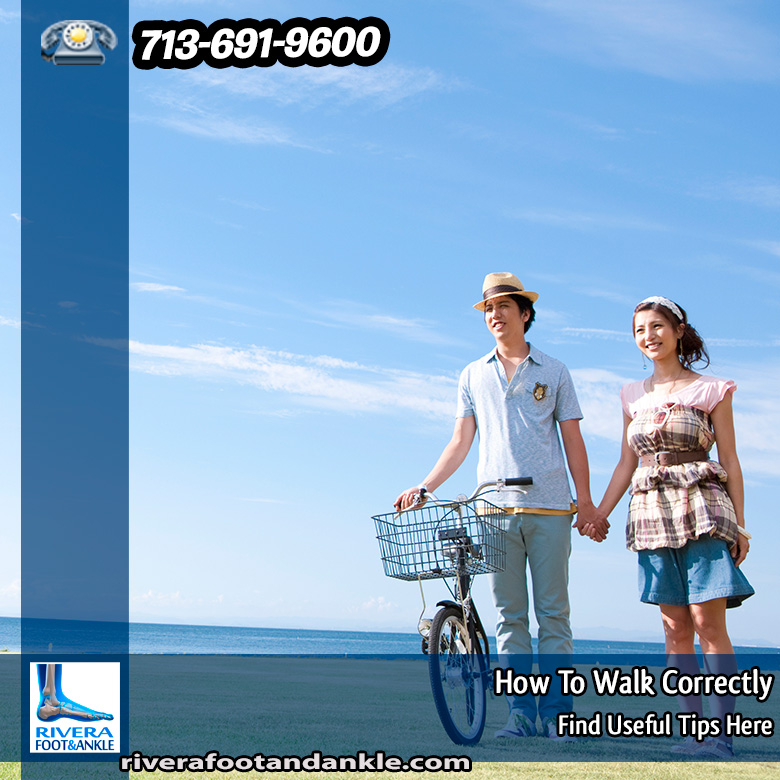 Advanced Foot & Ankle Specialist.
Keywords: Foot and Ankle, Dr. Orlando Rivera, Advanced Foot & Ankle Specialist, Foot and Ankle Podiatry, Houston Foot & Ankle Surgical, Treatment of Foot and Ankle, Foot & ankle specialists, Podiatrist in houston, podiatrist in houston, Orlando H.Rivera DPM, Houston Foot Doctor, Foot and Ankle Surgeon Houston, Ankle and Foot Specialist Houston, Podiatrist Houston, Foot Pain Houston