Find Out Some Treatments
Diabetes is hard on feet. Because the feet are farthest from the heart, any problems with blood flow can leave feet underfed.
Results can include numbness, loss of foot strength, and worse. Fortunately, there are some good ways to heal and protect your feet.
If you just woke up one day with numb feet, you would notice a big difference and ask about ways to treat it. It doesn't work that way, though. Numbness comes on slowly over years, so you don't notice day-to-day changes. Also, severe pain often comes before numbness, so that the numbness is perceived as a relief rather than a problem at first.
The relief of numbness comes with major costs, though. Numbness may make muscles weaker and balance less steady. So people are more likely to fall, and their feet can become deformed by walking wrong, since they can't feel where the pressure is. So how can we protect our foot nerves?
Treatments
There are many drugs for nerve pain, but not much for numbness. Lowering blood glucose and blood pressure will improve circulation, however, and drugs are one way to do that.
• Nondrug therapies for feet include creams and oils for the skin, such as L-arginine cream. Aromatherapy with scents such as geranium and lavender are recommended by herbalists to improve circulation.
Source: diabetesselfmanagement
RIVERA FOOT & ANKLE: At Orlando H.Rivera DPM, our priority is to deliver quality care to informed patients in a comfortable and convenient setting. When you have problems with your feet, you need to turn to a podiatrist who listens and responds… an experienced doctor who knows the field and can effectively diagnose and treat your needs… a friendly physician who counsels you on the best ways to maintain and improve your health. Our physician(s) meet all these criteria. Plus, you benefit from a dedicated team of trained professionals who give you the individualized attention you deserve.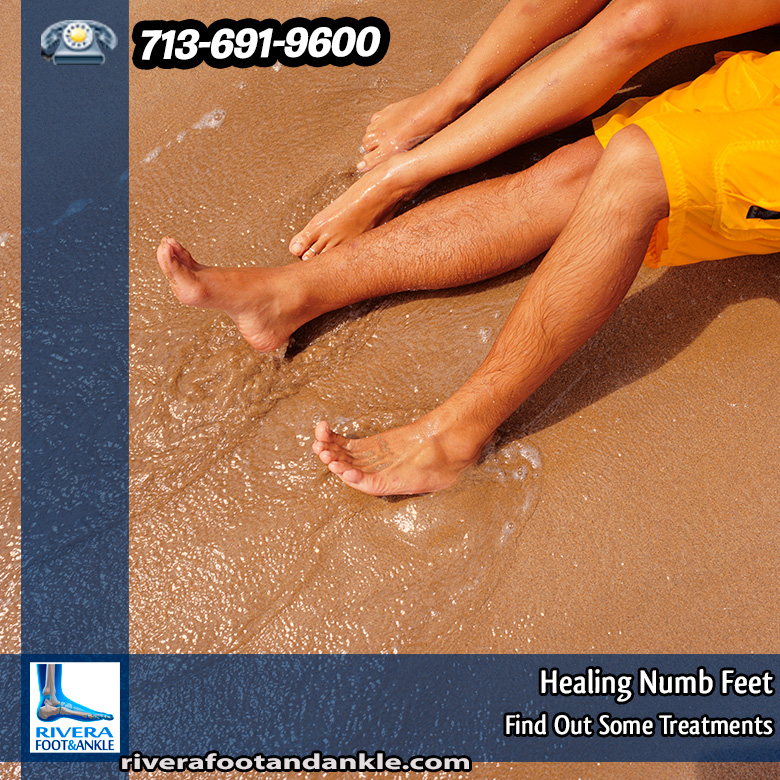 Advanced Foot & Ankle Specialist.
Keywords: Foot and Ankle, Dr. Orlando Rivera, Advanced Foot & Ankle Specialist, Foot and Ankle Podiatry, Houston Foot & Ankle Surgical, Treatment of Foot and Ankle, Foot & ankle specialists, Podiatrist in houston, podiatrist in houston, Orlando H.Rivera DPM, Houston Foot Doctor, Foot and Ankle Surgeon Houston, Ankle and Foot Specialist Houston, Podiatrist Houston, Foot Pain Houston