What You Need To Know
An ingrown toenail is caused when a toenail grows sideways into the bed of the nail, causing pain and swelling. Sometimes this can become infected causing drainage and may become serious.
There are many risk factors that can predispose a person to this common condition. Cutting your nails too short, participating in sports, diabetes, being overweight, or having a fungal infection of the toe can all cause ingrown toenails. Many people are genetically prone to ingrown nails and it can often be related to genetics. Often the problem can come from wearing ill-fitting shoes, or even from shoes that keep the feet slightly damp.
There are some things that you can do to prevent and treat these painful problems. Letting your toenails grow a little longer will help prevent this condition. If you do develop an ingrown nail, soaking the toe in hot water will help prevent infection and lessen pain. You may want to add antibiotic soap or Epsom salts to the water. This will help to prevent infection.
Some experts also recommend placing small pieces of cotton under the affected part. This will help the toenail to grow up instead into in your nail bed. Resting with your feet up can reduce swelling and redness.
If your pain is so severe that it keeps you from everyday activities, it is time to see your podiatrist. Also, if you see a red streak running up your leg, or if your infection is spreading, see a podiatrist immediately. There are many quick treatments that can lessen your pain and have you walking with comfort.
One method of treating an ingrown toenail involves using a Band-Aid. Wrapping the affected toe with a Band-Aid will prevent infection and also keep the nail from growing out at painful angles.
If your podiatrist feels it is necessary, he or she may make a small incision and remove part of your toenail. Medication will be placed in the nail bed to prevent re-growth of the problem nail parts. This will be done under local anesthesia and should lessen your discomfort in no time. You will be advised to stay off your foot for a day or so, but can then carry on normal activities.
Take care of your feet; you have many steps to take in your life. Walking in comfort should be a priority for a lifetime of healthy living.
Source: eastbrunswickfootanklecenter
RIVERA FOOT & ANKLE: At Orlando H.Rivera DPM, our priority is to deliver quality care to informed patients in a comfortable and convenient setting. When you have problems with your feet, you need to turn to a podiatrist who listens and responds… an experienced doctor who knows the field and can effectively diagnose and treat your needs… a friendly physician who counsels you on the best ways to maintain and improve your health. Our physician(s) meet all these criteria. Plus, you benefit from a dedicated team of trained professionals who give you the individualized attention you deserve.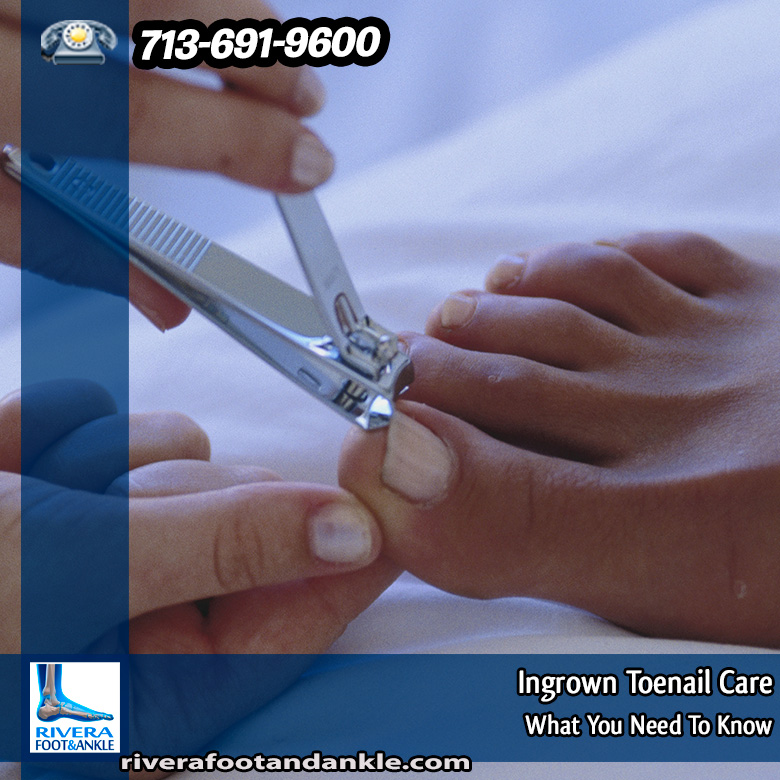 Advanced Foot & Ankle Specialist.
Keywords: Foot and Ankle, Dr. Orlando Rivera, Advanced Foot & Ankle Specialist, Foot and Ankle Podiatry, Houston Foot & Ankle Surgical, Treatment of Foot and Ankle, Foot & ankle specialists, Podiatrist in houston, podiatrist in houston, Orlando H.Rivera DPM, Houston Foot Doctor, Foot and Ankle Surgeon Houston, Ankle and Foot Specialist Houston, Podiatrist Houston, Foot Pain Houston