Effect of High-Heels on the Feet
Take Care Before It's Too Late
For hundreds of years, women have been wearing various kinds of high-heels for mostly aesthetic reasons. Women who wear high-heels appear to be taller and to have longer and thinner legs, and the wearer's gait and posture changes. Though high-heels have had an association with femininity and have kept them popular over the years, there are definite health problems caused by wearing them too frequently.
The motion of the ankle joints is limited when heels are worn. The ankle joint is very important to the body when it comes to walking. Because of their location, these joints have a great deal of weight put on them. Thus, it is very important to keep them as healthy as possible. The Achilles tendon is the main tendon in the ankle. Wearing high-heels too often, studies have shown, can cause the calf muscle and Achilles tendon to shorten and stiffen, which can cause problems when shoes without heels are worn.
By putting a great deal of pressure on the ball of the foot, by forcing the toes into a small toe box, high-heels can cause or may worsen many foot problems, such as corns, hammertoe, bunions, Morton's neuroma and plantar fasciitis.
Not only does wearing very high-heels regularly have negative effects on the feet, the rest of the body can suffer as well. The knees, one of the most important joints in the entire body, can be affected by wearing high-heels. High-heels causes the knees to stay bent all the time. Also, it can cause them to bend slightly inward as well. Doctors believe that women can suffer from osteoarthritis later in life because of constantly walking like this. By limiting the natural motion of the foot during walking, high-heels also cause an increased in stress on the knees.
Similarly, the back may also be affected by high-heels because it causes the back to go out of alignment. If high-heels are worn constantly, the spine's ability to absorb shock can cause continued back pain. They can compress the vertebrae of the lower back, and can overuse the back muscles.
However, this is not to say that high-heels can never be worn. If worn occasionally, they will not cause serious problems. They should not be worn every day in order to avoid the long-term physical health problems of the feet, knees, ankles, and back like mentioned above.
Source: eastbrunswickfootanklecenter
RIVERA FOOT & ANKLE: At Orlando H.Rivera DPM, our priority is to deliver quality care to informed patients in a comfortable and convenient setting. When you have problems with your feet, you need to turn to a podiatrist who listens and responds… an experienced doctor who knows the field and can effectively diagnose and treat your needs… a friendly physician who counsels you on the best ways to maintain and improve your health. Our physician(s) meet all these criteria. Plus, you benefit from a dedicated team of trained professionals who give you the individualized attention you deserve.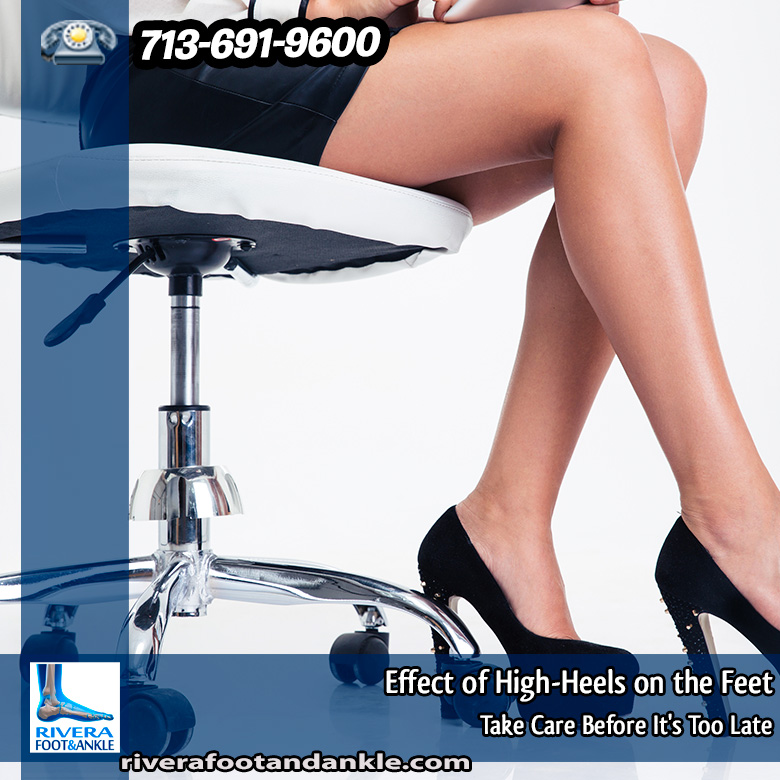 Orlando H.Rivera DPM
Keywords: Foot and Ankle, Dr. Orlando Rivera, Advanced Foot & Ankle Specialist, Foot and Ankle Podiatry, Houston Foot & Ankle Surgical, Treatment of Foot and Ankle, Foot & ankle specialists, Podiatrist in houston, podiatrist in houston, Orlando H.Rivera DPM, Houston Foot Doctor, Foot and Ankle Surgeon Houston, Ankle and Foot Specialist Houston, Podiatrist Houston, Foot Pain Houston