Suffering From Blisters on the Feet?
Check Out These Tips!
Blisters are a common ailment of people who wear shoes that are either too tight or rubbed up against their feet in the wrong way while wearing them. In order to better understand how they are formed and what treatment should be used for them, you have to start with the basics of what a blister actually is.

A blister on the foot, or any other part of the body for that matter, is a small pocket that is filled with fluid. It usually forms on the upper layer of the skin because these layers are loose enough to allow a blister to form. The most common fluid in a blister is just a clear, watery like fluid that should not cause any concern. However, blisters can fill up with blood if they are deep enough and even pus if they have become infected with bacteria.
Blisters almost always form on the feet due to shoes rubbing up against the foot, where the friction causes blisters. These can occur after you have walked for a long period of time for example, or when your shoes simply do not fit you properly. They also form faster and easier if your feet are moist, so keeping them dry and clean is a preventative step you can take to avoid getting blisters.
Preventing infection should be the number one concern when treating blisters, as well as alleviating the pain they can cause. Using a band aid to cover up the blister will help it heal and prevent bacteria from entering it. New skin will form under the blister and eventually cause it to pop, or you can take a pin and try to pop it yourself.
If the blister is filled with pus or blood, seeking treatment from a doctor is ideal. Antibiotics might need to be taken in order to completely eliminate the bacteria inside the blister, and that needs to be prescribed by a doctor.
However, one of the best ways to treat blisters is to prevent them all together. Keeping your feet dry and making sure that your shoes fit properly are just two of the steps you can take to prevent blisters. Shoes that are too tight or shoes that are too loose and allow your feet to slide in them will cause blisters.
Applying a band aid to an area you think might get a blister before one pops up is another way you can prevent them.
Source: eastbrunswickfootanklecenter
RIVERA FOOT & ANKLE: At Orlando H.Rivera DPM, our priority is to deliver quality care to informed patients in a comfortable and convenient setting. When you have problems with your feet, you need to turn to a podiatrist who listens and responds… an experienced doctor who knows the field and can effectively diagnose and treat your needs… a friendly physician who counsels you on the best ways to maintain and improve your health. Our physician(s) meet all these criteria. Plus, you benefit from a dedicated team of trained professionals who give you the individualized attention you deserve.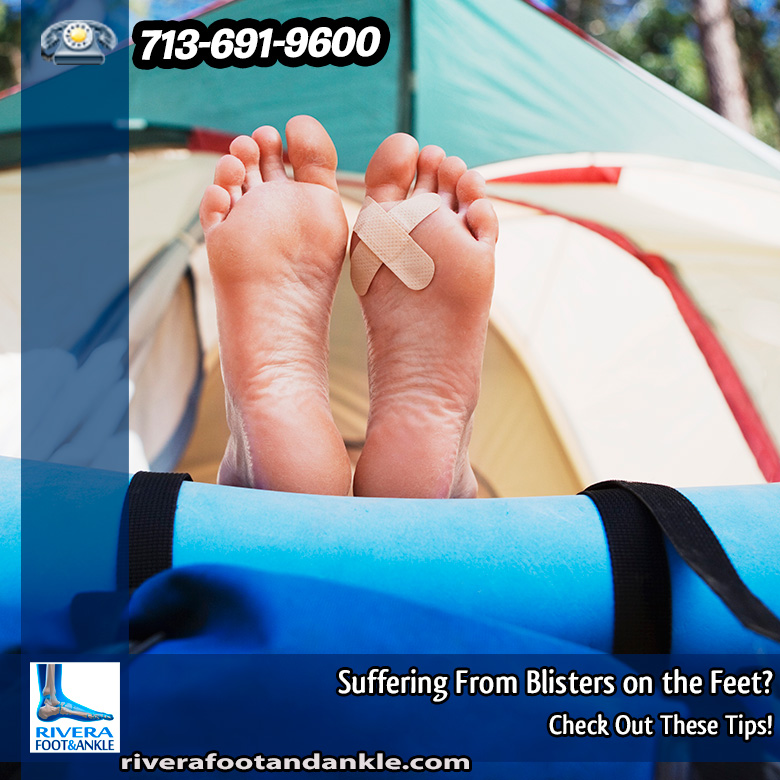 Foot & ankle specialists
Keywords: Foot and Ankle, Dr. Orlando Rivera, Advanced Foot & Ankle Specialist, Foot and Ankle Podiatry, Houston Foot & Ankle Surgical, Treatment of Foot and Ankle, Foot & ankle specialists, Podiatrist in houston, podiatrist in houston, Orlando H.Rivera DPM, Houston Foot Doctor, Foot and Ankle Surgeon Houston, Ankle and Foot Specialist Houston, Podiatrist Houston, Foot Pain Houston