This What Overworked Feet
Can Do To Your Health
Overworking your feet can put stress on your entire body, so taking care of your feet is an absolute priority for overall good health. Standing all day can cause a myriad of different conditions such as bunions, callouses, and plantar warts.
These conditions are all very painful but can be avoided with proper foot care, which includes both proper posture and good shoe choices to contribute to the overall health of your feet.
A good place to start is choosing a shoe that has a negative heel which places the heel slightly lower than the ball of the foot, as shoes designed this way are best for your foot health. Having a job that keeps you on your feet all day makes it an especially a good idea to spend the extra money on a good pair of shoes. And most definitely purchase your shoes from a reputable manufacturer who puts foot health at the forefront of their goals.
The feet were not designed to be enclosed for hours on end. In fact, incorporating some "barefoot" time into your daily routine is not a bad idea to improve overall foot health. There are some other simple things that you can do to help alleviate pain and pressure on the feet from standing all day.
One of the first things you can do is perform some simple foot exercises and some common yoga moves to improve the function of your feet. Foot work outs that aid in your movement will stimulate blood flow and muscles of your feet. Yoga exercises that stretch your feet out flat on the floor can be very beneficial for you if you work on your feet all day. It can also help stretch and relax the calf muscles and Achilles tendon, both of which can become problem areas if not taken care of. You can perform these exercises every day during your daily routine, at the office, at the gym, or even before you go to bed simply stretching your feet out can do wonders for your foot health.
Foot pain that occurs every day because you work for long hours on your feet may lead you to think that this pain is inevitable. However, it does not have to be. Foot stretches and proper footwear work well in alleviating foot pain and preventing further foot problems.
With a little effort and some education, you can keep your feet healthy and feeling good. If your feet hurt, your whole body will eventually feel the effects over time. Start taking care of your feet today!
Source: eastbrunswickfootanklecenter
RIVERA FOOT & ANKLE: At Orlando H.Rivera DPM, our priority is to deliver quality care to informed patients in a comfortable and convenient setting. When you have problems with your feet, you need to turn to a podiatrist who listens and responds… an experienced doctor who knows the field and can effectively diagnose and treat your needs… a friendly physician who counsels you on the best ways to maintain and improve your health. Our physician(s) meet all these criteria. Plus, you benefit from a dedicated team of trained professionals who give you the individualized attention you deserve.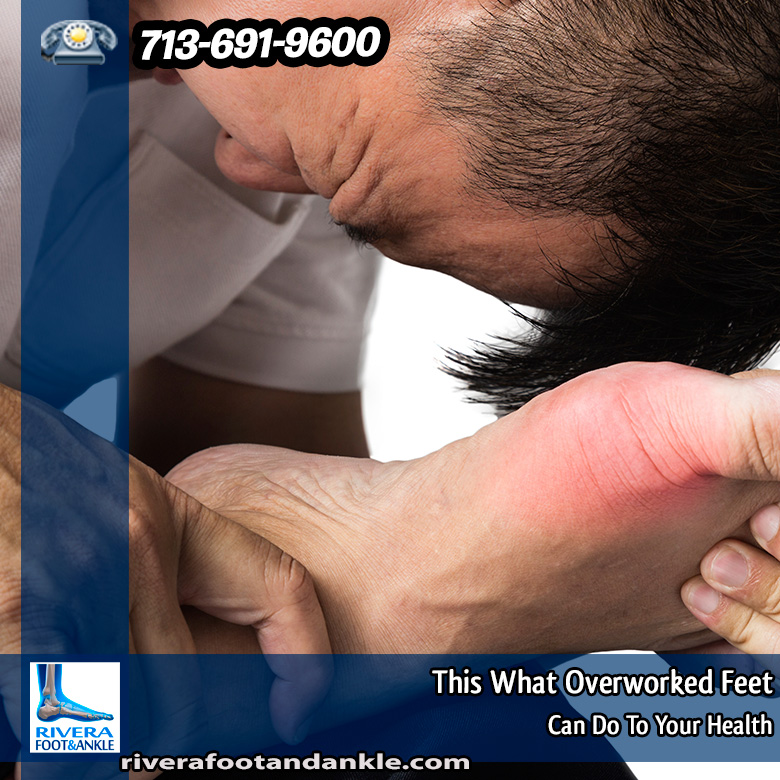 Advanced Foot & Ankle Specialist.
Keywords: Foot and Ankle, Dr. Orlando Rivera, Advanced Foot & Ankle Specialist, Foot and Ankle Podiatry, Houston Foot & Ankle Surgical, Treatment of Foot and Ankle, Foot & ankle specialists, Podiatrist in houston, podiatrist in houston, Orlando H.Rivera DPM, Houston Foot Doctor, Foot and Ankle Surgeon Houston, Ankle and Foot Specialist Houston, Podiatrist Houston, Foot Pain Houston