Causes and Treatment
Tingling feet—the "pins and needles" sensation also known as paresthesia—is a very common symptom that can be mild or severe, temporary or chronic. Often tingling feet are caused by pressure on the nerves, which in turn can be caused by crossing your legs or sitting on your foot for too long.
This kind of tingling goes away soon after the pressure is relieved. However, tingling feet can sometimes be a symptom of a more serious condition such as peripheral neuropathy (nerve damage) or diabetes. An estimated 20 million Americans have some type of peripheral neuropathy (there are over 100 different types) and suffer from tingling feet. If the tingling feeling is temporary, and you know the cause, you shouldn't be as concerned with seeking medical attention as you should with prevention. But if the tingling feeling is affecting you daily, and you're not doing anything to cause it (such as crossing your legs for long periods), you should consider seeing a podiatrist in case there is an underlying condition such as a systemic disease.
Tingling Feet Symptoms
Besides the pins-and-needles effect, there are other symptoms that can sometimes accompany tingling feet, including::
Pain
Itching
Numbness
Muscle spasms
Dizziness
Vision changes
Weakness
Difficulty walking
Confusion or loss of consciousness
Loss of bowel or bladder control
Rash
If your tingling feet are accompanied by additional symptoms such as these, there could be a variety of causes. These symptoms should be taken seriously and looked at by a podiatrist.
Tingling Feet Causes
The severity and duration of tingling feet will vary depending on the cause. Common causes of tingling feet include:
Peripheral neuropathy (nerve damage)
Nerve dysfunction, such as a pinched nerve
Nerve entrapment
Poor blood circulation
Medication (tingling could be a side effect)
Systemic diseases, such as hypothyroidism or multiple sclerosis
Trauma or injury to a nerve, such as with a broken foot
Vitamin deficiencies
Alcoholism
Hormone imbalance
When to See Your Doctor
Tingling feet should never be ignored, as they may be a sign of a more serious problem. Identifying conditions such as peripheral neuropathy and poor blood circulation in their early stages could mean the difference between a simple visit to a doctor or an extensive treatment plan. If you are experiencing dizziness, confusion, weakness, or paralysis in association with your tingling feet, do not attempt to drive. If no one is around to take you to a hospital when this occurs, call 911 immediately.
Source: footvitals
RIVERA FOOT & ANKLE: At Orlando H.Rivera DPM, our priority is to deliver quality care to informed patients in a comfortable and convenient setting. When you have problems with your feet, you need to turn to a podiatrist who listens and responds… an experienced doctor who knows the field and can effectively diagnose and treat your needs… a friendly physician who counsels you on the best ways to maintain and improve your health. Our physician(s) meet all these criteria. Plus, you benefit from a dedicated team of trained professionals who give you the individualized attention you deserve.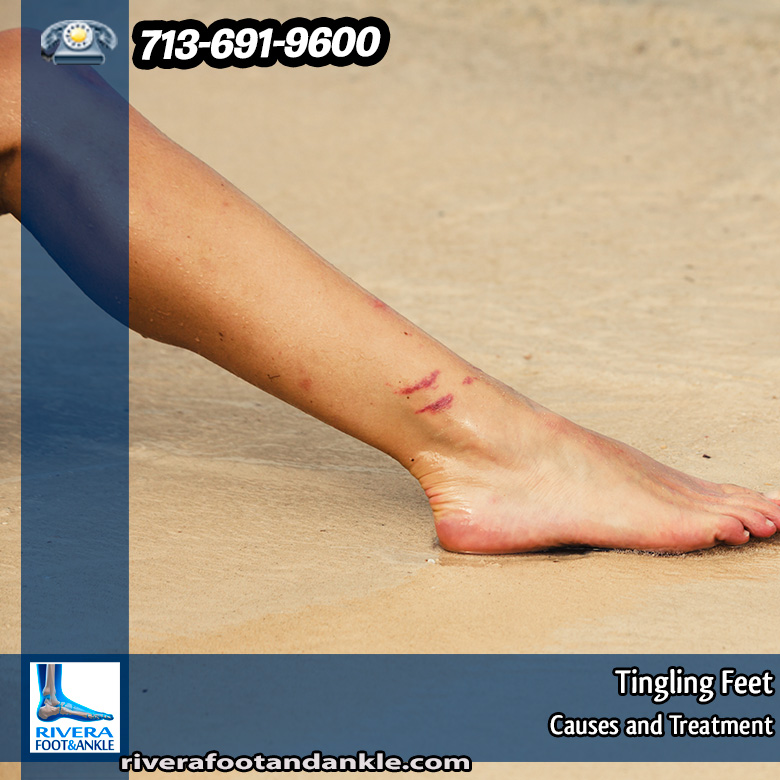 Podiatrist Houston
Keywords: Foot and Ankle, Dr. Orlando Rivera, Advanced Foot & Ankle Specialist, Foot and Ankle Podiatry, Houston Food & Ankle Surgical, Treatment of Foot and Ankle, Foot & ankle specialists, Podiatrist in houston, podiatrist in houston, Orlando H.Rivera DPM, Houston Foot Doctor, Food and Ankle Surgeon Houston, Ankle and Foot Specialist Houston, Podiatrist Houston, Foot Pain Houston