Who Needs Them?
These are custom-made prescription insoles that are designed to correct the alignment of the bones and joints within the foot and the lower extremity and spine.
When the foot architecture is corrected, the internal foot and external leg muscles will function at their peak performance.
Everything will become less fatigued and the muscles in the upper leg, buttocks area and lower back will function with less stress as well. Many patients report that they have received lower back pain relief with the use of functional corrective orthotics.
In order to make an orthotic, each foot has a proper biomechanical exam performed to make sure the alignment is corrected properly in the new orthotic. Next a impression is taken with plaster material to capture the proper shape and contour of the foot. The plaster molds and the mechanical measurements are sent to the lab for the devices to be fabricated.
Adjustments and follow-ups are usually necessary to make sure the fit is correct. It may take a week or two or a couple of months to get used to the devices, so proper break-in is suggested. Orthotics may be made for many types of shoes including: Work shoes, casual shoes as well as high heels. In addition all types of athletic shoes can be fit with an orthotic including running shoes, cleats, cycling, skate or ski boots for men, women and children. Children's orthotics can help to guide their bones and joints especially as bones are still made of cartilage early on in life, so mechanical guidance is very important when the foot mechanics are faulty from the start.
Orthotics can be made from many types of materials, and are all custom designed for each patient, based on individual needs.
Orthotics may last depending on materials used, upwards of 15 years, especially when regular refurbishing (recovering/repair) is done. Typical refurbishing should be done about every 3-5 years. Children's orthotics are changed and re-casted as the child grows, as they typically will grow out of the devices after the child increases 2 -3 shoe sizes.
Source: drschoene
RIVERA FOOT & ANKLE: At Orlando H.Rivera DPM, our priority is to deliver quality care to informed patients in a comfortable and convenient setting. When you have problems with your feet, you need to turn to a podiatrist who listens and responds… an experienced doctor who knows the field and can effectively diagnose and treat your needs… a friendly physician who counsels you on the best ways to maintain and improve your health. Our physician(s) meet all these criteria. Plus, you benefit from a dedicated team of trained professionals who give you the individualized attention you deserve.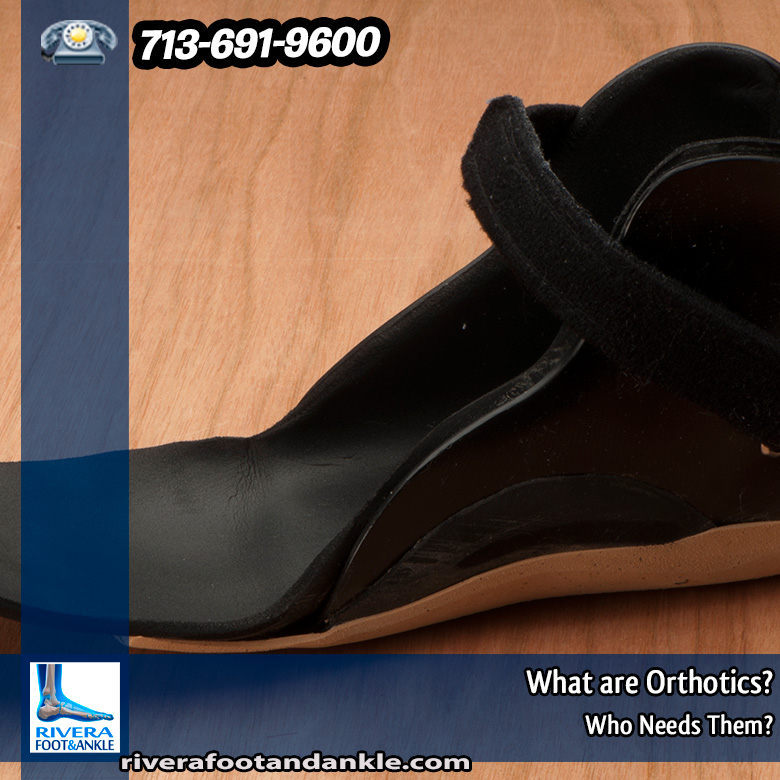 Advanced Foot & Ankle Specialist.
Keywords: Foot and Ankle, Dr. Orlando Rivera, Advanced Foot & Ankle Specialist, Foot and Ankle Podiatry, Houston Food & Ankle Surgical, Treatment of Foot and Ankle, Foot & ankle specialists, Podiatrist in houston, podiatrist in houston, Orlando H.Rivera DPM, Houston Foot Doctor, Food and Ankle Surgeon Houston, Ankle and Foot Specialist Houston, Podiatrist Houston, Foot Pain Houston