Why You Should Visit A Podiatrist
If You Suffer From Diabetes
What Is Diabetes?
Diabetes is the inability to manufacture or properly use insulin, and it impairs the body's ability to convert sugars, starches, and other foods into energy.
The long-term effects of elevated blood sugar (hyperglycemia) can lead to serious damage to the eyes, heart, kidney, nerves, and feet. Diabetes affects the lives of nearly 26 million people in the United States and nearly seven million don't even know they have the disease yet.
While there is no cure for diabetes, there is hope. With proper diet, exercise, medical care, and careful management at home, a person with diabetes can avoid the most serious complications and enjoy a full and active life. Today's podiatrist plays a key role in helping patients manage diabetes successfully and avoid foot-related complications.
Visit Today's Podiatrist
Because diabetes is a disease affecting many parts of the body, successful management requires a team approach. Today's podiatrist is an integral part of the treatment team and has documented success in preventing amputations:
More than 65,000 lower limbs are amputated annually due to complications from diabetes.
After an amputation, the chance of another amputation within three to five years is as high as 50 percent.
Including a podiatrist in your diabetes care can reduce the risk of lower limb amputation up to 85 percent and lowers the risk of hospitalization by 24 percent.
The keys to amputation prevention are early recognition and regular foot screenings performed by a podiatrist, the foot and ankle expert.
Source: apma
RIVERA FOOT & ANKLE: At Orlando H.Rivera DPM, our priority is to deliver quality care to informed patients in a comfortable and convenient setting. When you have problems with your feet, you need to turn to a podiatrist who listens and responds… an experienced doctor who knows the field and can effectively diagnose and treat your needs… a friendly physician who counsels you on the best ways to maintain and improve your health. Our physician(s) meet all these criteria. Plus, you benefit from a dedicated team of trained professionals who give you the individualized attention you deserve.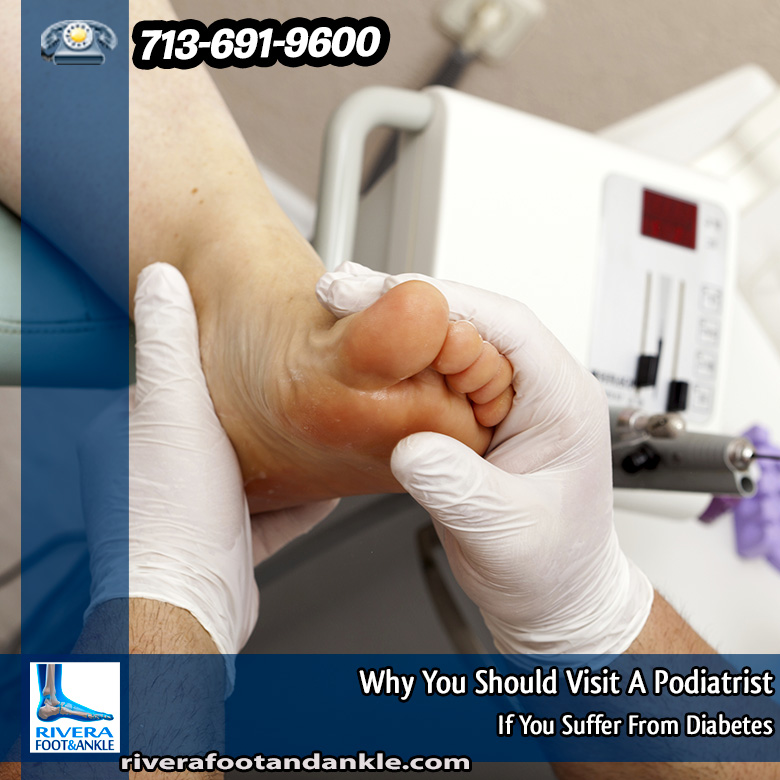 Foot Pain Houston
Keywords: Foot and Ankle, Dr. Orlando Rivera, Advanced Foot & Ankle Specialist, Foot and Ankle Podiatry, Houston Food & Ankle Surgical, Treatment of Foot and Ankle, Foot & ankle specialists, Podiatrist in houston, podiatrist in houston, Orlando H.Rivera DPM, Houston Foot Doctor, Food and Ankle Surgeon Houston, Ankle and Foot Specialist Houston, Podiatrist Houston, Foot Pain Houston