Soothe and Heal Cracked Heels and Feet
Naturally Prevent This Condition
Cracked heels and other foot cracks are usually caused by a combination of pressure and dry, non-pliable skin. Standing and walking applies pressure which makes the skin on the bottom of the feet expand sideways.
If the skin is not sufficiently pliable, cracking can result. Known medically as heel fissures, cracked heels are linear cut wounds which usually affect the surface level, or epidermis, of the heel. When the cracks extend beyond the epidermis, they can result in pain, bleeding and even infection. Fortunately, there are several natural remedies for treating and preventing cracked heels.
Cracked heels are most often a result of lack of proper foot care and may also be caused by dietary deficiencies. In particular, diets which fail to provide adequate zinc and essential omega-3 fatty acids may contribute to cracked heels and other dry skin problems. Zinc rich foods include oysters, organic chicken, crab, kidney beans, yogurt, and brown rice. Omega-3 fatty acids are largely found in cold water fish and healthy oils such as flaxseed.
Other important vitamins and minerals include:
-Vitamin E, which is found in green vegetables, wheat germ, whole-grain products and nuts.
-Calcium, which can be found in organic raw certified cow or goat milk, organic cheeses, yogurt, dark leafy vegetables and broccoli. Most people get plenty of calcium but fail to get the essential mineral magnesium which is necessary for proper absorption and utilization of calcium.
-Iron, which is found in certified organic meats, including beef, chicken and fish, as well as organic free range eggs, vegetables and beans.
Some suggestions for easy foot care which can help prevent cracked heels are:
-Keep your feet clean and dirt free.
-Exercise feet regularly.
-Follow a daily regimen of cleansing and moisturizing.
-Gently exfoliate the feet when needed.
-Alternate hot and cold water for a feet bath to soothe the feet.
-If you have deep bleeding cracks, avoid walking barefoot until the cracks are gone.
Source: naturalnews
RIVERA FOOT & ANKLE: At Orlando H.Rivera DPM, our priority is to deliver quality care to informed patients in a comfortable and convenient setting. When you have problems with your feet, you need to turn to a podiatrist who listens and responds… an experienced doctor who knows the field and can effectively diagnose and treat your needs… a friendly physician who counsels you on the best ways to maintain and improve your health. Our physician(s) meet all these criteria. Plus, you benefit from a dedicated team of trained professionals who give you the individualized attention you deserve.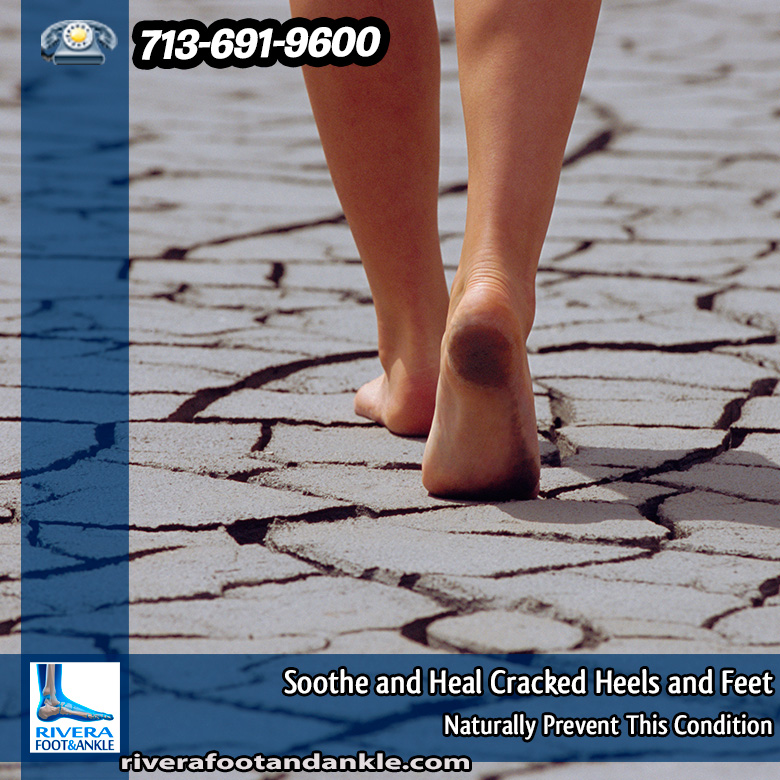 Orlando H.Rivera DPM
Keywords: Foot and Ankle, Dr. Orlando Rivera, Advanced Foot & Ankle Specialist, Foot and Ankle Podiatry, Houston Food & Ankle Surgical, Treatment of Foot and Ankle, Foot & ankle specialists, Podiatrist in houston, podiatrist in houston, Orlando H.Rivera DPM, Houston Foot Doctor, Food and Ankle Surgeon Houston, Ankle and Foot Specialist Houston, Podiatrist Houston, Foot Pain Houston