Your Feet Are Full Of Fungi
200 Species Live There!
If you are a germaphobe - that is, you constantly worry about bacteria and germs and the infections they might potentially cause - then you will probably be surprised to learn that your body is naturally teeming with hundreds of species of diverse fungi. As evidenced by new research published in the peer-reviewed journal Nature, your arms, hands, feet, and other body parts are right now colonized by upwards of 200 different types of fungi, which is far more than previously believed.
A team of scientists from the National Human Genome Research Institute in Bethesda, Maryland, led the research, in which samples of fungi were collected from various parts of participants' bodies. According to BBC News, samples were taken from the participants' ear canals, from between their eyebrows, from the backs of their heads, from behind their ears, as well as from their heels, underneath their toenails, between their toes, their forearms, their backs, their groins, their nostrils, their chests, their palms, and the crooks of their elbows.
What the team discovered is that fungi in general love to congregate on the palms of people's hands as well as on the forearms. Fungi are also prevalent inside the elbow. But where fungi really love to set up shop is on the feet, and particularly on the heels. According to data gathered from a series of DNA sequencing, it was determined that roughly 80 different types of fungi live on the heels, on average, while another 60 different types live in the toenails. The space in between toes is also a fungal hotspot, with roughly 40 different types of fungi calling it their home.
"The data from our study gives us a baseline about normal individuals that we never had before," said lead researcher Dr. Julia Segre. "The bottom line is your feet are teeming with fungal diversity, so wear your flip flops in locker rooms if you don't want to mix your foot fungi with someone else's fungi."
Source: naturalnews
RIVERA FOOT & ANKLE: At Orlando H.Rivera DPM, our priority is to deliver quality care to informed patients in a comfortable and convenient setting. When you have problems with your feet, you need to turn to a podiatrist who listens and responds… an experienced doctor who knows the field and can effectively diagnose and treat your needs… a friendly physician who counsels you on the best ways to maintain and improve your health. Our physician(s) meet all these criteria. Plus, you benefit from a dedicated team of trained professionals who give you the individualized attention you deserve.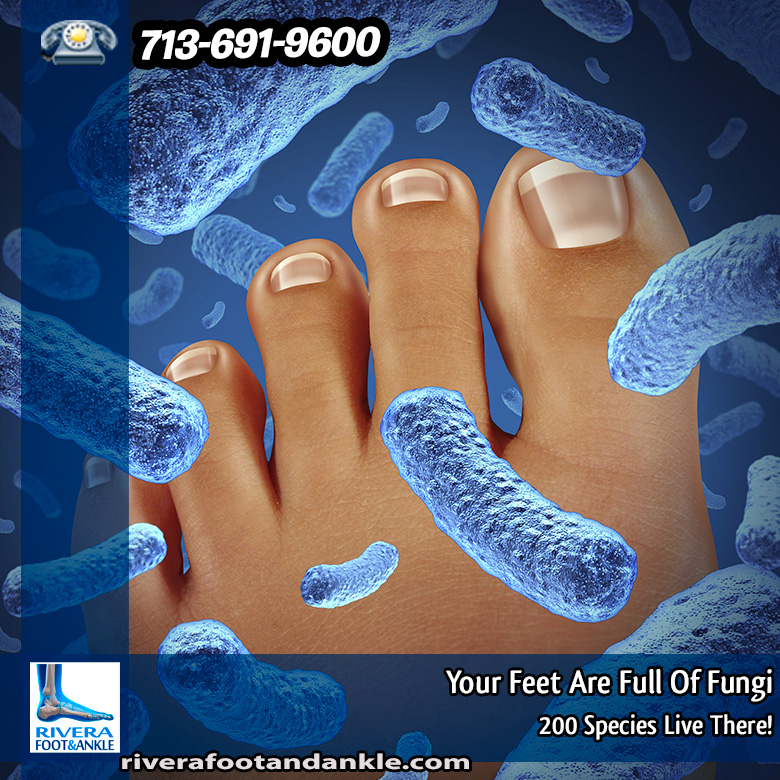 Podiatrist in houston
Keywords: Foot and Ankle, Dr. Orlando Rivera, Advanced Foot & Ankle Specialist, Foot and Ankle Podiatry, Houston Food & Ankle Surgical, Treatment of Foot and Ankle, Foot & ankle specialists, Podiatrist in houston, podiatrist in houston, Orlando H.Rivera DPM, Houston Foot Doctor, Food and Ankle Surgeon Houston, Ankle and Foot Specialist Houston, Podiatrist Houston, Foot Pain Houston