Active Feet to Aging Feet to Aching Feet
Oh, My Feet, My Poor Feet
"Oh, my feet, my poor, poor feet," the waitress's lament in "The Most Happy Fella," is increasingly heard among aging and physically active Americans.
In college, my shoe size was 5. Forty-odd years and thousands of miles walked or run later, I was walking with my college roommate when she glanced at my feet and exclaimed, "Those look like clown shoes!"
Yes, indeed, my sneakers are now a size 7, with a strong arch and a wide, high toe box to accommodate my spreading forefeet, a hammertoe and an incipient bone spur on my left foot, and a tender big toe with a chronic nail fungus on my right foot.
Comfort Over Fashion
I long ago forfeited fashion for comfort when it came to my feet. I've given away dozens of pairs of shoes that rub on tender parts, squeeze my foot bones or fail to provide the cushioning my soles now demand for comfortable walking and standing.
My feet, like the rest of me, are getting old, and having endured far more punishment than most other body parts, they are looking and feeling their age. They cry out for tender loving care — protection against further assault — and I wear shoes that provide proper support and prevent further injury.
My only consolation is that I am not alone. Problems with feet are frequent topics of conversation during morning walks with three friends who, like me, are in their 60s. One just spent over $500 on two pairs of orthopedically designed walking shoes after an attack of plantar fasciitis hobbled her just before her daughter's wedding. Another wears only closed-toe shoes to hide her feet, misshapen by bunions and hammertoes that cross over the big toes on both feet.
Nonsurgical Remedies
My daughter-in-law, who is more than 20 years our junior, now has tarsal tunnel syndrome, the ankle version of carpal tunnel syndrome, a consequence of near-daily pounding during high-impact aerobics.
None of us, however, are interested in surgery, which could take us out of commission for months. Rather, we are getting by with various nonsurgical approaches to keep ourselves in the running, so to speak.
If your feet are still healthy, you'd be wise to take precautions now to keep them that way. These are some of the more common problems that can befall aging or mistreated feet.
Source: nytimes
RIVERA FOOT & ANKLE: At Orlando H.Rivera DPM, our priority is to deliver quality care to informed patients in a comfortable and convenient setting. When you have problems with your feet, you need to turn to a podiatrist who listens and responds… an experienced doctor who knows the field and can effectively diagnose and treat your needs… a friendly physician who counsels you on the best ways to maintain and improve your health. Our physician(s) meet all these criteria. Plus, you benefit from a dedicated team of trained professionals who give you the individualized attention you deserve.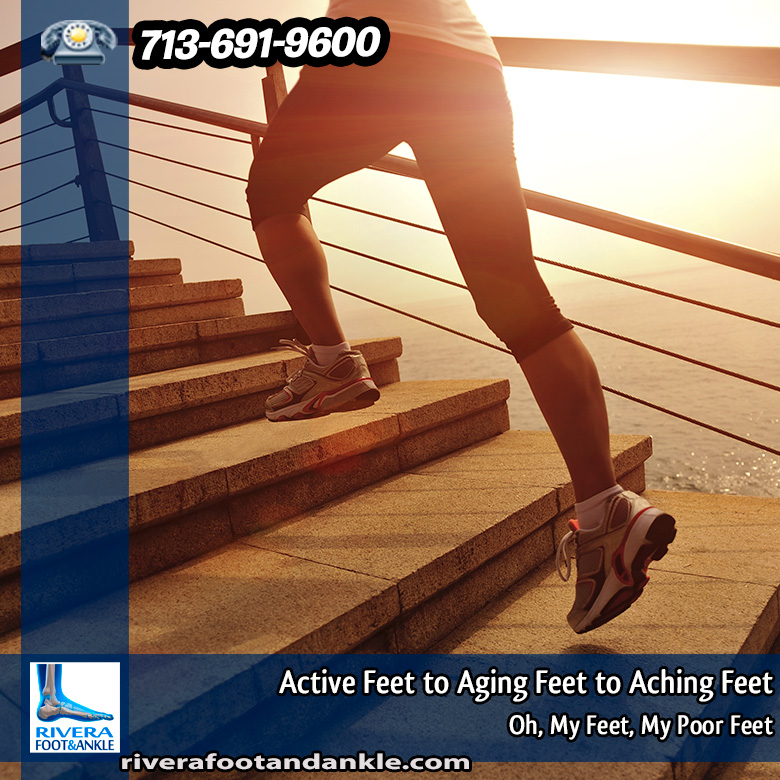 Treatment of Foot and Ankle
Keywords: Foot and Ankle, Dr. Orlando Rivera, Advanced Foot & Ankle Specialist, Foot and Ankle Podiatry, Houston Food & Ankle Surgical, Treatment of Foot and Ankle, Foot & ankle specialists, Podiatrist in houston, podiatrist in houston, Orlando H.Rivera DPM, Houston Foot Doctor, Food and Ankle Surgeon Houston, Ankle and Foot Specialist Houston, Podiatrist Houston, Foot Pain Houston