Give Them A Break
The average person walks the equivalent of three times around the Earth in a lifetime. That is enormous wear and tear on the 26 bones, 33 joints and more than 100 tendons, ligaments and muscles that make up the foot.
In a recent survey for the American Podiatric Medical Association, 53 percent of respondents reported foot pain so severe that it hampered their daily function. On average, people develop pain in their 60s, but it can start as early as the 20s and 30s. Yet, except for women who get regular pedicures, most people don't take much care of their feet.
"A lot of people think foot pain is part of the aging process and accept it, and function and walk with pain," said Dr. Andrew Shapiro, a podiatrist in Valley Stream, N.Y. Though some foot problems are inevitable, their progress can be slowed.
The most common foot conditions that occur with age are arthritic joints, thinning of the fat pads cushioning the soles, plantar fasciitis (inflammation of the fibrous tissue along the sole), bunions (enlargement of the joint at the base of the big toe), poor circulation and fungal nails. The following questions will help you assess whether you should take more preventive action as you age.
Are you overweight? The force on your feet is about 120 percent of your weight. "Obesity puts a great amount of stress on all the supporting structures of the foot," said Dr. Bart Gastwirth, a podiatrist at the University of Chicago. It can lead to plantar fasciitis and heel pain and can worsen hammertoes and bunions. It's also a risk factor for diabetes, leading to the next question.
Are you diabetic? Being farthest from the heart, the feet can be the first part of the body to manifest complications like poor circulation and loss of feeling, both of which can lead to poor wound healing and amputation. Diabetics should have their feet examined annually by a doctor and avoid shoes that cause abrasions and pressure.
Do you have poor circulation? If you suffer from peripheral artery disease — a narrowing of veins in the legs — your feet are more susceptible to problems, said Dr. Ross E. Taubman, president of the American Podiatric Medical Association. Smoking also contributes to poor circulation.
Do your parents complain about their feet? Family history is probably your biggest clue to potential problems.
Source: nytimes
RIVERA FOOT & ANKLE: At Orlando H.Rivera DPM, our priority is to deliver quality care to informed patients in a comfortable and convenient setting. When you have problems with your feet, you need to turn to a podiatrist who listens and responds… an experienced doctor who knows the field and can effectively diagnose and treat your needs… a friendly physician who counsels you on the best ways to maintain and improve your health. Our physician(s) meet all these criteria. Plus, you benefit from a dedicated team of trained professionals who give you the individualized attention you deserve.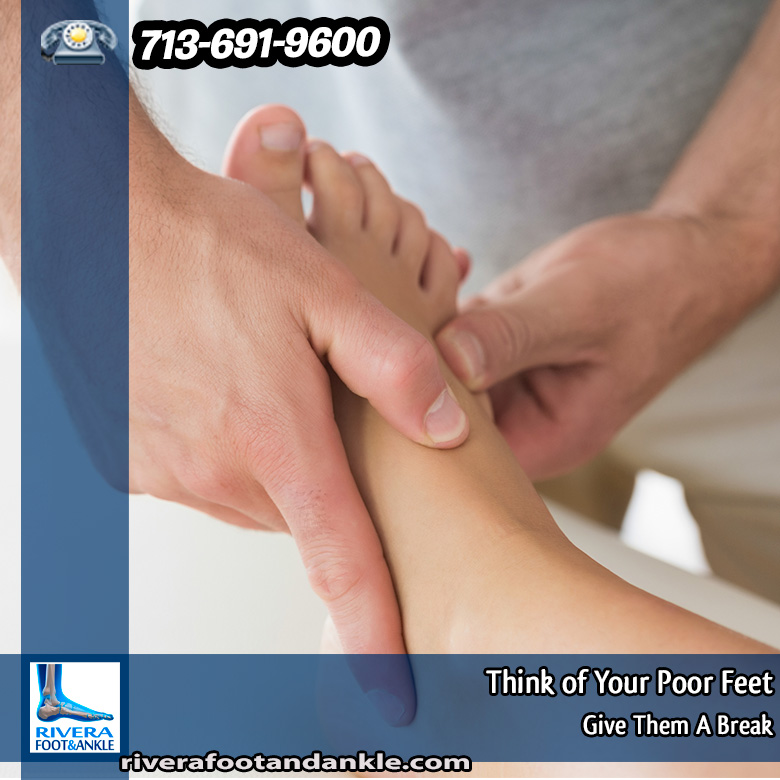 Foot and Ankle Podiatry
Keywords: Foot and Ankle, Dr. Orlando Rivera, Advanced Foot & Ankle Specialist, Foot and Ankle Podiatry, Houston Food & Ankle Surgical, Treatment of Foot and Ankle, Foot & ankle specialists, Podiatrist in houston, podiatrist in houston, Orlando H.Rivera DPM, Houston Foot Doctor, Food and Ankle Surgeon Houston, Ankle and Foot Specialist Houston, Podiatrist Houston, Foot Pain Houston