Ankle Surgical Options
If an ankle is fractured or arthritis interferes with function and causes pain that can't be controlled with medication, surgery may be an option – or a necessity. Here are some of the most commonly performed ankle surgeries.
Fracture repair. The most common reason for ankle surgery is to repair bones that have been fractured. The exact procedure used will depend on which bone is broken and how severely. Surgery may require the placement of hardware, such as metal plates and screws, to hold the bone pieces in place while they heal.

Ankle arthroscopy. Ankle arthroscopy is a minimally invasive surgery performed by inserting a lighted scope and narrow instruments through small incisions in the skin over the ankles. Surgeons may use the procedure to remove pieces of cartilage or bone debris from the joint space or to evaluate or repair a damaged ligament.
Read more about ankle arthroscopy from the Arthroscopy Association of North America.
Ankle fusion. This procedure involves surgically removing the surfaces of the joints affected by arthritis and joining the bones with plates and screws until they grow together, or fuse. While the procedure leaves the ankle without up-and-down or side-to-side movement, it can be an effective and permanent pain relief option for ankles affected by arthritis. If one ankle is fused, it is important that the opposite ankle still has good mobility.
Ankle replacement. Although the procedure is far less common than hip or knee replacement, replacing a damaged ankle may be an option when arthritis interferes with joint function and causes pain that is not relieved by medication. During ankle replacement, the surgeon makes an incision in the front of the ankle, removes the damaged bone and joint cartilage, reshapes the involved bones and then attaches the parts of the artificial joint, often with a special glue. The surgeon creates a bone graft between the ends of the tibula and places screws through the two bones to support and stabilize the ankle.
Source: arthritis
RIVERA FOOT & ANKLE: At Orlando H.Rivera DPM, our priority is to deliver quality care to informed patients in a comfortable and convenient setting. When you have problems with your feet, you need to turn to a podiatrist who listens and responds… an experienced doctor who knows the field and can effectively diagnose and treat your needs… a friendly physician who counsels you on the best ways to maintain and improve your health. Our physician(s) meet all these criteria. Plus, you benefit from a dedicated team of trained professionals who give you the individualized attention you deserve.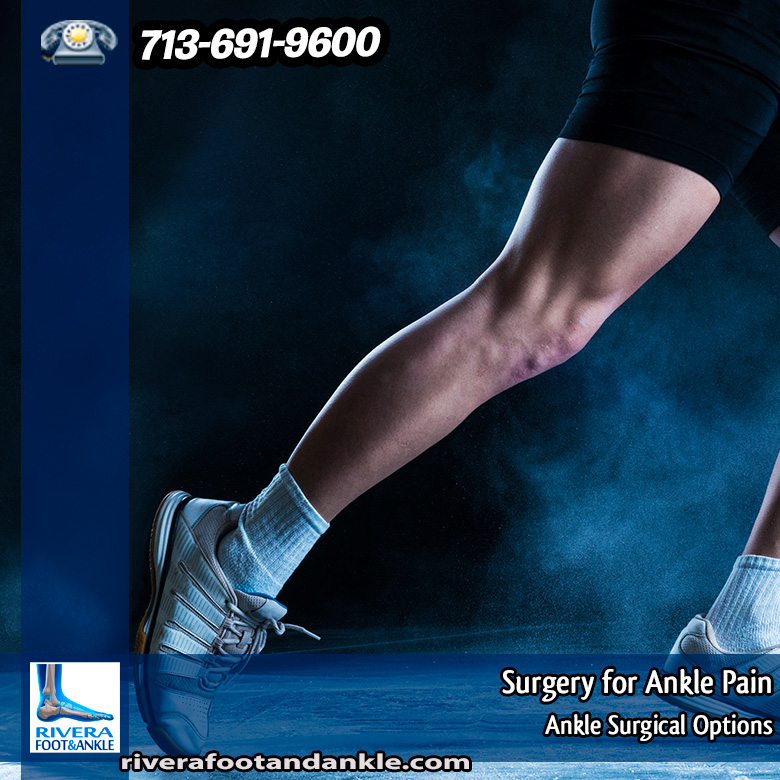 Podiatrist Houston
Keywords: Foot and Ankle, Dr. Orlando Rivera, Advanced Foot & Ankle Specialist, Foot and Ankle Podiatry, Houston Food & Ankle Surgical, Treatment of Foot and Ankle, Foot & ankle specialists, Podiatrist in houston, podiatrist in houston, Orlando H.Rivera DPM, Houston Foot Doctor, Food and Ankle Surgeon Houston, Ankle and Foot Specialist Houston, Podiatrist Houston, Foot Pain Houston