Foot Injuries and Other Problems
Learn More About Feet Conditions
The bones, connective tissue and small joints of the feet are prone to several types of injuries. Injuries can happen in otherwise healthy joints; however, arthritis and related disease processes can make some more likely.
For example, foot bones weakened by osteoporosis are prone to fracture and toes affected by rheumatoid arthritis are more prone to certain deformities, such as hammer toe or claw toe. The following are some of the more common foot injuries and foot problems associated with arthritis and related conditions.
Fractures. Any of the foot's 28 bones can be broken. Here's how each of the three sections of the foot – the heel, or hind foot; midfoot; and forefoot – can be affected.
Calcaneus. A fracture of the heel bone, or calcaneus, can be disabling. Most breaks for the calcaneus are due to a high-energy collision, such as a fall from a high ladder or an automobile accident.
Midfoot. Another common site of fractures is the midfoot, where bones held together by connective tissue form an arch on top of the foot between the ankle and toes. Dropping something heavy on the foot can break one or more of the bones. Falling or twisting the foot can break or move the bones out of place.
Forefoot. A fracture to one of the bones in the forefoot (metatarsals) or toes (phalanges) is painful, but is usually not disabling. Fractures in the forefoot may be stress fractures, tiny cracks in the bone surface caused by stress to the bone, such as running long distances or increasing an exercise program too quickly. Others may extend through the bone and be the result of dropping something heavy on the foot or twisting the foot.

Source: arthritis
RIVERA FOOT & ANKLE: At Orlando H.Rivera DPM, our priority is to deliver quality care to informed patients in a comfortable and convenient setting. When you have problems with your feet, you need to turn to a podiatrist who listens and responds… an experienced doctor who knows the field and can effectively diagnose and treat your needs… a friendly physician who counsels you on the best ways to maintain and improve your health. Our physician(s) meet all these criteria. Plus, you benefit from a dedicated team of trained professionals who give you the individualized attention you deserve.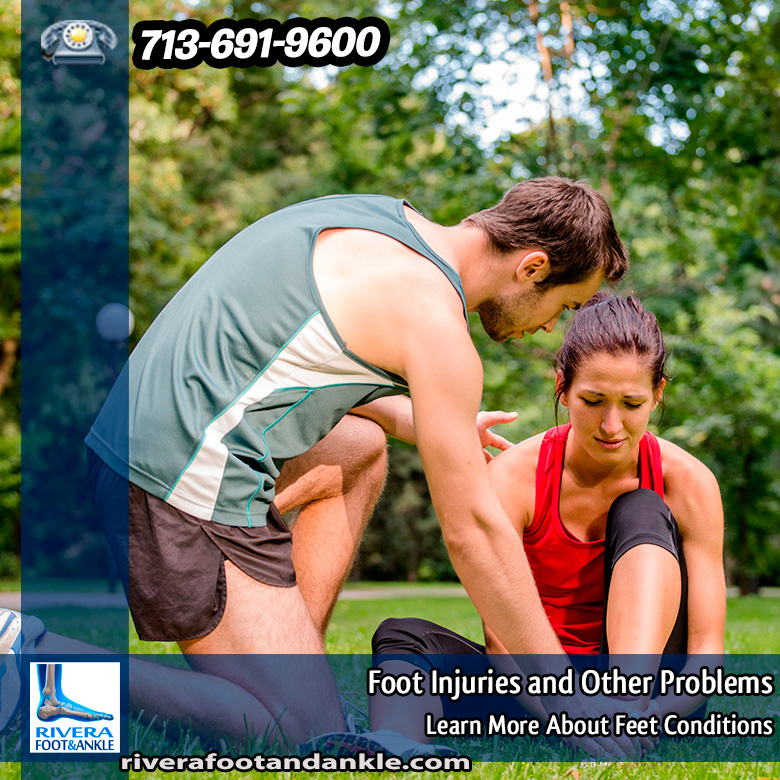 Foot Pain Houston
Keywords: Foot and Ankle, Dr. Orlando Rivera, Advanced Foot & Ankle Specialist, Foot and Ankle Podiatry, Houston Food & Ankle Surgical, Treatment of Foot and Ankle, Foot & ankle specialists, Podiatrist in houston, podiatrist in houston, Orlando H.Rivera DPM, Houston Foot Doctor, Food and Ankle Surgeon Houston, Ankle and Foot Specialist Houston, Podiatrist Houston, Foot Pain Houston