Physical Therapy
Painful heels are the number 4 concern bringing patients into the offices of many family doctors and the number 1 concern bringing patients to the offices of podiatric physicians (foot doctors).
Heel pain can have many causes but the vast majority is caused by plantar fasciitis. Plantar means, "bottom of the foot." Fascia is a ligament or "bundle" of ligaments. The plantar fascia is the thick ligament
that helps to hold up the foot and provide spring in our step.
Plantar fasciitis, is an inflammation of the plantar fascia and causes more than 90% of heel pain among adults in the US.
Plantar fasciitis can be acute, that is, as simple strain of the ligament but often is chronic, hanging on for months if not years. Why does that happen? The answer is poor foot mechanics, the foot sinking down
too far allowing the plantar fascia to overstretch with each step taken.
If the plantar fasciitis is acute, that is, a sprain of the plantar fascia then it is basically treated as a sprain, with anti-inflammatory drugs, ice, rest, possibly physical therapy. If chronic, the poor foot mechanics need be addressed.
Foot mechanics are changed by use of specially moulded shoe inserts known as orthotics. Someone with plantar fasciitis needs an orthotic designed to relieve strain on the plantar fascia. Orthotics are often confused with arch supports. Arch supports, by holding up the arch can remove some of the tension from the plantar fascia. Orthotics, on the other hand, do most of their work on the heel and ball of the foot repositioning the foot for maximized function.
What can you do before you see the foot doctor? First, try doing your own version of deep tissue massage by rolling a frozen cola bottle or can from the heel forward into the arch. Do it gently. Do stretching but the key to good stretching is not to stretch too hard so generally avoid weight bearing (standing) stretches but sit on a soft surface like your bed and pull the foot backward on the leg as far as it will go, holding for 20 seconds and relaxing for 5 seconds.
Each 25 second "set" can be repeated 5 times and you have invested about 2 minutes in giving yourself a lot of help.
Source: physicaltherapyweb
RIVERA FOOT & ANKLE: At Orlando H.Rivera DPM, our priority is to deliver quality care to informed patients in a comfortable and convenient setting. When you have problems with your feet, you need to turn to a podiatrist who listens and responds… an experienced doctor who knows the field and can effectively diagnose and treat your needs… a friendly physician who counsels you on the best ways to maintain and improve your health. Our physician(s) meet all these criteria. Plus, you benefit from a dedicated team of trained professionals who give you the individualized attention you deserve.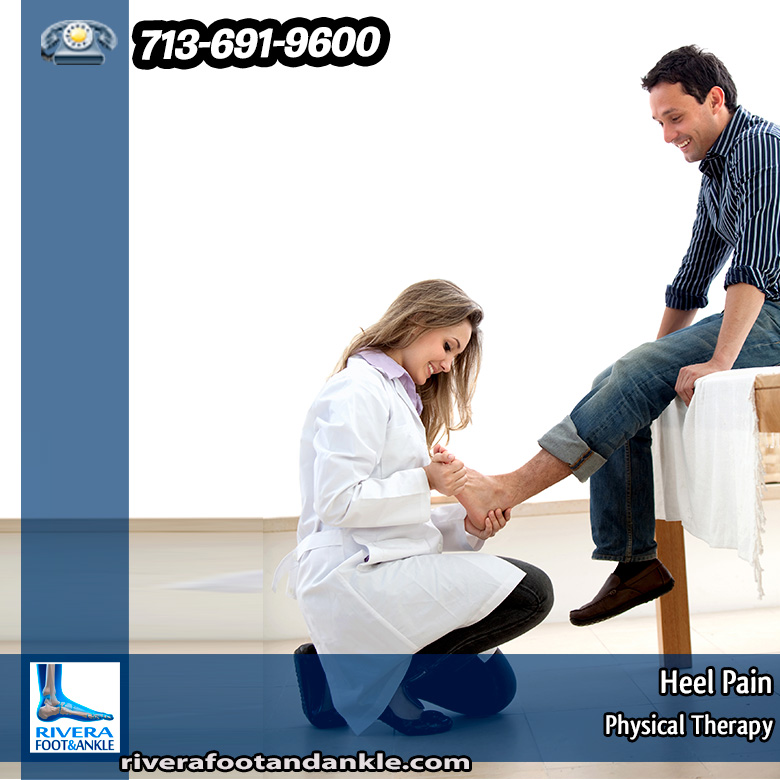 Advanced Foot & Ankle Specialist.
Keywords: Foot and Ankle, Dr. Orlando Rivera, Advanced Foot & Ankle Specialist, Foot and Ankle Podiatry, Houston Food & Ankle Surgical, Treatment of Foot and Ankle, Foot & ankle specialists, Podiatrist in houston, podiatrist in houston, Orlando H.Rivera DPM, Houston Foot Doctor, Food and Ankle Surgeon Houston, Ankle and Foot Specialist Houston, Podiatrist Houston, Foot Pain Houston