Barefoot Airport Security Checks Pose Risks
How Can You Prevent It?
Barefoot stuff is a health hazard. We went to one of the busiest airports in the country, Dallas-Fort Worth, to find out. Even a doctor doesn't mince words. "It's disgusting," said podiatrist doctor Dana Giacalone.
That's because we're not just talking about a little dirt on the floor. "We are talking about warts, plantar warts. We're talking about athlete's foot. We're talking about nail fungus," said Giacalone. "Here at DFW, they'll give you a pair of disposable foot covers. But so far, we haven't seen any takers." Flip flop wearers usually go naked, often spreading a nasty surprise no one wants to think about. "I try not to." "Oh, it's highly likely," said Giacalone.
But the solution is simple. "You won't pick up anything as long as you have something covering your feet" according to Giacalone. Mom always told you to wear clean underwear. Now there's something else you should add to the list. "I wear socks all the time." Here's one more suggestion from airport security, if you don't want to use the disposable foot covers, carry a pair of ankle socks with you.
Source: podiatryinfocanada
RIVERA FOOT & ANKLE: At Orlando H.Rivera DPM, our priority is to deliver quality care to informed patients in a comfortable and convenient setting. When you have problems with your feet, you need to turn to a podiatrist who listens and responds… an experienced doctor who knows the field and can effectively diagnose and treat your needs… a friendly physician who counsels you on the best ways to maintain and improve your health. Our physician(s) meet all these criteria. Plus, you benefit from a dedicated team of trained professionals who give you the individualized attention you deserve.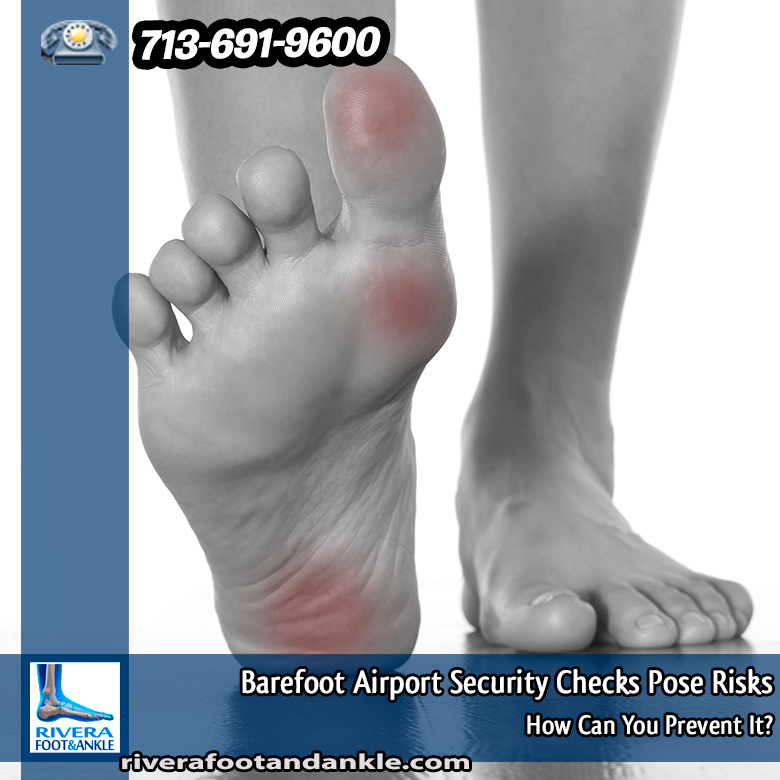 Podiatrist in houston
Keywords: Foot and Ankle, Dr. Orlando Rivera, Advanced Foot & Ankle Specialist, Foot and Ankle Podiatry, Houston Food & Ankle Surgical, Treatment of Foot and Ankle, Foot & ankle specialists, Podiatrist in houston, podiatrist in houston, Orlando H.Rivera DPM, Houston Foot Doctor, Food and Ankle Surgeon Houston, Ankle and Foot Specialist Houston, Podiatrist Houston, Foot Pain Houston