Flip Flops Lack Necessary Support for Feet
Everyday Use
One person's comfort may be another person's pain. Dr. Karen Rouw, a podiatrist at Central Minnesota Foot & Ankle Clinic in St. Cloud, has seen plenty of patients with foot problems. "In recent years, flip-flops have become the norm for so many people — not just teenagers," Rouw said. "People will use them just as regular shoes, and yeah, they're cheap and air out your toes, but you don't have the support and are at more risk at developing foot problems."
They may be supremely comfortable for some but — constructed of a flat piece of rubber or leather and held on the foot by a thin strip —flip-flops can be a headache. "There are people who need more support than their body is able to give naturally. If you have a flatter foot with very little arch, you're more prone to having foot pain," Rouw said.
Flip-flops do protect the foot from, say, the hot sand of a beach or the grit found poolside, and they can also help prevent the spread of athlete's foot or plantar warts. Rouw said, "But you're more prone to injury because you've got exposed toes."
Source: podiatryinfocanada
RIVERA FOOT & ANKLE: At Orlando H.Rivera DPM, our priority is to deliver quality care to informed patients in a comfortable and convenient setting. When you have problems with your feet, you need to turn to a podiatrist who listens and responds… an experienced doctor who knows the field and can effectively diagnose and treat your needs… a friendly physician who counsels you on the best ways to maintain and improve your health. Our physician(s) meet all these criteria. Plus, you benefit from a dedicated team of trained professionals who give you the individualized attention you deserve.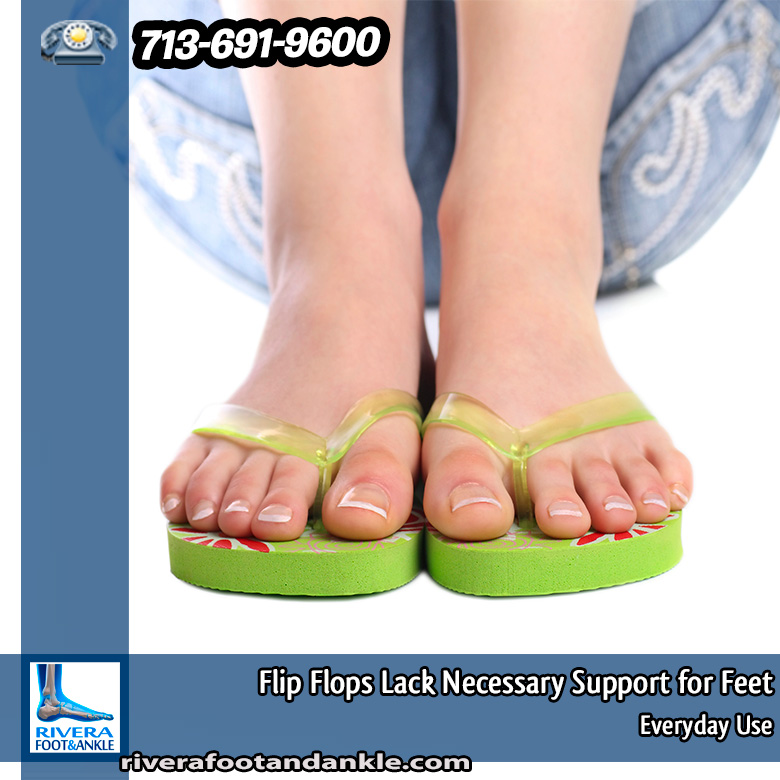 Advanced Foot & Ankle Specialist.
Keywords: Foot and Ankle, Dr. Orlando Rivera, Advanced Foot & Ankle Specialist, Foot and Ankle Podiatry, Houston Food & Ankle Surgical, Treatment of Foot and Ankle, Foot & ankle specialists, Podiatrist in houston, podiatrist in houston, Orlando H.Rivera DPM, Houston Foot Doctor, Food and Ankle Surgeon Houston, Ankle and Foot Specialist Houston, Podiatrist Houston, Foot Pain Houston