Protect Your Feet
The warm days of summer are almost upon us. As we break out the summer wardrobe and footwear here is some foot care advice for the summer months.
Watch out for flip-flops: While flip flops are popular and convenient to wear, they put people at risk of developing foot problems. Flips flops don't have the necessary support. A flat piece of rubber or leather does not provide enough support in the arch area of the foot. If worn for a prolonged period of time, they can cause severe arch pain or pain on the ball of the foot. Also, flip flops offer no stability for the foot, causing the foot to move while walking. As a result, blisters, or pain on the ball of the foot can develop.
Flip flops do protect the foot from the hot sand at the beach, or prevent the spread of athlete's foot or plantar warts at the pool, but you're more prone to injury because you've got your toes exposed.
Cute ballet flats are not much better. They provide very little support in the arch area and if worn for prolonged periods of time, can cause arch pain. Also, ballet flats are difficult to keep on the foot potentially causing blisters and pain in the toes as they work extra hard to keep the shoe on.
Prevent Fungal Infections: If you have prone to sweaty feet, you are more prone to fungal infections. In the warm, summer months, take time to expose your feet, without socks, to the air more often, especially if you wear shoes and socks all day. Have 2 or 3 different pairs of shoes that you rotate through. Beware of communal showers at swimming pools as foot fungus and warts can be easily acquired in these areas.
Injuries: Going barefoot in the summer is only natural and has some benefits for short periods of time, but is not recommended for outside the home. Too often, injuries occur from punctures or cuts. Always wear footwear outside the home. If engaging in water activities, such as canoeing or kayaking, try to wear water shoes or sandals to protect your feet along rocky shorelines or river beds. If an injury has occurred, contact your chiropodist/podiatrist or doctor.
If you are a diabetic, shoes should be worn at ALL times to avoid injury. Even the slightest scrap can be cause for alarm among people with diabetes, where healing can be difficult and may lead to limb amputation.
Heel Care: During the summer, the skin on the bottom of your feet is prone to dryness and cracking due to excessive sweating. In extreme cases, your feet can bleed or become infected. Use a pumice stone on your heels everyday in the shower or bath.
Apply softening foot care to the heels twice a day. If an over the counter cream doesn't help, talk to your chiropodist or podiatrist about a prescription product.
Apply Sunscreen: Don't forget to apply sunscreen to the tops of your feet and toes. If your feet are exposed, they will get burned.
Have a safe and enjoyable summer and above all, keep those feet happy and healthy.
Source: podiatryinfocanada
RIVERA FOOT & ANKLE: At Orlando H.Rivera DPM, our priority is to deliver quality care to informed patients in a comfortable and convenient setting. When you have problems with your feet, you need to turn to a podiatrist who listens and responds… an experienced doctor who knows the field and can effectively diagnose and treat your needs… a friendly physician who counsels you on the best ways to maintain and improve your health. Our physician(s) meet all these criteria. Plus, you benefit from a dedicated team of trained professionals who give you the individualized attention you deserve.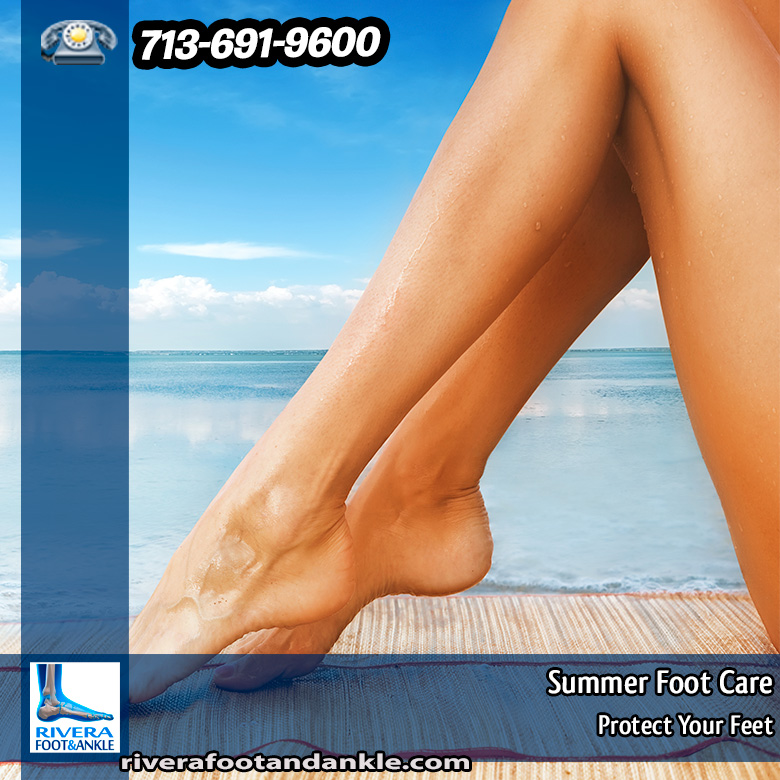 Advanced Foot & Ankle Specialist.
Keywords: Foot and Ankle, Dr. Orlando Rivera, Advanced Foot & Ankle Specialist, Foot and Ankle Podiatry, Houston Food & Ankle Surgical, Treatment of Foot and Ankle, Foot & ankle specialists, Podiatrist in houston, podiatrist in houston, Orlando H.Rivera DPM, Houston Foot Doctor, Food and Ankle Surgeon Houston, Ankle and Foot Specialist Houston, Podiatrist Houston, Foot Pain Houston