Is Toenail Fungus Contagious?
Well, Yes It Is!
Yes, toenail fungus is contagious. You have to catch it from somewhere – while it might seem like it just appeared on its own out of nowhere, if you've got toenail fungus then you've come into contact with someone else who is infected.
While it might not be classified as "highly contagious", it is still very easy to spread a fungal toenail infection from one person to another, typically through sharing items that have come into contact with the infection – think shoes, socks, nail polish, nail tools, etc.
In terms of spreading the fungal infection from one person to another, one of the most common places for an infection to spread is at a nail salon. If a person who has a fungal infection has a nail treatment and the tools are not properly sterilised between treatments, or a bottle of nail polish is used on an infected person, it can easily be spread to other patrons at the salon. If you regularly go for pedicures, be sure to ask about their sterilisation techniques and practices – and take your own nail polish.
However, this is not the most common way of catching a toenail fungus – mainly because toenail fungus is much more common in men than it is in women.
For most people, the fungus that has infected their toenails started off as a case of athlete's foot. This is typically spread from person to person by walking barefoot in the showers at your gym or at your local swimming pool, which is why you should always wear flip flops or sandals when in any damp/wet area.
Left untreated, this case of athlete's foot will continue to grow and spread across the sole of your feet and onto your toes – and this is when it will typically "jump" and infect your toenails.
Normally, this is the result of some kind of trauma to the nail that will make it susceptible to the infection – such as when someone steps or drops something on your toes, or it could be the repetitive trauma on your toenails from wearing shoes that don't fit properly. People who play certain sports like basketball, tennis, racquet ball or netball are often more susceptible to a fungal toenail infection because of the sudden stopping movements that cause the foot to slide inside the shoe.
Source: nice-feet
RIVERA FOOT & ANKLE: At Orlando H.Rivera DPM, our priority is to deliver quality care to informed patients in a comfortable and convenient setting. When you have problems with your feet, you need to turn to a podiatrist who listens and responds… an experienced doctor who knows the field and can effectively diagnose and treat your needs… a friendly physician who counsels you on the best ways to maintain and improve your health. Our physician(s) meet all these criteria. Plus, you benefit from a dedicated team of trained professionals who give you the individualized attention you deserve.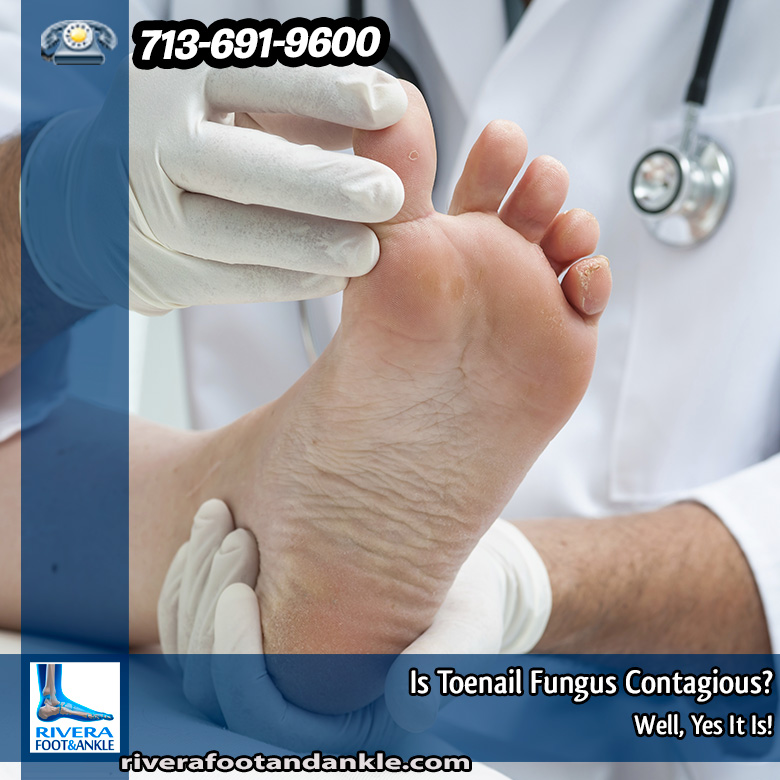 Foot & ankle specialists
Keywords: Foot and Ankle, Dr. Orlando Rivera, Advanced Foot & Ankle Specialist, Foot and Ankle Podiatry, Houston Food & Ankle Surgical, Treatment of Foot and Ankle, Foot & ankle specialists, Podiatrist in houston, podiatrist in houston, Orlando H.Rivera DPM, Houston Foot Doctor, Food and Ankle Surgeon Houston, Ankle and Foot Specialist Houston, Podiatrist Houston, Foot Pain Houston
nice-feet