Learn Some Myths And Facts
Baby Feet: Cute for a Reason
There's more to infant feet than those kissable toes.
Part of what may make babies' feet so cute is their structure: All babies are born with a pad of fat where an arch would normally be in an adult foot, which makes them appear flat and cutely chubby. In fact, arches don't usually show up until children are about 2 ½ years old. But an infant's soft little feet will get tougher with age: The skin on your foot soles is the thickest on the body, next to the palms of the feet. According to pediatrician and author Dr. Sears, it's also normal for a baby's feet and legs to bow inward, because of the curled-up position of the fetus in the womb.
Polydactylism: More to Love
After a baby is born, the obstetrician usually checks for 10 little fingers and 10 little toes. But occasionally, a surprise may turn up — an extra digit (or two). Extra toes and fingers are technically known as polydactylism, and the condition is reported in about 1-2 of every 1,000 children, according to a 1994 study in the Southern Medical Journal . In 2010, the Daily Mail reported on a 6-year-old Chinese boy who had six extra toes removed from his feet, along with five extra fingers. Some famous faces have also been rumored to have a more-than-usual number of toes, including screen goddesses Halle Berry (according to E! Online) and Marilyn Monroe. But, says the website Snopes.com, the Monroe rumor has been largely debunked.
Shoe Size Myths and Facts
We all know that American bodies are getting bigger, but what about our feet? In the United States, the best-selling shoe size is 8.5 for women and 10.5 for men. Those are both up a full size from 30 years ago, according to the National Shoe Retailers Association in a Chicago Tribune article. If you think you know your correct size, you could be off — a 2011 report published in the Journal of Foot & Ankle Surgery suggests that about 35 percent of people underestimated by at least half a size.

How Do Your Toenails Grow?
Compared with fingernails, toenails grow much more slowly — about 1 mm per month, according to the American Academy of Dermatology, whereas fingernails grow an average of 0.1 mm a day. It takes at least five to six months to grow an entirely new toenail. How long can toenails grow? The current record holder for the longest toenails is Louise Hollis of Compton, Calif., who set the record back in 1991. Hollis boasts 6-inch-long nails on each toe, and according to Guinness World Records, she's been growing her toenails since 1982. Understandably, she wears only open-toed shoes.
Going Barefoot: It's Only Natural
Ah, nothing feels better than going barefoot in the summer. But some people believe it's your right to go barefoot all year long, and not just at the beach. Organizations like the Society for Barefoot Living believe that wearing shoes is not just unnecessary, it can actually be harmful to foot health and lead to flat feet and deformities. And proponents of barefoot running say it can strengthen feet and reduce injuries. For people with health conditions like diabetes, though, going barefoot can be dangerous because nerve damage makes it difficult to feel when the foot is injured.
Source: everydayhealth
RIVERA FOOT & ANKLE: At Orlando H.Rivera DPM, our priority is to deliver quality care to informed patients in a comfortable and convenient setting. When you have problems with your feet, you need to turn to a podiatrist who listens and responds… an experienced doctor who knows the field and can effectively diagnose and treat your needs… a friendly physician who counsels you on the best ways to maintain and improve your health. Our physician(s) meet all these criteria. Plus, you benefit from a dedicated team of trained professionals who give you the individualized attention you deserve.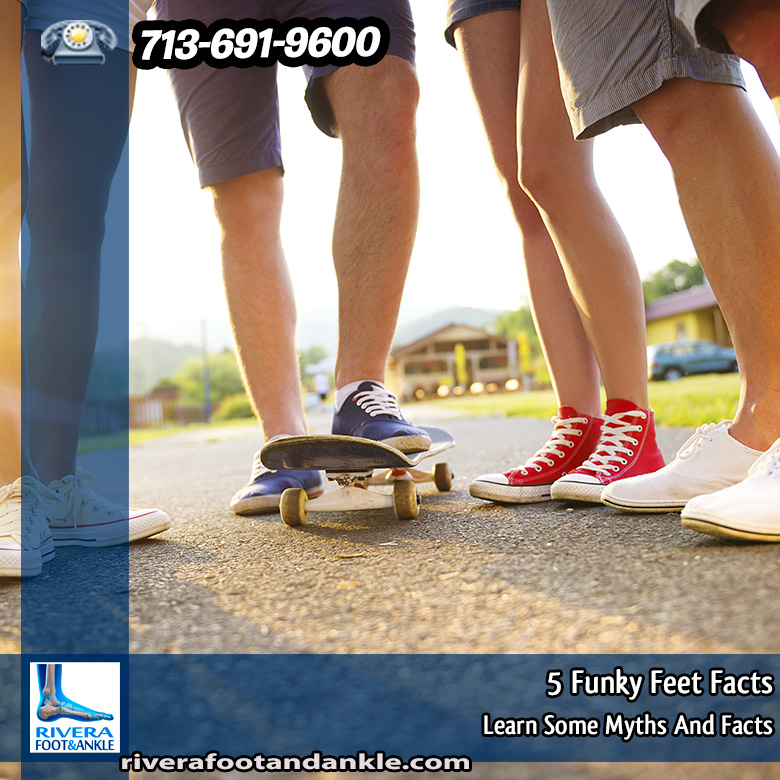 Podiatrist Houston
Keywords: Foot and Ankle, Dr. Orlando Rivera, Advanced Foot & Ankle Specialist, Foot and Ankle Podiatry, Houston Foot & Ankle Surgical, Treatment of Foot and Ankle, Foot & ankle specialists, Podiatrist in houston, podiatrist in houston, Orlando H.Rivera DPM, Houston Foot Doctor, Foot and Ankle Surgeon Houston, Ankle and Foot Specialist Houston, Podiatrist Houston, Foot Pain Houston