Losing Weight Can Also Help Your Feet
Prevent Painful Conditions
Given that your feet bear the weight of your entire body as they carry you through your daily routine, it's not surprising that being overweight can lead to foot problems.
Your Weight and Feet: Understanding the Relationship
Research has found that having too much body weight may increase your chances of a variety of painful conditions in the feet, including:
Tendon inflammation
Inflammation in the plantar fascia, the tough band of tissue in the sole of your foot
Osteoarthritis
You don't have to be extremely obese to run into problems. "Even 25 extra pounds can tip the scales to more problems in the foot and ankle," says James Mahoney, DPM, an associate professor of podiatric surgery at Des Moines University in Iowa.
And for people who are obese, the problems can multiply. Foot problems often develop from the changes in posture caused by carrying too much weight, says Dr. Mahoney. In these cases, the knees tend to come closer together while walking, which shifts the body weight to the insides of the feet. This can be bad for the arches and tendons in the feet and ankle, and lead to hip and back problems.

Your Weight and Feet: Specific Problems
Being overweight makes you more likely to develop several conditions that can lead to foot pain and other problems, such as:
Gout. This condition is known for causing sharp, severe pain, typically in the big toe. It can also affect other joints in your feet and ankles. Gout develops when crystals of a substance called uric acid accumulate in your joints. Being overweight makes you more likely to develop gout by increasing the production of uric acid in your body, according to the National Institutes of Health.
Diabetes. Being overweight is one of the main factors that raise your risk of diabetes. Diabetes can cause numbness in your feet and can reduce the amount of blood flow that reaches your feet. As a result, you may develop small injuries without noticing them, and these injuries may heal very slowly and develop infections. These can grow into serious problems that can even lead to the loss of your feet. In one year, more than 70,000 people with diabetes had to have a foot or lower leg surgically removed.
Peripheral arterial disease. This condition is marked by an accumulation of plaque in the walls of arteries in the legs. As a result, the flow of blood to the feet is reduced. Being overweight is a preventable risk factor for peripheral arterial disease, according to the American Heart Association.
Source: everydayhealth
RIVERA FOOT & ANKLE: At Orlando H.Rivera DPM, our priority is to deliver quality care to informed patients in a comfortable and convenient setting. When you have problems with your feet, you need to turn to a podiatrist who listens and responds… an experienced doctor who knows the field and can effectively diagnose and treat your needs… a friendly physician who counsels you on the best ways to maintain and improve your health. Our physician(s) meet all these criteria. Plus, you benefit from a dedicated team of trained professionals who give you the individualized attention you deserve.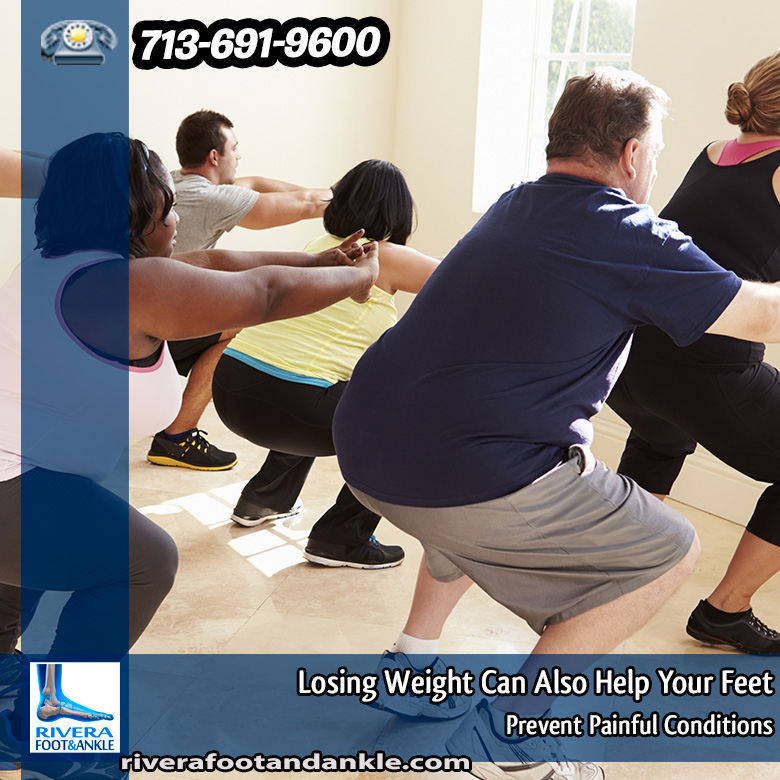 Foot Pain Houston
Keywords: Foot and Ankle, Dr. Orlando Rivera, Advanced Foot & Ankle Specialist, Foot and Ankle Podiatry, Houston Foot & Ankle Surgical, Treatment of Foot and Ankle, Foot & ankle specialists, Podiatrist in houston, podiatrist in houston, Orlando H.Rivera DPM, Houston Foot Doctor, Foot and Ankle Surgeon Houston, Ankle and Foot Specialist Houston, Podiatrist Houston, Foot Pain Houston