Your Feet Are Important
Even people who try to cover all the bases—avoiding fattening foods, hitting the gym and wearing sunscreen—may not be able to answer yes.
Doctors say people often ignore persistent but minor foot complaints, which can later develop into bigger problems, like lower back pain. Some common foot problems can mask underlying issues that are correctable if addressed early. Tender feet might be a sign of a pinched nerve, for example, or bunions might stem from weak arches. Other foot ailments, such as sores that don't heal, can point to a more serious condition, such as diabetes.
Podiatrists say foot ailments are a growing problem as more people get physically active. Running marathons, for instance, puts added pressure on the feet and can worsen existing issues that might be caused by genetics or poor footwear choices. Feet also must bear the burden from the growing numbers of people who are overweight or obese.
Many people don't wear shoes with proper support, which is especially harmful for active athletes, says Leslie Campbell, a spokeswoman for the American Podiatric Medical Association, a professional organization. "We see more young children coming in because they play sports like soccer and wear cleats, which are rigid, don't absorb shock, cause fatigue and should be worn as little as possible".
Achy feet shouldn't just be explained away by old age or standing a lot, says Dr. Charles. Rubbing the feet after a long day should feel good. But if the feet are tender to the touch, this could reveal an underlying problem such as overworked muscles or weak arches. Often the wrong shoes are to blame, so try footwear with more support.
Source: wsj
RIVERA FOOT & ANKLE: At Orlando H.Rivera DPM, our priority is to deliver quality care to informed patients in a comfortable and convenient setting. When you have problems with your feet, you need to turn to a podiatrist who listens and responds… an experienced doctor who knows the field and can effectively diagnose and treat your needs… a friendly physician who counsels you on the best ways to maintain and improve your health. Our physician(s) meet all these criteria. Plus, you benefit from a dedicated team of trained professionals who give you the individualized attention you deserve.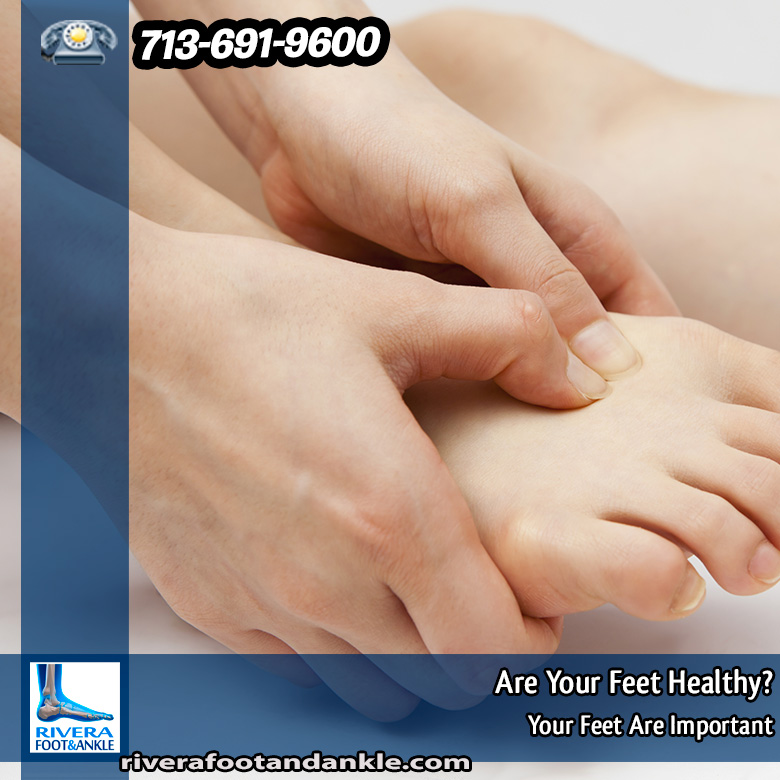 Foot & ankle specialists
Keywords: Foot and Ankle, Dr. Orlando Rivera, Advanced Foot & Ankle Specialist, Foot and Ankle Podiatry, Houston Food & Ankle Surgical, Treatment of Foot and Ankle, Foot & ankle specialists, Podiatrist in houston, podiatrist in houston, Orlando H.Rivera DPM, Houston Foot Doctor, Food and Ankle Surgeon Houston, Ankle and Foot Specialist Houston, Podiatrist Houston, Foot Pain Houston