What Causes A Jones Fracture?
The Jones fracture is a fairly common fracture of the fifth metatarsal.
A Jones fracture occurs at the base of the fifth metatarsal bone (the one connected to the pinky toe), at the metaphyseal-diaphyseal junction, ¾ of an inch away from the base of the fifth metatarsal. It is located about ½ inch distal (further from the body) to the projecting part (the tuberosity) of the fifth metatarsal.
A Jones fracture is often mistaken for a sprain or an avulsion fracture. This is why it's important to have your injury diagnosed as soon as possible. The area of the Jones fracture has a very small blood supply. Jones fractures disrupt that blood supply and can take much longer to heal, and may require surgery for treatment. It is also important to get a proper diagnosis, because a true Jones fracture often results in a non-union (the permanent failure of a bone to heal) if it is not identified and managed properly.
Jones fractures can be acute (sudden) or chronic. Often there is a stress reaction in that area of the bone which has predisposed the area to injury.
What Causes a Jones Fracture?
In most cases, a Jones fracture is attributed to a twisting inversion injury to the foot. Inversion injuries happen when the foot or ankle twists inward. Overuse, repetitive stress, and trauma are the leading causes of Jones fractures.
Jones Fracture Symptoms
Patients who suffer a Jones fracture describe symptoms that include:
Pain
Swelling
Bruising
Severe pain while walking
Immobility
Source: footvitals
RIVERA FOOT & ANKLE: At Orlando H.Rivera DPM, our priority is to deliver quality care to informed patients in a comfortable and convenient setting. When you have problems with your feet, you need to turn to a podiatrist who listens and responds… an experienced doctor who knows the field and can effectively diagnose and treat your needs… a friendly physician who counsels you on the best ways to maintain and improve your health. Our physician(s) meet all these criteria. Plus, you benefit from a dedicated team of trained professionals who give you the individualized attention you deserve.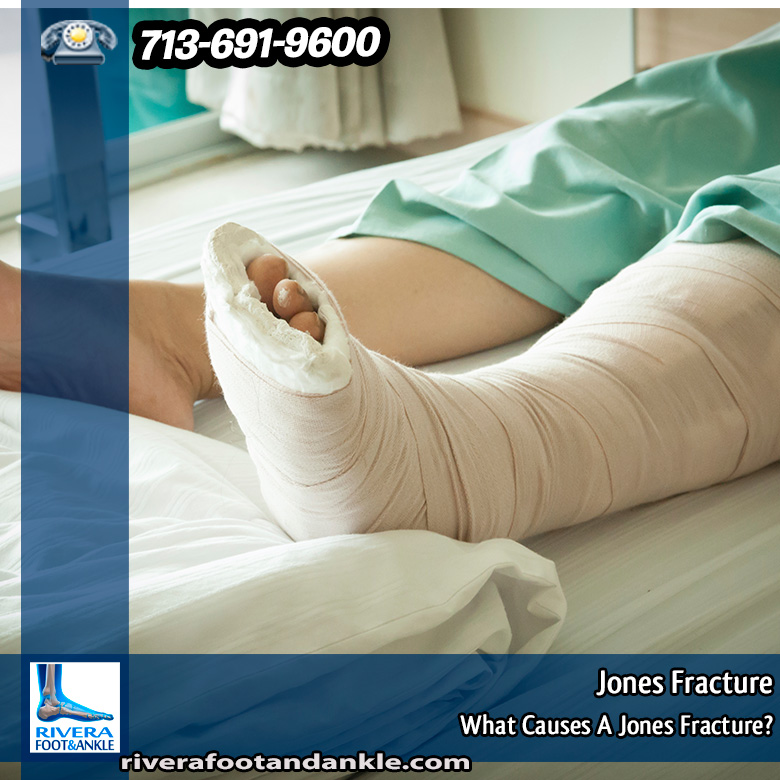 Food and Ankle Surgeon Houston
Keywords: Foot and Ankle, Dr. Orlando Rivera, Advanced Foot & Ankle Specialist, Foot and Ankle Podiatry, Houston Food & Ankle Surgical, Treatment of Foot and Ankle, Foot & ankle specialists, Podiatrist in houston, podiatrist in houston, Orlando H.Rivera DPM, Houston Foot Doctor, Food and Ankle Surgeon Houston, Ankle and Foot Specialist Houston, Podiatrist Houston, Foot Pain Houston