Prevent Athlete's Foot In The Bathroom
Don't Get Infected
Everyone who takes his bath daily will certainly use the bathroom daily unless of course he takes his bath outside.
The bathroom is one part of the house visited daily.
And it is also one place where diseases and infection can be passed from one person to another. Athlete's foot is an infection that can be transferred from one person to another in the bathroom.
Athlete's foot is a fungal infection caused by fungi in the genus trichophyton. These fungi thrive more in warm and damp environment. The bathroom is one of such places. If you must prevent being infected with athlete's foot while using the bathroom, especially when someone in your house have been infected with the disease, you must make sure that you keep your bathroom clean and free from the fungi to keep it safe to bathe in. The following are tips to help you out.
Avoid walking barefoot in your bathroom. This is very necessary especially when there is someone in your house who has already been infected with the disease. The person involved should also avoid walking barefooted in the bathroom to stop further spread of the disease.
Remove all objects or materials such as towel from the bathroom that you suspected to have come in contact with the fungi. Clean or wash and disinfect them. If there are those that are to be replaced, replace them.
Disinfect shower regularly. If there is anyone with athlete's foot in your home, disinfect as soon as they use the bathroom. Choose a disinfecting product that can clean and disinfect to disinfect the bathroom. Spray on the floor and the wall and use a sponge to scrub and a clean cloth to remove the disinfectant. Hot water can also help to kill the fungi.
Keep your bathroom dry: Athlete's foot fungus loves moist environment and they cannot survive in dry environment so always keep your bathroom dry to avoid being infected with the disease.
Source: foothealthinfo
RIVERA FOOT & ANKLE: At Orlando H.Rivera DPM, our priority is to deliver quality care to informed patients in a comfortable and convenient setting. When you have problems with your feet, you need to turn to a podiatrist who listens and responds… an experienced doctor who knows the field and can effectively diagnose and treat your needs… a friendly physician who counsels you on the best ways to maintain and improve your health. Our physician(s) meet all these criteria. Plus, you benefit from a dedicated team of trained professionals who give you the individualized attention you deserve.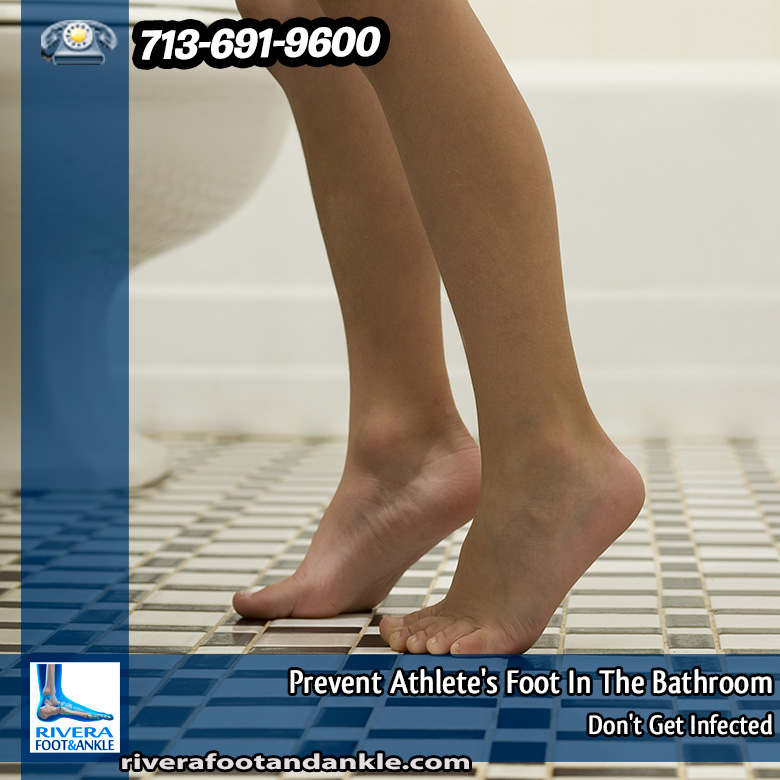 Foot & ankle specialists
Keywords: Foot and Ankle, Dr. Orlando Rivera, Advanced Foot & Ankle Specialist, Foot and Ankle Podiatry, Houston Food & Ankle Surgical, Treatment of Foot and Ankle, Foot & ankle specialists, Podiatrist in houston, podiatrist in houston, Orlando H.Rivera DPM, Houston Foot Doctor, Food and Ankle Surgeon Houston, Ankle and Foot Specialist Houston, Podiatrist Houston, Foot Pain Houston