Houston Podiatry
The Bunions are a common complaint in the foot. A bunion is a bulge inside the joint of the big toe.
Most bunions are usually formed over time. The articulation of the big toe is caused by the destabilization. These factors are inherited in families. A Template can help to change the pressure on the joint of the big toe.
We advise you
Wear shoes that allow enough space for the bump.
Apply special pad for bunions.
Creams for pain can calm the symptoms of the bunion.
Anti-inflammatory medications such as ibuprofen provide temporary relief.
If your bunion is painful and interferes with your daily activities
Surgery is a reasonable consideration. The surgical correction readjusts the metatarsal bone parallel to the foot.
Surgery is usually an outpatient procedure, that is, without spending the night in the hospital it is necessary.
It is usually performed under IV sedation without the patient having to be intubated.
If you think you may have a bunion deformity, discuss being in condition with a Foot and Ankle Surgeon Podiatrist. They have the knowledge and experience when it comes to bunions and other foot deformities. A Podiatrist Foot and Ankle Surgeon will determine which line of treatment will improve the function of your foot in general and your overall health.
Source: aofas
RIVERA FOOT & ANKLE: At Orlando H.Rivera DPM, our priority is to deliver quality care to informed patients in a comfortable and convenient setting. When you have problems with your feet, you need to turn to a podiatrist who listens and responds… an experienced doctor who knows the field and can effectively diagnose and treat your needs… a friendly physician who counsels you on the best ways to maintain and improve your health. Our physician(s) meet all these criteria. Plus, you benefit from a dedicated team of trained professionals who give you the individualized attention you deserve.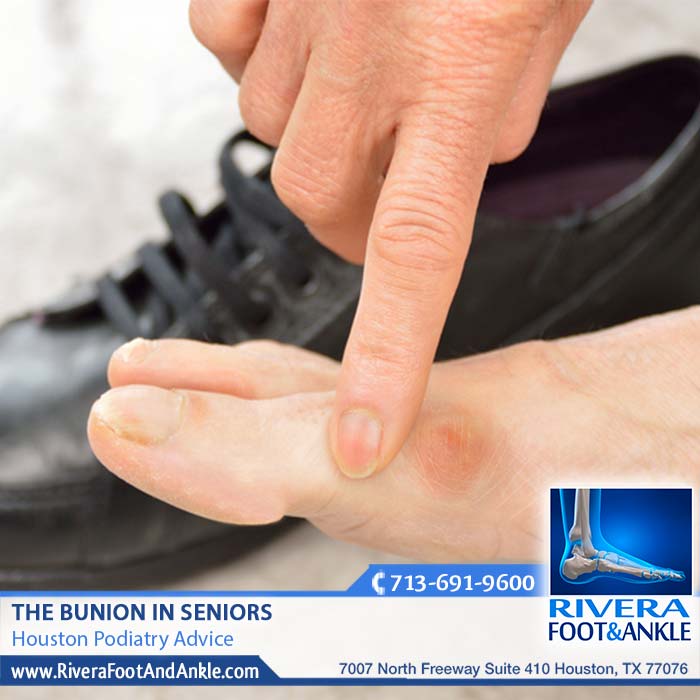 Houston Foot and Ankle Podiatry
Foot and Ankle, Dr. Orlando Rivera, Advanced Foot & Ankle Specialist, Foot and Ankle Podiatry, Houston Foot & Ankle Surgical, Treatment of Foot and Ankle, Foot & ankle specialists, Podiatrist in houston, podiatrist in houston, Orlando H.Rivera DPM, Houston Foot Doctor, Foot and Ankle Surgeon Houston, Ankle and Foot Specialist Houston, Podiatrist Houston, Foot Pain Houston.