Houston Foot & Ankle Surgical
Ingrown toenails are the most common nail problem and they develop when the corners of nails dig deep into the soft tissue surrounding them. When one or both corners of the nail grow into the skin, it often leads to pain, redness, swelling, irritation, and even odor. The big toe is the most common toe affected. While poorly fitting shoes that crowd toes can certainly contribute to this condition, it can also be hereditary or develop from everyday activity, such as running or stubbing your toes.
DIY treatments of ingrown toenails, especially those that are infected, can spell trouble. Don't try to remove any part of an infected ingrown nail, and avoid pedicures until you see a podiatrist who can examine it. Even if you don't have an infected nail, you should see a doctor if an ingrown toenail is causing you any level of pain. A podiatrist can remove the ingrown part of the nail so that it grows out straight, and if it is infected, he or she will prescribe a medication.
To prevent this annoying problem, make sure to cut toenails straight across rather than into a rounded shape. Use a nail file to soften the corners. Avoid shoes with narrow toe boxes.
Source: very well
RIVERA FOOT & ANKLE: At Orlando H.Rivera DPM, our priority is to deliver quality care to informed patients in a comfortable and convenient setting. When you have problems with your feet, you need to turn to a podiatrist who listens and responds… an experienced doctor who knows the field and can effectively diagnose and treat your needs… a friendly physician who counsels you on the best ways to maintain and improve your health. Our physician(s) meet all these criteria. Plus, you benefit from a dedicated team of trained professionals who give you the individualized attention you deserve.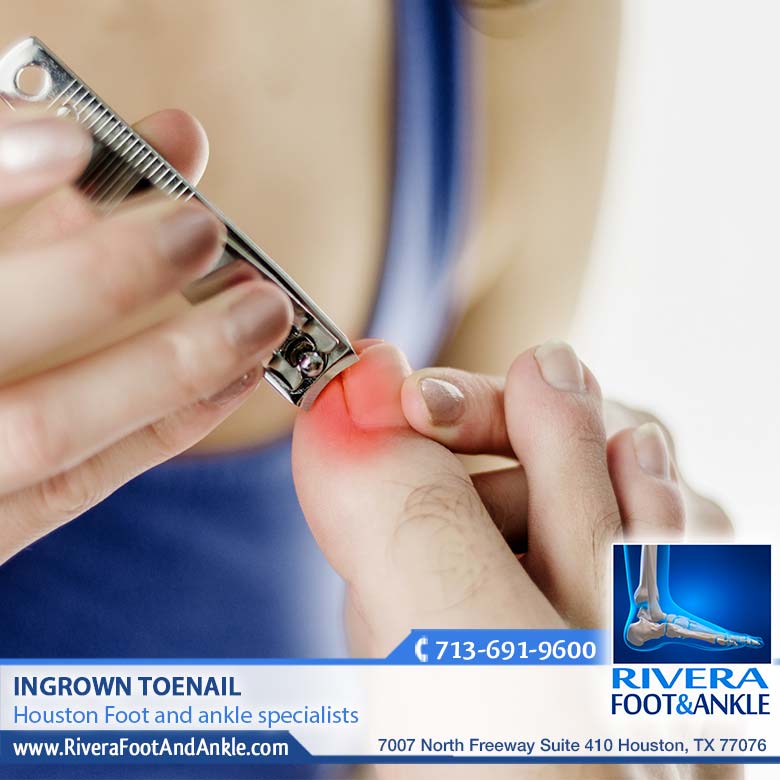 Houston Foot and Ankle Specialist
Foot and Ankle, Dr. Orlando Rivera, Advanced Foot & Ankle Specialist, Foot and Ankle Podiatry, Houston Foot & Ankle Surgical, Treatment of Foot and Ankle, Foot & ankle specialists, Podiatrist in houston, podiatrist in houston, Orlando H.Rivera DPM, Houston Foot Doctor, Foot and Ankle Surgeon Houston, Ankle and Foot Specialist Houston, Podiatrist Houston, Foot Pain Houston.