How to Prevent the Appearance of Fungi in the Feet
Houston Advanced Foot and Ankle Specialist
Fungi can be found anywhere in our body, but the most affected area is the feet. These fungi or mycosis, produce a very annoying itching that can get to despair to who suffers them, and in some cases, they can end up causing the total destruction of the nails of our feet.
The only way to keep them away is to be as clean and meticulous as possible with our bodies and to teach children to respect and take care of cleaning theirs. The pools or pools, shoes, clubs, are places where we run the risk of getting fungus.
But avoid the appearance of these annoying fungi is very simple if we take into account some attitudes when attending these places or fit us.
Tips to avoid the appearance of fungus on the feet
Showers with flip flops: Every time you take a shower in a busy place (clubs, gym, campsites, etc.), take the precaution to do so with the sandals on.
Dry the feet: Dry your feet very well after bathing, especially on the fingers and between them. Also do it after any activity in which you transpire too much.
Hydration: In summer, the skin of the feet suffers many more aggressions than at any other time, producing cracks in them. To avoid these cracks where fungi can be housed, keep your feet very well hydrated with specific creams for this part of the body.
Talcum: Use special talcum powder to control and prevent fungus, both on the feet and on the footwear.
Footwear: Do not use closed shoes. It is best to opt for sandals or footwear that allow breathing to the foot.
Towels and towels: These elements, vital for the drying and cleaning of our body, must be very clean, and after using them, do not leave them piled up, but place them outdoors to dry. A damp and dirty towel or towel is the ideal place for the proliferation of fungi.
Clothing: Do not use synthetic stockings or clothing, rubber shoes, or clothes or shoes too tight.
Source: comohacerpara
RIVERA FOOT & ANKLE: At Orlando H.Rivera DPM, our priority is to deliver quality care to informed patients in a comfortable and convenient setting. When you have problems with your feet, you need to turn to a podiatrist who listens and responds… an experienced doctor who knows the field and can effectively diagnose and treat your needs… a friendly physician who counsels you on the best ways to maintain and improve your health. Our physician(s) meet all these criteria. Plus, you benefit from a dedicated team of trained professionals who give you the individualized attention you deserve.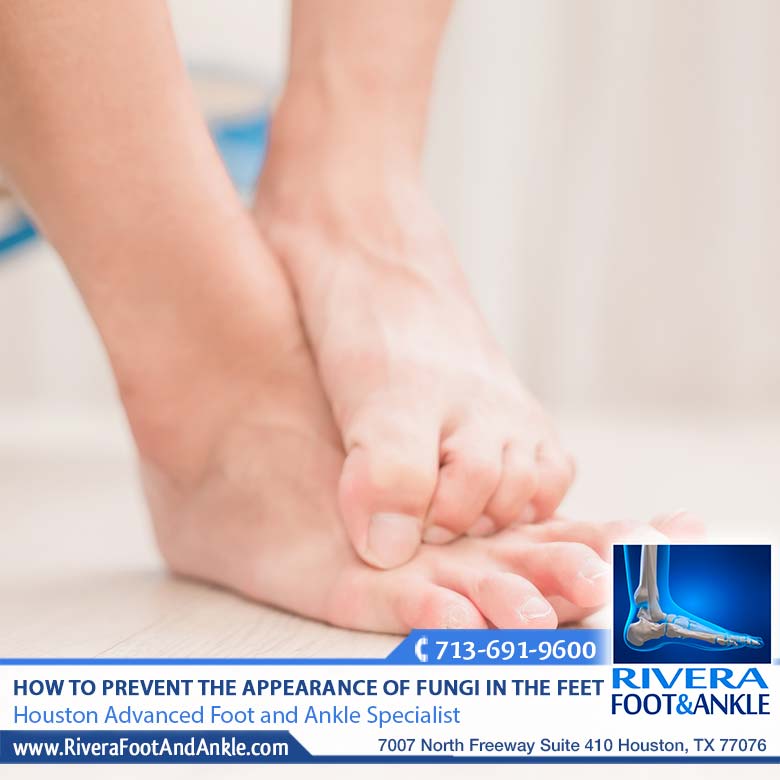 Houston Foot and Ankle Specialist
Foot and Ankle, Dr. Orlando Rivera, Advanced Foot & Ankle Specialist, Foot and Ankle Podiatry, Houston Foot & Ankle Surgical, Treatment of Foot and Ankle, Foot & ankle specialists, Podiatrist in houston, podiatrist in houston, Orlando H.Rivera DPM, Houston Foot Doctor, Foot and Ankle Surgeon Houston, Ankle and Foot Specialist Houston, Podiatrist Houston, Foot Pain Houston.