Tips to Take Care of the Feet
To take care of the feet it is advisable to walk barefoot in safe places, on the grass, the sand, the carpets, etc. It is a very healthy exercise for them; this will activate the circulation and help it to transpire freely, resting better by not having anything that oppresses them.
When your feet are very tired and sore, soak them for a few minutes in warm water, and if you want, you can add a few drops of lavender to the water to feel a relaxing effect. And if you have someone who does, there are never more massages from time to time.
Always use a moisturizing cream, applying it with gentle massages, especially in the heel area, to keep it hydrated and soft, since this sector is very conducive to the appearance of hardness.
It is also useful to cover the feet with cotton socks for a few hours, and limit the use of shoes with the heel in the air so that it does not dry out.
Cure dry heels: If you have dry heels, you can make them look softer and more beautiful. Immerse them in hot water for about 20 minutes, dry them and rub with a pumice stone. Then, use Vaseline, letting the skin absorb it, before putting on your shoes.
Carry out this task, 2 or 3 times a week, until achieving good results and being able to maintain them.
Source: Como Hacer Para?
RIVERA FOOT & ANKLE: At Orlando H.Rivera DPM, our priority is to deliver quality care to informed patients in a comfortable and convenient setting. When you have problems with your feet, you need to turn to a podiatrist who listens and responds… an experienced doctor who knows the field and can effectively diagnose and treat your needs… a friendly physician who counsels you on the best ways to maintain and improve your health. Our physician(s) meet all these criteria. Plus, you benefit from a dedicated team of trained professionals who give you the individualized attention you deserve.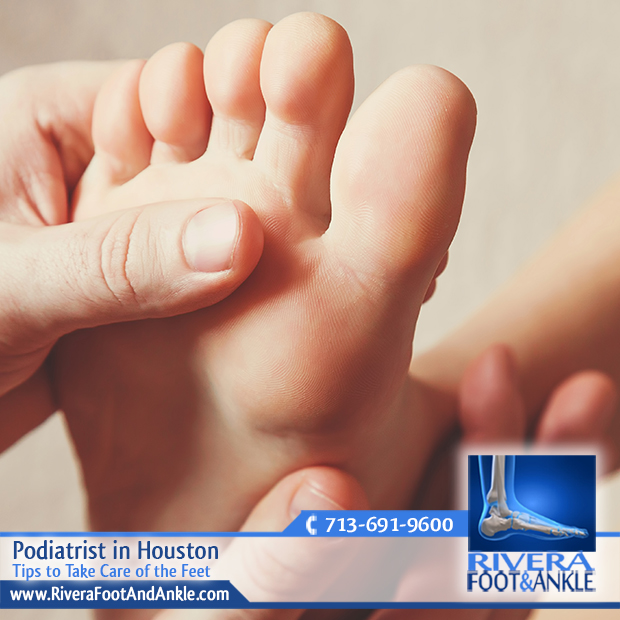 Podiatrist in Houston.
Foot and Ankle, Dr. Orlando Rivera, Advanced Foot & Ankle Specialist, Foot and Ankle Podiatry, Houston Foot & Ankle Surgical, Treatment of Foot and Ankle, Foot & ankle specialists, Podiatrist in houston, podiatrist in houston, Orlando H.Rivera DPM, Houston Foot Doctor, Foot and Ankle Surgeon Houston, Ankle and Foot Specialist Houston, Podiatrist Houston, Foot Pain Houston.