Advanced Foot and Ankle Specialist
Prevent ankle sprains
1. - Warm up before playing sports or exercising. - If you run, for example, start with a quiet walk to warm up the ankle joint before starting to walk the pavement.
Use a bandage if necessary while you are exercising to stabilize your ankle joint. Also, if you are learning a new sport, be careful not to play at full intensity until you are fully prepared for the activity.
2. - Be cautious on uneven surfaces. - Because your ankle is weakened by the sprain, you could twist it again if you are not careful while walking on an uneven surface.
3. - Wear appropriate shoes. Some people think that high-top tennis shoes help stabilize their ankles when they exercise. - No matter what your activity, wear shoes that fit you well and that are comfortable. Make sure the soles are not slippery, since you risk falling, and avoid high heels for a while.
4. - Try physical therapy. - A physical therapist can give you exercises that will strengthen your ankles and surrounding muscles so that you are less likely to injure your ligaments again.
Source: WikiHow
RIVERA FOOT & ANKLE: At Orlando H.Rivera DPM, our priority is to deliver quality care to informed patients in a comfortable and convenient setting. When you have problems with your feet, you need to turn to a podiatrist who listens and responds… an experienced doctor who knows the field and can effectively diagnose and treat your needs… a friendly physician who counsels you on the best ways to maintain and improve your health. Our physician(s) meet all these criteria. Plus, you benefit from a dedicated team of trained professionals who give you the individualized attention you deserve.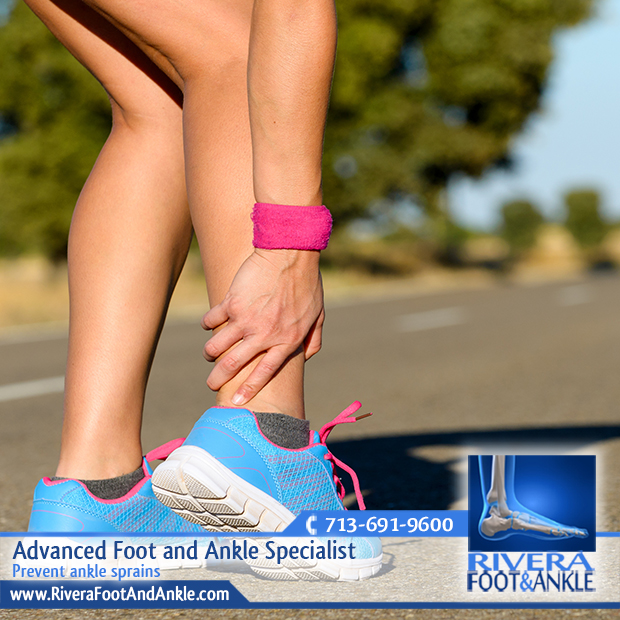 Advanced Foot and Ankle Specialist.
Foot and Ankle, Dr. Orlando Rivera, Advanced Foot & Ankle Specialist, Foot and Ankle Podiatry, Houston Foot & Ankle Surgical, Treatment of Foot and Ankle, Foot & ankle specialists, Podiatrist in houston, podiatrist in houston, Orlando H.Rivera DPM, Houston Foot Doctor, Foot and Ankle Surgeon Houston, Ankle and Foot Specialist Houston, Podiatrist Houston, Foot Pain Houston.