Houston Foot and ankle specialists
How to Remove Ingrown Toenails
1. - Soak your feet in a mixture of hot water (or as hot as you can handle) and Epsom salts. - Do this for 15 to 30 minutes at least twice a day. The objective here is twofold: to soften the nail of the foot and prevent the ingrown toenail from becoming infected.
2. - Gather your tools. - Have enough cotton or a cotton ball ready, a pair of pointed forceps along with something pointed (for example, a tool that helps you eliminate the cuticles).
3. - Cut your toenails, taking special care around the incarnated section. - Make sure the nail is cut perfectly straight with no pointed parts near the edges. Toenails that have a round shape are more likely to grow on the skin, causing ingrown toenails.
4.-Keep your toenail slightly elevated. - If you put a small piece of cotton between the nail and the skin you should prevent the ingrown toenail from returning.
Remove a small piece of cotton with tweezers, from the cotton ball or from a pile of cotton.
Hold the piece of cotton with the tweezers at the corner of the toenail that is incarnated.
Use something pointy to push the cotton under the toenail in the corner. Do not press too hard or you will hurt yourself! The piece of cotton should form a ball under the nail of the foot in the corner. It does not have to be so big that it protrudes from the top of your nail, but make sure it's not too small either.
5. - Stop the infection. - Apply ointment to prevent an infection on the nail and keep it bandaged. The neosporin works very well for this purpose.
6. - Give your finger a little air! Do not wear socks or shoes when you are at home.
7. - Check again. - If you keep the cotton in place and treat your feet well, your ingrown toenail should grow out again in a few weeks.
Source: WikiHow
RIVERA FOOT & ANKLE: At Orlando H.Rivera DPM, our priority is to deliver quality care to informed patients in a comfortable and convenient setting. When you have problems with your feet, you need to turn to a podiatrist who listens and responds… an experienced doctor who knows the field and can effectively diagnose and treat your needs… a friendly physician who counsels you on the best ways to maintain and improve your health. Our physician(s) meet all these criteria. Plus, you benefit from a dedicated team of trained professionals who give you the individualized attention you deserve.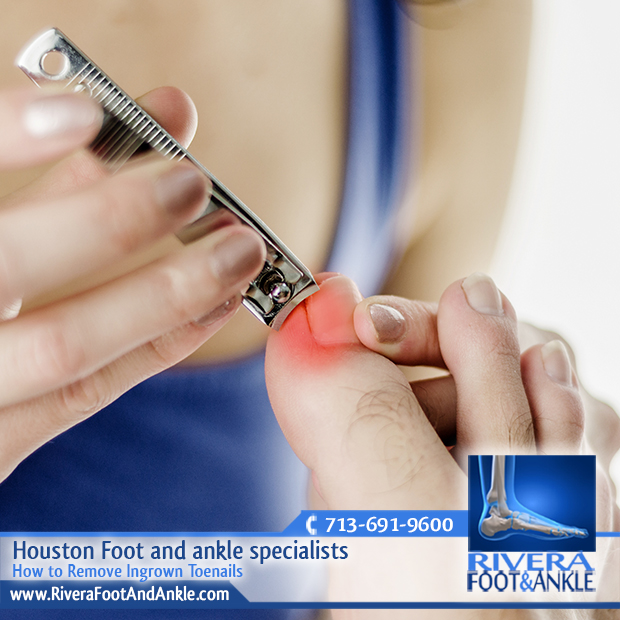 Houston Foot and ankle specialists.
Foot and Ankle, Dr. Orlando Rivera, Advanced Foot & Ankle Specialist, Foot and Ankle Podiatry, Houston Foot & Ankle Surgical, Treatment of Foot and Ankle, Foot & ankle specialists, Podiatrist in houston, podiatrist in houston, Orlando H.Rivera DPM, Houston Foot Doctor, Foot and Ankle Surgeon Houston, Ankle and Foot Specialist Houston, Podiatrist Houston, Foot Pain Houston.